Summertime Boredom Beater
EXCITING NEWS! The Beano's launching a new online summer camp, with loads of cool stuff to do, and YOU can get your own invitation here!
If you want to draw the perfect Dennis and Gnasher, learn animation, design T-Shirts, pick up Minecraft tricks, and loads more fun stuff besides, just click here to jump to the front of the queue!
Blast in Beanotown
Get ready to have a BLAST!!! The amazing new Dennis & Gnasher Blast in Beanotown app for iOS is out now!
Join forces with other Menaces to put fun back into Beanotown and defend yourself from the pesky grown-ups by using crazy and menacing gadgets!
Want to know more?
– It's the only online multiplayer co-op game especially for young menaces!
– Check out the awesome 3D graphics!
– There are THREE Games modes – Beanotown Football, Defend Dennis and Menace Mayhem!
– Play with SEVEN gadgets, each one with its own special power-ups!
– Game center integration allows for brilliant multiplayer function!
Dennis & Gnasher Blast in Beanotown is available to download free now!
Menace Craft – Check out the epic MOD!
Dennis and Gnasher's EPIC Minecraft Mod is jam packed with pranks – stink bombs, rotten tomatoes, stinky underpants & loads more. Watch out for Walter!
Want to play the mod yourself? Download the MOD:
http://www.technicpack.net/api/modpack/beanomc-modpack
Check out an awesome video of the mod below!
Where's Dennis (and Gnasher!)
Can YOU find Dennis the Menace and his pesky pooch?
From Lord Snooty's castle to the Bash Street dinner hall, put yourself to the test with these jam-packed scenes filled with classic Beano faves including Roger the Dodger, Minnie the Minx, Calamity James and Bananaman!
– Search for Dennis on your own, or take on a fellow Menace (or Softy!) in two-player head-to-head mode.
– The quicker you find stuff, the more points you get!
– Each busy scene comes with over fifty different things to search for (some of them squelchy).
– Collect badges to fill up your trophy cabinet and earn your place in the Menace Squad!
–  Bunkerton Castle, Bash Street School dinner hall and Beanotown shopping centre are all brought to life with fun sound effects and animations.
–  Log in to the Game Center to connect with other Menaces, check out your position on the leaderboard and compare badges.
– Brilliant new super-speedy bonuses and extra things to find! You can win new badges too! Yippee!
Where's Dennis? (and Gnasher!) is available to download free on iOS and Android now! 
Dennis & Gnasher's Prank Sticker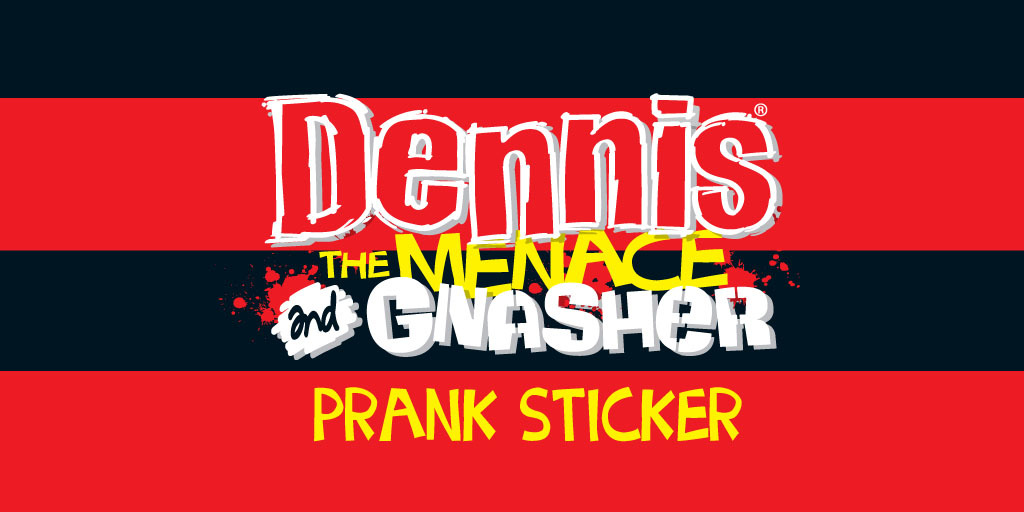 Add some FUN to your photos by choosing from over 100+ Beano themed stickers to slap on your snaps.
It's the funniest photo sticker app in the App Store!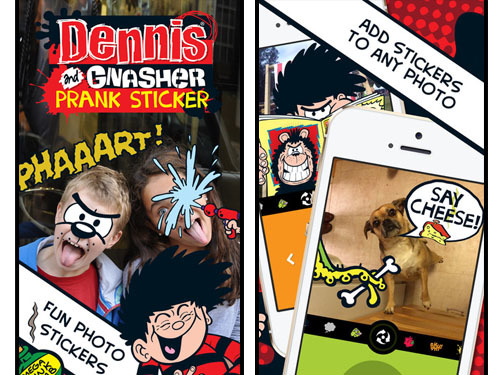 – SAY CHEESE! Beano-ify and prank your friends and family (in a FUN way!) by adding stickers to any photo.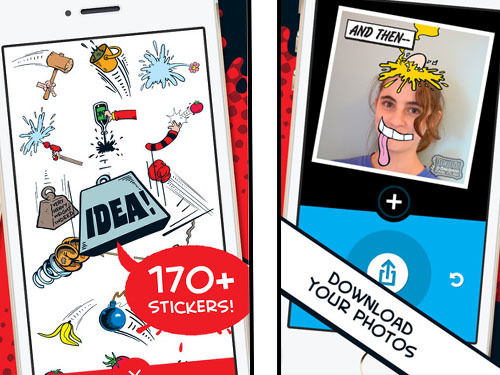 – 100+ silly stickers to add to your work of art including POO and PHAAAART stickers… you'll find LOADS to BASH out.
– Drag, pinch and twist to change the position of your stickers.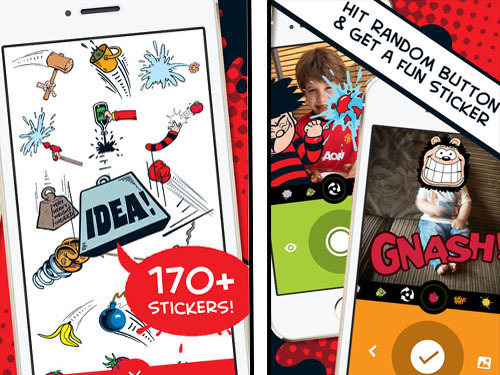 – Choose a sticker to apply or hit the random button
– SAVE your menacing collages to your photo stream
Dennis & Gnasher's Prank Sticker is available to download free today!