Win a Minions Make a Bar Chocolate Factory Kits!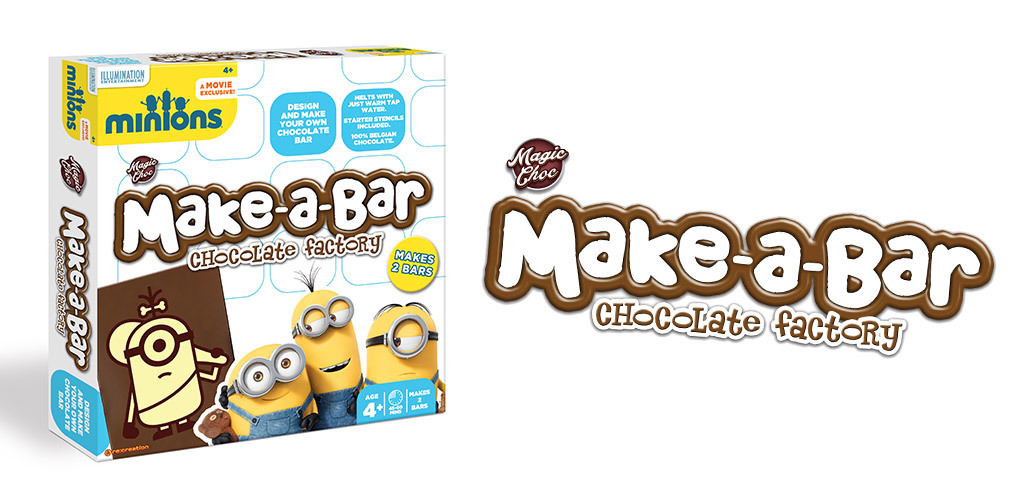 We've got 5 tasty Minions Make a Bar Chocolate Factory kits to win! Just pop your details in the form below and cross your fingers menaces!
You can make your favourite Minions characters in chocolate! The Minions Make-a-Bar Chocolate Factory Kits contain everything you need to design and make your own Minions chocolate bars. Just melt the three colours of Belgian chocolate in warm water and get creating. When you're done pop it in the fridge and you'll have a perfect bar of chocolate in minutes.
Enter today for your chance to WIN! The winners will be chosen at random from all entries received before the closing date of 9th September! Good luck!
You must be logged in to enter competitions
Find Secret Treasure!
Hidden somewhere in each week's Beano is a secret code! If you can find it and enter it here you'll unlock extra splat points! What's more, if you find all fifty codes over the space of the year, you'll earn a massive 50,000 splat points!
But be warned, we haven't made them easy to spot, so you might need to borrow 'Erbert's glasses if you want to find them!
Good luck!
Win Ant-Man LEGO®!
Win the same exclusive Beano goodie bag we gave Paul Rudd, star of Ant-Man!
We found out that Paul Rudd, star of Ant-Man loves the Beano, so we got together with Hag & Con from kidzcoolit.com to give him an exclusive gift of his own ant-sized mini-Beano plus a framed cover featuring Ant-Man himself!
You can see more of Hag & Con's pics from the Ant-Man premiere at their site here!
Now you can get your hands on your very own mini-Beano, plus a copy of the Ant-Man framed cover and some LEGO® Ant-Man goodies!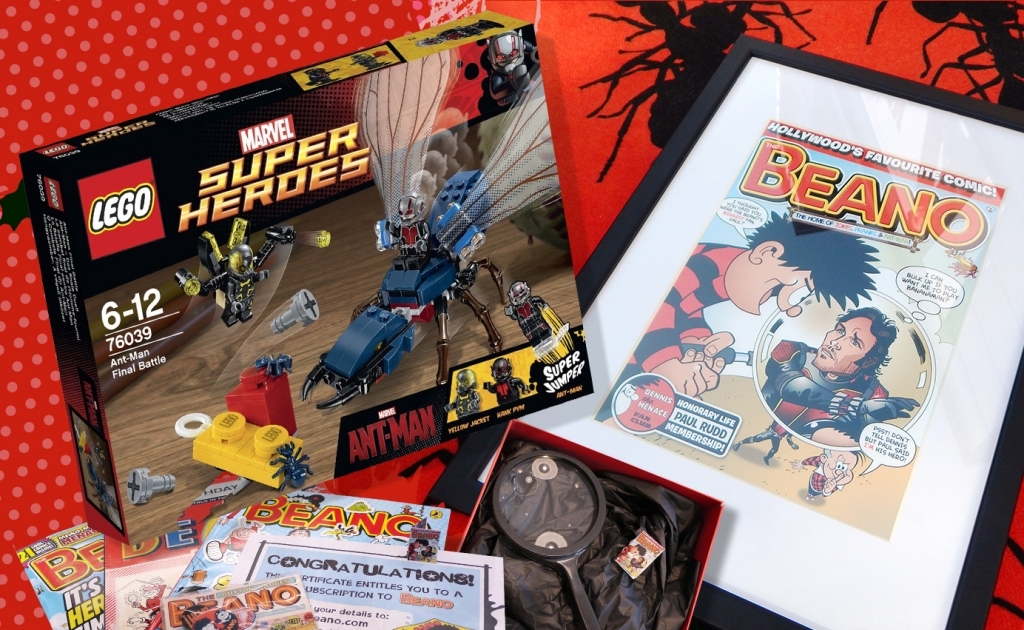 How To Enter
All you need is the teeny tiny Beano that you've made and your imagination! We're looking for the funniest… coolest… and most creative use of the Ant-Man Beano. Take a photo of your hamster reading it or one of your action figures or hide it somewhere funny… think big! Erm… small!
Send your photos to antmancomp@beano.com and the best five entries will win!
---
Download the instructions for making your mini Beano here
You can also watch our helpful video here
---
Even Ant-Man himself, Paul Rudd, has tried to win but we're not telling him his picture isn't good enough… he might go all Ant-Man on us and shrink us forever!
You've got until Monday 3rd August, 2015 to send us your entry
---
©MARVEL. LEGO and the LEGO logo are trademarks of the LEGO Group. 2015 The LEGO Group.
Blast in Beanotown
Get ready to have a BLAST!!! The amazing new Dennis & Gnasher Blast in Beanotown app for iOS is out now!
Join forces with other Menaces to put fun back into Beanotown and defend yourself from the pesky grown-ups by using crazy and menacing gadgets!
Want to know more?
– It's the only online multiplayer co-op game especially for young menaces!
– Check out the awesome 3D graphics!
– There are THREE Games modes – Beanotown Football, Defend Dennis and Menace Mayhem!
– Play with SEVEN gadgets, each one with its own special power-ups!
– Game center integration allows for brilliant multiplayer function!
Dennis & Gnasher Blast in Beanotown is available to download free now!
Menace Craft – Check out the epic MOD!
Dennis and Gnasher's EPIC Minecraft Mod is jam packed with pranks – stink bombs, rotten tomatoes, stinky underpants & loads more. Watch out for Walter!
Want to play the mod yourself? Download the MOD:
http://www.technicpack.net/modpack/beanomc-modpack.530580
Check out an awesome video of the mod below!