Win STAR WARS™: THE FORCE AWAKENS BUILD-A-WEAPON 3.75-Inch Figures!
We've got four STAR WARS™: THE FORCE AWAKENS BUILD-A-WEAPON 3.75-Inch Figures to give away!
Choose your side in the battle between the RESISTANCE and the FIRST ORDER! Each 3.75-inch STAR WARS™: THE FORCE AWAKENS BUILD-A-WEAPON action figure features five points of articulation and comes with a standard weapon accessory as well as a second custom weapon accessory.
Enter now!
You need to be a registered menace and signed in to enter competitions! What are you waiting for?! Make yourself as a menace then come back to enter the comp!
Star Wars™: The Force Awakens is available on DVD from 18 April 2015 in the UK.
STAR WARS is © & TM 2015 Lucasfilm Ltd. Lucasfilm is not a promoter or sponsor of this competition
"Winners will be chosen randomly after the closing date 22nd May 2016. All decisions are finals. Entries made after the closing date will not be counted. Entrants must have the consent of a parent or guardian over 18 to enter the competition.  The editor's decision is final. No purchase necessary. All winners will be notified accordingly. No cash alternative for prizes will be offered"
Win your own Beano Band!
Do you wanna rock like Dennis? We're giving away everything you'll need to start your own Beano band! One winner will win a Beano electric guitar, three ukuleles, an acoustic guitar and an awesome drum kit!
All you have to do is design your own awesome' guitar! Just download the entry form and rock on menaces!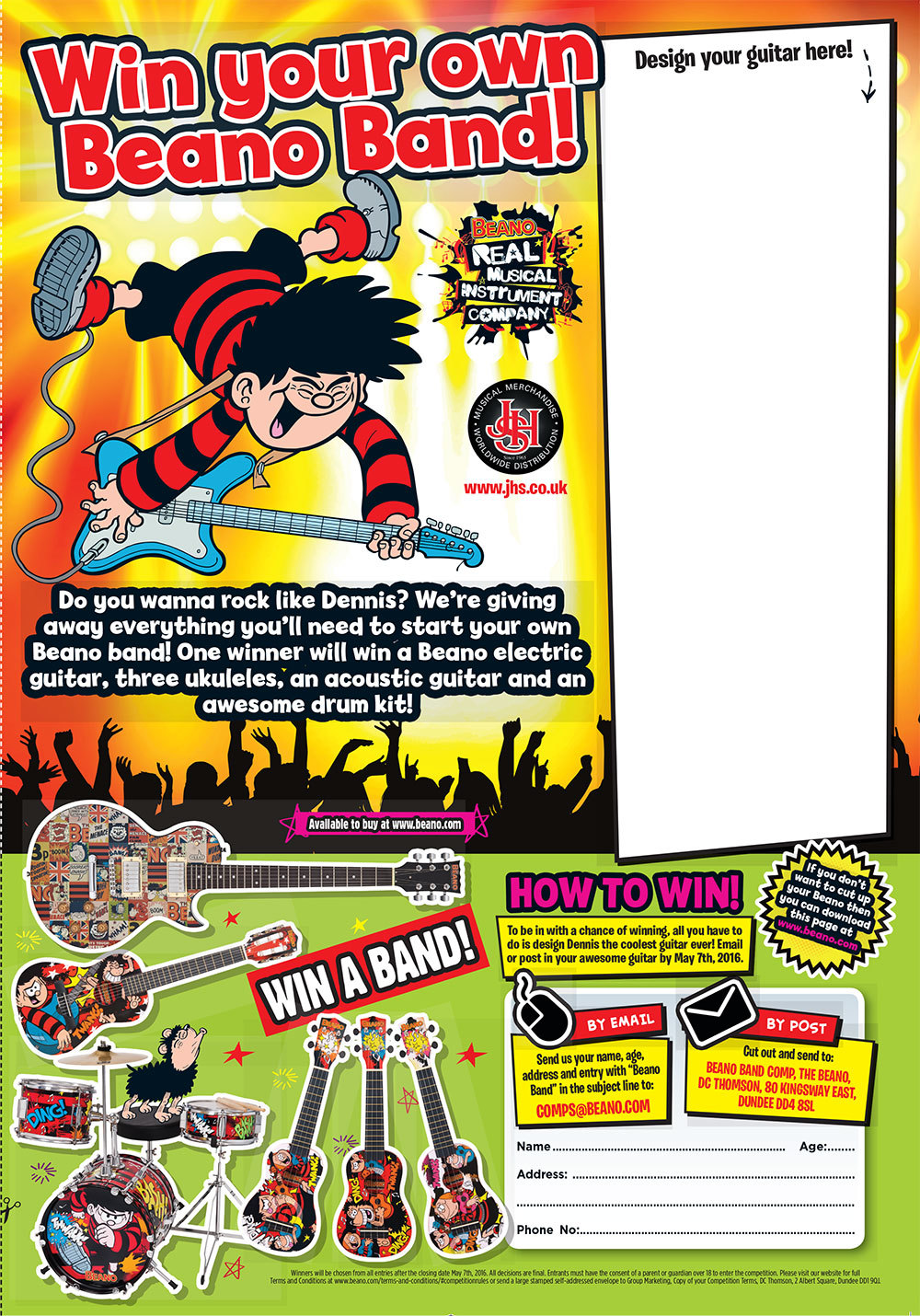 Meet the Musical Menaces!
Mike and Craig from The Beano, meet Alex and Nico, the super smart brothers who starred in last week's issue. Watch as they team up with star comic artist Nigel Parkinson and his brilliant colourist Nikka Nartova to create their very own comic strip!
Mike said: "It was great to meet Alex and Nico. They're massive fans of The Beano and are full of great , funny ideas. They even managed to work their dog, Archie into the story. Gnasher was very pleased! Mum and Dad star in the strip too, making it a real family affair. It's the first time in history an entire real-life family has appeared so we recorded a special video to share the excitement with everyone."
Check out the awesome video here!
Want to appear on Make me a Menace? Email YOUR MENACE NAME to MMAM@beano.com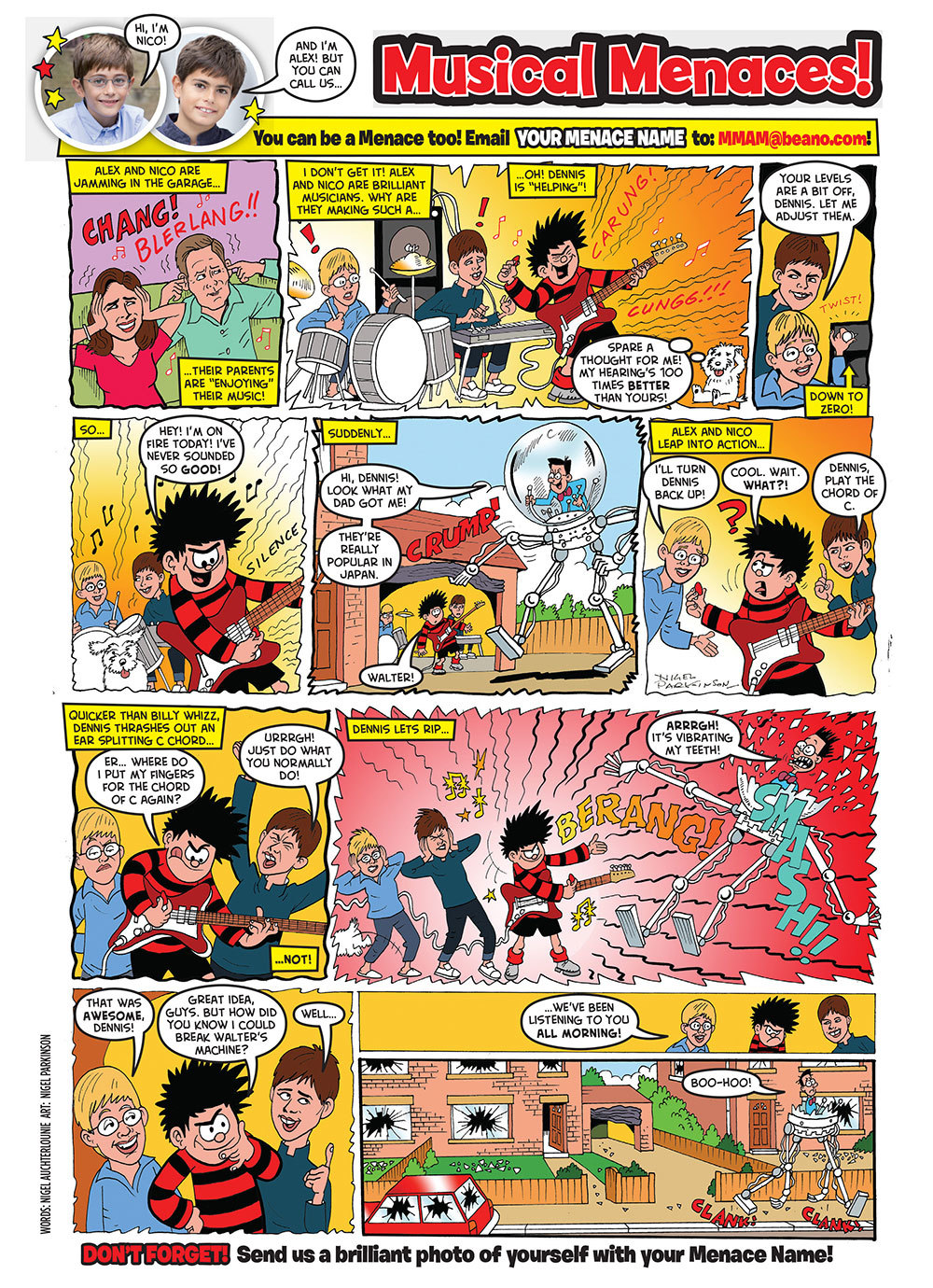 Win Harry Hill in Professor Branestawm Returns DVD
We've got 5 copies of the awesome Harry Hill in Professor Branestawm Returns DVD to give away!
Harry Hill is back as madcap inventor Professor Branestawm in his second adventure but this time he's not the only experimenter in town! Find out how he copes when his biggest rival, the self-professed 'greatest inventor in the world' and scoundrel Professor Algebrain!
This competition is now closed, thanks for the entries!
Dennis Don't Go!
Dennis needs your help! Show Dennis you support him and don't want him to leave Beanotown by printing this page out and sticking it somewhere everyone can see! You can even take a photo and share it on Popjam, or ask your parents to share on Twitter, Facebook or Instagram!
Find out more in this week's Beano, out on Wednesday! (unless you're a lucky subscriber and you'll have your grubby mits on it already…)