A Little Bit of Beano History
Own a piece of Dennis-shaped history with Beano's special Birthday edition edited by YouTube superstar Joe Sugg!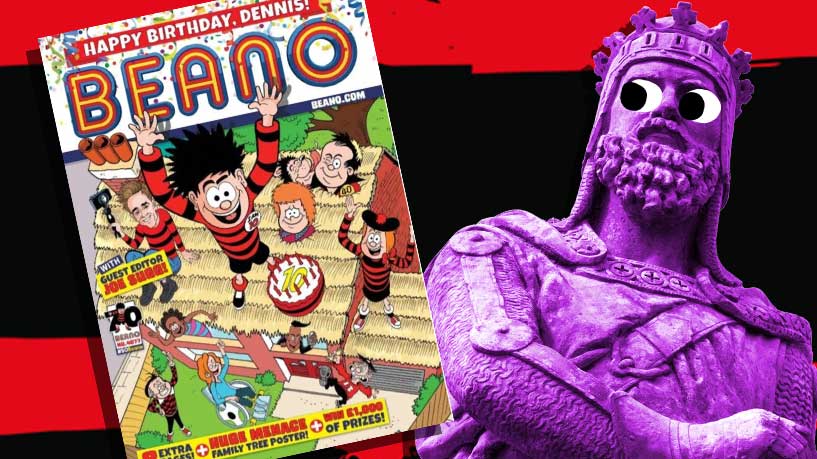 The building of the Pyramids, the moon landing and now, Dennis's birthday Beano!
Yes, you too can own an item as historic as Cleopatra's crown or Neil Armstrong's moon boot... a special, limited edition Joe Sugg edited Beano comic! This 48-page bumper edition includes multiple strips penned by Joe himself - in fact, this issue so so jam-packed with fun stuff, we had to order extra paper just to accommodate all Joe's brilliant ideas!
The comic also features a four-part strip 'I am Dennis' which sees the whole of Beanotown unleash their inner Dennis to save their favourite mischief-maker from a dastardly plot by the Mayor and Walter Brown.
And not only is it full of fab stories, there's also a treat for fans in the shape of a special pull-out Menace Family Tree poster,
The ultimate collectible for Beano lovers everywhere, the Menace Family also confirms that Dennis's dad is the 1980s-era Dennis grown-up and his grandad is in fact the original 1951 Dennis (we know - mind = blown!). It also reveals some new ancestors of Dennis including Pranks and Prejudice author Jane Aus-Den, rebel Dennis Fawkes and the prehistoric Menacesaurus.
So what are you waiting for? Book your place in the history books with a copy of this very special Beano! Visit the Beano Shop here to find out more!