Inside Beano – Issue 4117: New Year, new... Bananaman?!
Bananaman is one rotten banana in this week's comic!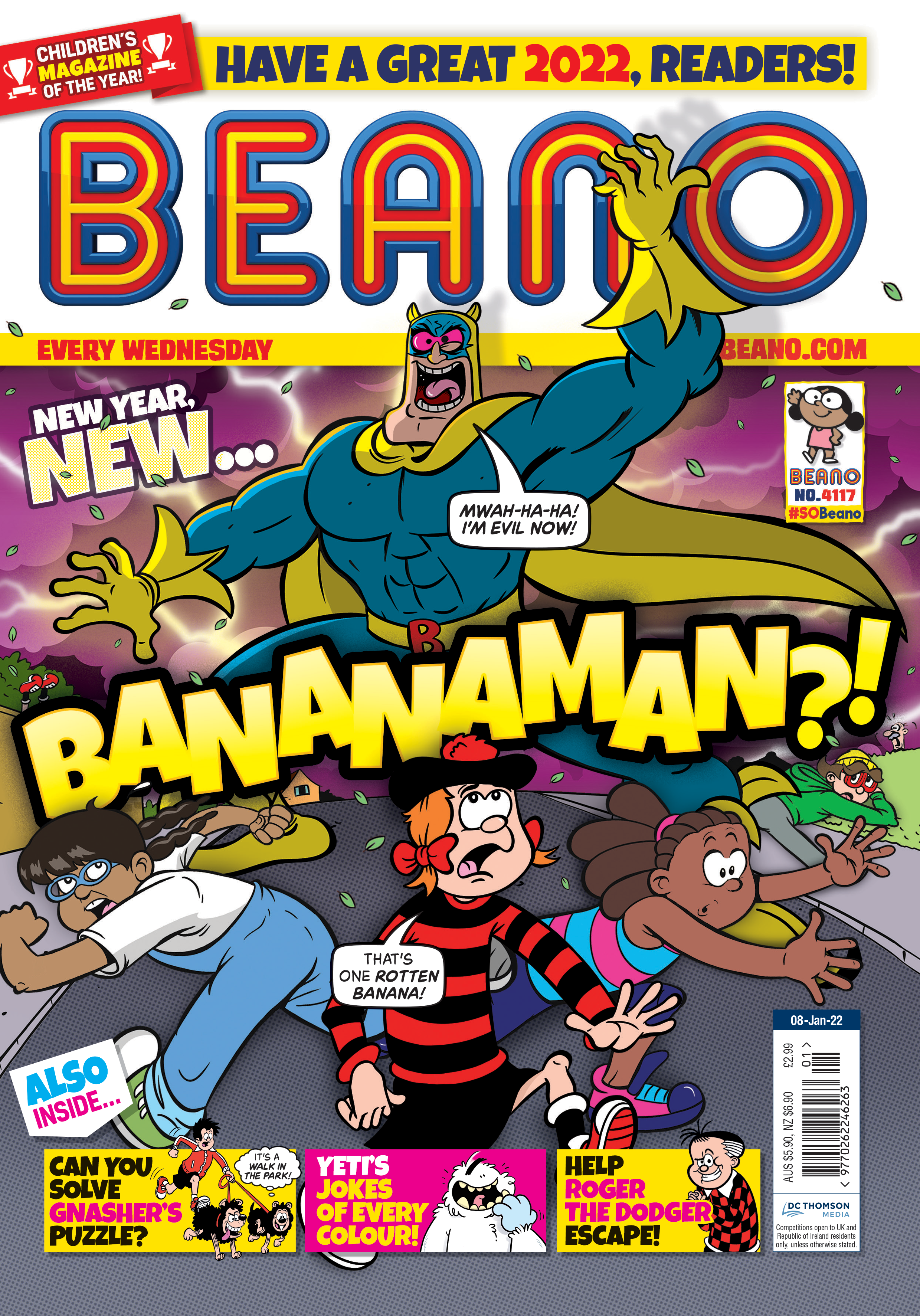 1. Bad Banana!
It's the new year – so everyone's making resolutions. General Blight is being good – as well as Doctor Gloom, Weatherman and all of Bananaman's other nemeses! What's going on? If all the baddies are good, then that means that all the goodies must be... bad!
What's your new year's resolution?
Results
To cause as much mischief as possible!

0.4 %

To pull as many pranks as possible!

0.1 %

To become a skateboarding master!

0.1 %

To spend more time with family!

0.4 %
2. Holiday Fun!
What happens when Class 2B runs into Teacher during the school holidays? Yes – this means that Teacher doesn't live in the school! And watch out, Teacher – none of the class have done their homework yet!

What's your favourite subject?
Results
English!

0.2 %

Maths!

0.1 %

Science!

0.4 %

P.E.!

0.3 %
3. Gnasher on the loose!
Oh no! An evil robot Gnasher is terrorising Beanotown! And Rubi was the one who made it! It's up to Dennis and the real Gnasher to save the day!
How would you defeat an evil robot Gnasher?
Results
Make a giant robot sausage to distract him, then turn him off!

0.7 %

Catch him in a giant collar and lead!

0 %

I wouldn't defeat him - I'd join him and take over Beanotown!

0.2 %

I'd make a giant robot cat for him to chase!

0.2 %
4. New year, new Minnie!
Minnie has made a resolution to be good this year! That's no fun – where's everyone's favourite Minx that we all know and love? Is she really gone for good?
How long do you think Minnie's resolution will last?
Results
Three days!

0.2 %

A minute!

0.1 %

A morning!

0.1 %

About a second!

0.6 %
5. Happy New Year!
The Prefect is in the clock tower causing mayhem with the time machine! If Dan isn't careful, then the whole of Beanotown will be zapped back to Year One! That wouldn't make for a happy new year!
Where in the past would you want to visit if you had a time machine?
Results
Cavemen times!

0.2 %

Cowboy times!

0.2 %

The Victorian times!

0.2 %

The 1950s!

0.4 %
All this and more in Beano, in shops from 5th January 2022! Subscribe here to get Beano delivered to your home and receive an awesome free gift!