Inside Beano – Issue 4119: Agent Elephant!
Dangerous Dan and Agent Ellis are undercover (sort of!) in this week's comic!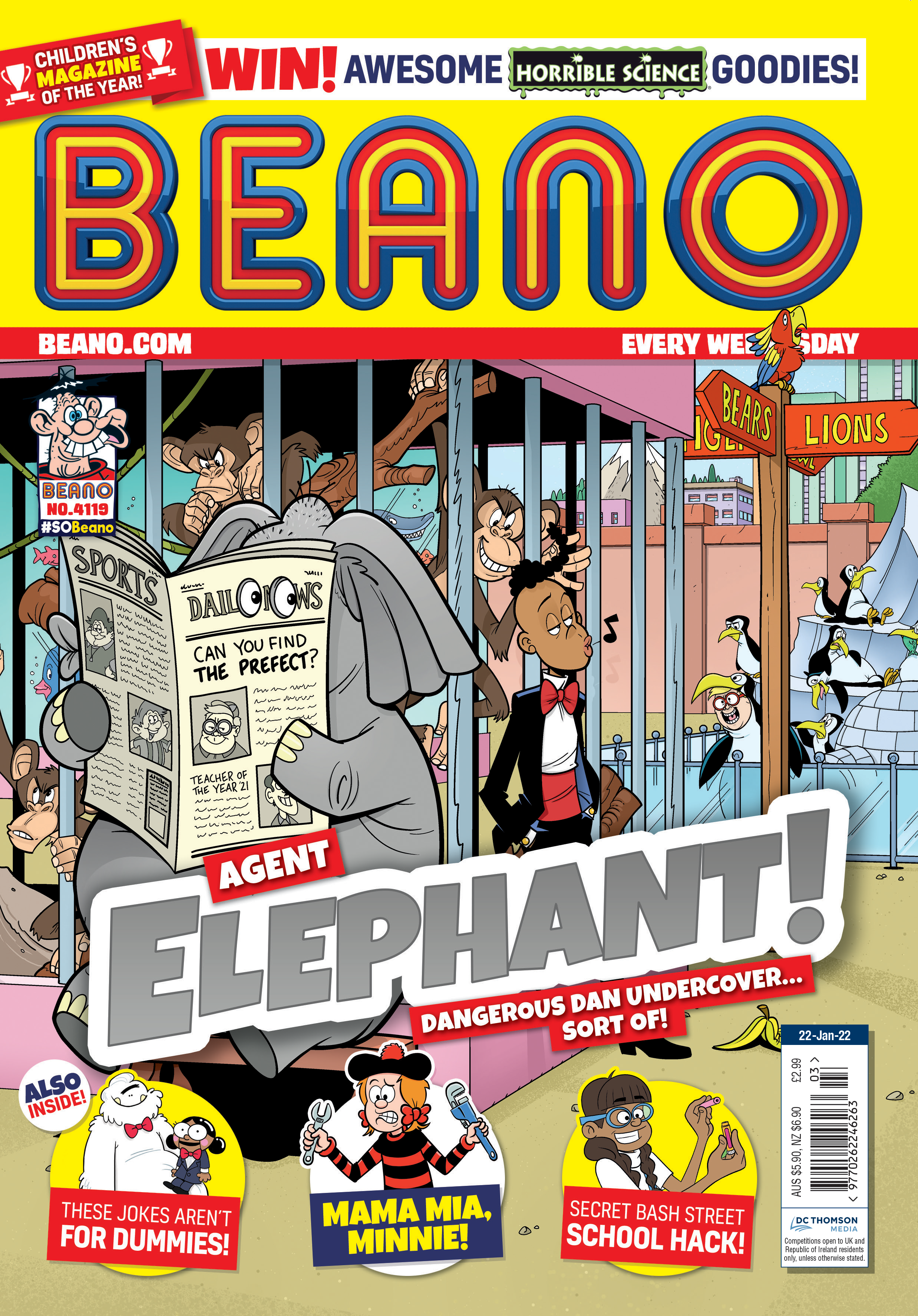 1. Mission Zoo-possible!
Dan is on a secret undercover mission with Ellis the Elephant!  The Prefect has a dastardly plan in the zoo and it's Dan and Ellis's job to find out what the plan is and stop it!
What's your favourite zoo animal?
Results
Monkeys!

0.1 %

Lion!

0.2 %

Snakes!

0.3 %

Penguins!

0.4 %
2. The last snowball!
The snow from last week has all melted, apart from one snowball! And Dennis has it! He is the one true king of the Beanotown snow! What will Dennis do with this power?
Who's your favourite Beano character?
Results
Dennis!

0.5 %

Minnie!

0.2 %

Roger!

0.1 %

Dangerous Dan!

0.2 %
3. Fix it Min!
This week, Minnie is a plumber! The radiator in Miss Mistry's classroom mysteriously broke (it definitely wasn't Minnie's fault!) and Minnie is going to fix it!
Who's your favourite Super Mario Bros character?
Results
Mario!

0.5 %

Luigi!

0.1 %

Princess Peach!

0.1 %

Bowser!

0.3 %
4. The end of Bananaman?
Bananaman meets some fantastical banana creatures! And they want Bananaman to visit their home planet! Will he go, and abandon Beanotown? Is this the last we've seen of Bananaman?
What planet are the banana creatures from?
Results
Bananatopia!

0.6 %

Bananatropolis!

0.2 %

Bananasphere!

0.1 %

Bananatron!

0.1 %
5. Test time!
This week, Class 2B is having a test! But no-one's studied (other than Cuthbert, of course)! How will they persuade Cuthbert to give them the answers?
Who do you think is going to make a noise next?
Results
Danny!

0.3 %

Smiffy!

0.2 %

Toots!

0.2 %

Cuthbert!

0.3 %
All this and more in Beano, in shops from 19th January 2022! Subscribe here to get Beano delivered to your home and receive an awesome free gift!