Inside Beano No. 3903
The one where Roger and Dennis face a very angry caterpillar!
Revenge of mother nature
Roger has to find the root of the problem when the garden goes wild
Law and disorder
Regular school uniform is boring! Minnie the Minx has got a better idea...
Atten-shun!
...and the costume capers continue when mysterious visitors arrive to get the Bash Street teachers in ship shape!
Let's call it 'abstract'
Our favourite menace tries his hand at painting this week. Maybe stick to skateboarding, Dennis!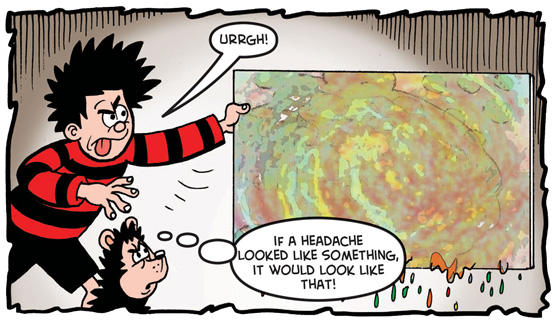 Brrraaainnn training
JJ meets some fellow runners when out jogging, but they're a bit peckish! 
Discover what happens in the rest of these tall tales with Beano no.3903, on sale Wednesday 20th September! Or subscribe here to save money and have every Beano delivered to your door!