Inside Beano no. 3982
5 Reasons this week's Beano will be a slice of life!
27th of April 2019 - Dinner Bites Back!
1. Dennis is taking part in a cooking class. Now that's a recipe for disaster! They're making pizzas, but possibly the most disgusting sounding pizzas ever created!
However, Beano has weighed in on the most controversial issue to ever face mankind: pineapple on pizza is a no go!
2. Roger and his Dad are entering the Annual Beanotown Cart Race. Again. After the last disastrous entry, Dad and Roger are keen to snag the win this year. But, Dad has decreed no dodges!
Will Roger manage to keep this promise, and will they win the race?
3. General Blight is running for Mayor! Vote for Blight! Could it be part of a brilliant plan to take over the world? Maybe!
But Mayor Brown is having none of it! What follows is a confusing identity change up that has Bananaman very confused. Then again, it's easy to confuse Bananaman!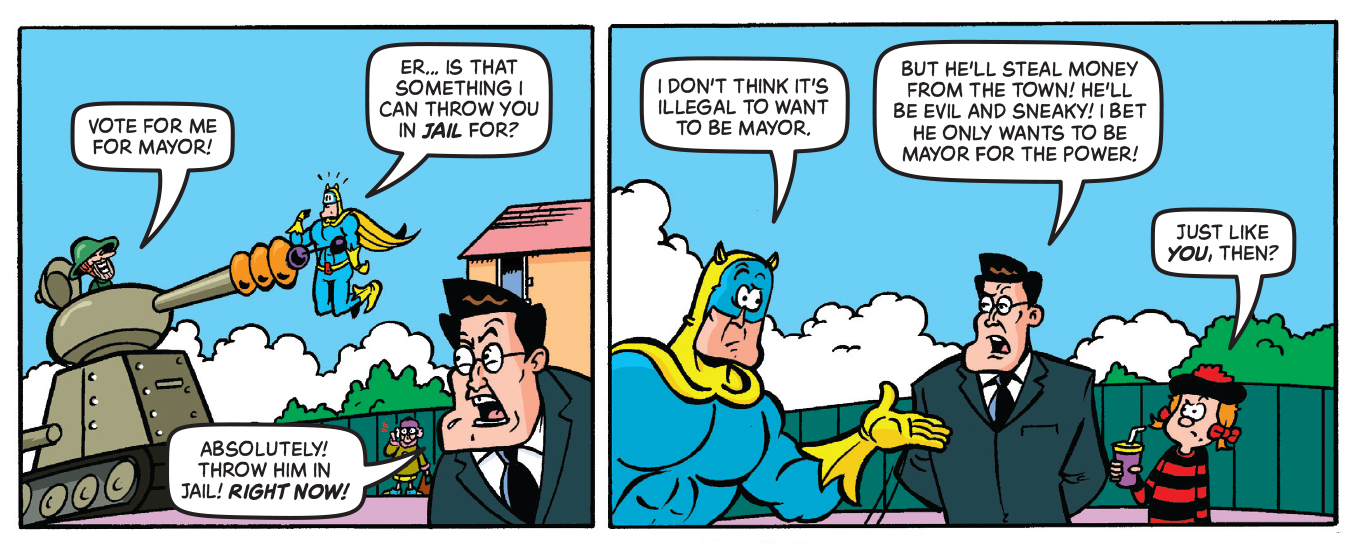 4. Minnie's opening an inn, and it's got its first customer! Would you like to stay in the Minx Inn?
It's full of tricks, pranks and is definitely not relaxing! Hmm, maybe not...
5. It's non-uniform day for Class 2B!
So, to cause more havoc, they're dressed as superheroes! But will they save the day, or discover they're more like the villains?
All this and more in Beano, in shops from Wednesday 24th April 2019!
Subscribe here to get Beano delivered to your home and receive an awesome free gift!