Inside Beano no. 4074 – Homework Horror!
Here are five non-spooky reasons why this week's Beano rocks!
Inside Beano no. 4074 – Homework Horror!
What on earth is scaring Dennis and Gnasher to bits?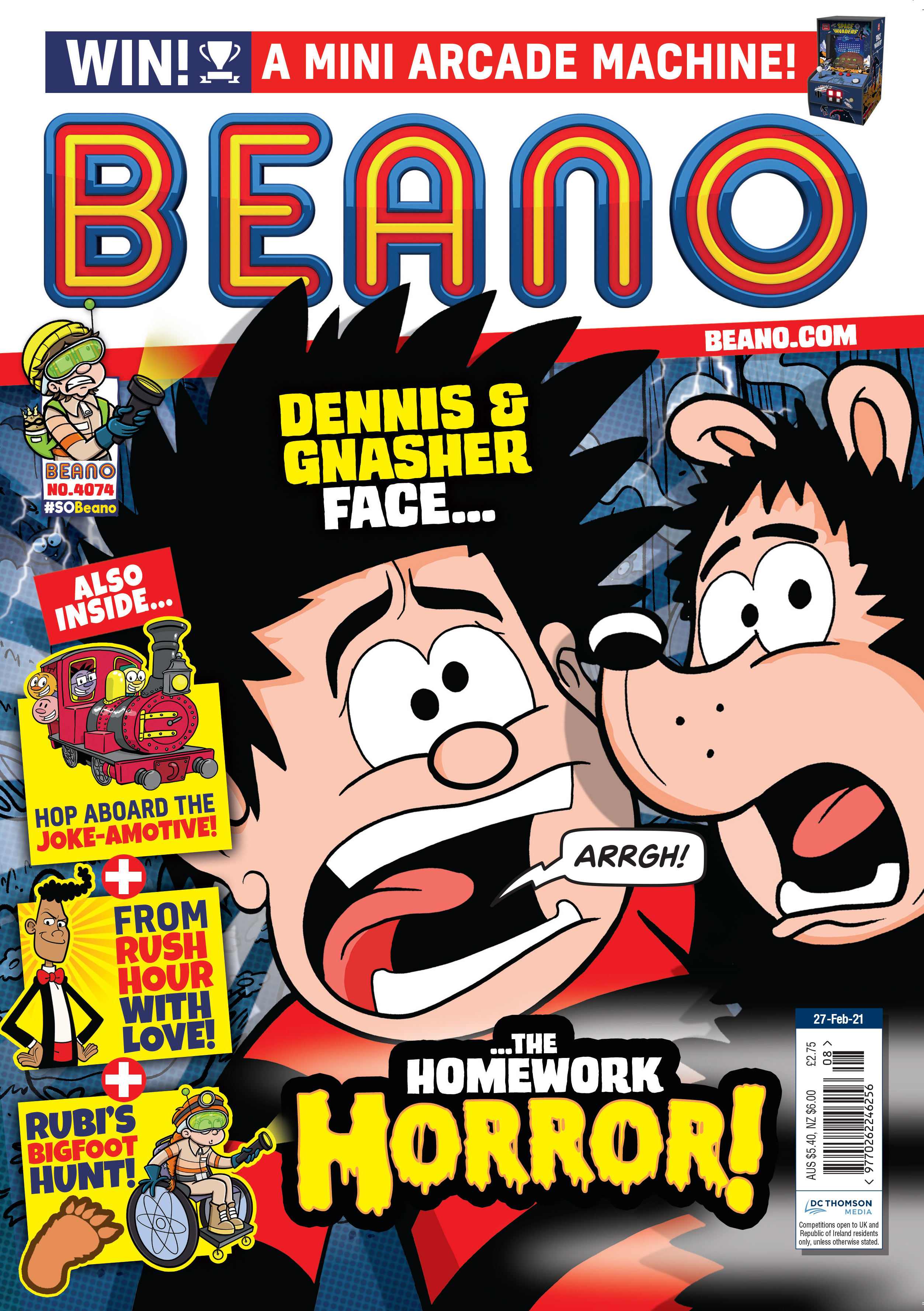 1. Homework Heebie-Jeebies!
Dennis is facing his worst nightmare – homework! He's got to write a story for English. Even worse, he's going to have to tell the story out loud to the class! Arrgh! 
2. Teacher feature!
Smiffy's late for class – again! If he's late one more time, then he gets detention! It's up the class to stall registration so Smiffy is kept out of detention. But the class are messing with powers they don't understand when they mess with Teacher's register! 

3. Button it!
It's cold outside – Minnie has to wear her big coat! That's definitely not cool, but you can't say no to Mum! But there are some benefits to a big coat, and Minnie's about to find them all out! 
4. Bananaman versus... an alien?
Bananaman in space! He's got a top-secret, urgent mission at the International Space Station! He's got to discover who's the alien – but he's got to watch out – the alien is smarter than Bananaman. Well, who isn't?!
5. Gnasher and Gnipper's gnaughty gnibbles!
Mum and Dad have bought those bacon treats that Gnasher and Gnipper love, but they've hidden them away! How dare they? It's time for Gnasher and Gnipper to use their noses and find those bacon treats – there's nothing these dogs won't do for treats! 
All this and more in Beano, in shops from 24th February 2021!
Subscribe here to get Beano delivered to your home and receive an awesome free gift!