Pitch Perfect Fat Amy's Best Jokes!
10 Reasons Why Fat Amy's one-liners are the best thing about Pitch Perfect!
That time she invented new kind of exercise!
That time she proved she could do normal excercise too!
"Vertical running! I'm vertical running!"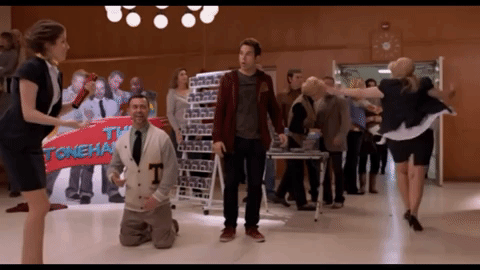 That time she showed off her greatest dance move!
"I can sing, but I'm also good at modern dance, olden dance, and mermaid dancing which is a little different. You usually start on the ground."
That time she explained how good she was at singing!
"I'm the best singer in Tazmania. With teeth."
That time she said how she could survive in the wild!
"I've wrestled crocodiles and dingoes simultaneously."
That time she revealed her real name!
"I'm an open book. I mean, you guys all call me Fat Amy. See, I guess I'm just not really living if I'm not 100% honest. And my real name is Fat Patricia."
That time she basically said she was the best singer in The Barden Bellas!
"Guys, there's going to be some haters out there. They're going to look at us, Team USA, and be like, 'why is the most talented one Australian?'"
That time she bragged about meeting a famous group!
"You're Beca Mitchell! You're the big B.M! You're the most talented person I know. And I've met three of The Wiggles..."
That time she vowed revenge after being hit by Mexican food!
"I'm gonna finish him like cheesecake!"