8 Reasons Man's Not Hot is the Greatest
Even after all this time we still love Man's Not Hot by Big Shaq! But how much do you know about the song?
Big Shaq's Man's Not Hot really is the grime gift that keeps on giving. It started out as a comedy freestyle rap on Radio 1 Xtra. Roadman Shaq, as he was known back then, is a creation of the comedian Michael Dapaah, and thanks to the Man's Not Hot rap and a preference for wearing massive coats, Big Shaq has notched up 245 million YouTube views for one video! Not bad for a young comedian from London! Here are the reasons we love Man's Not Hot.
1 How it got started
Comedian Michael Dapaah performed the rap on a BBC Radio show under the name of Roadman Shaq. The original rap became hugely popular and Big Shaq was born!
2 The statistics
Or statistacs as Big Shaq calls them! The original Man's Not Hot freestyle got 5 million views, but the proper version now has 245 million YouTube views and counting.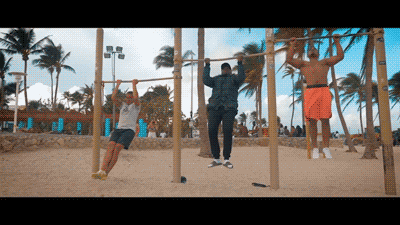 3 He's on a deodorant can
When Big Shaq rapped about the Lynx Effect and wearing spray-on deodorant he probably never imagined he'd end up on an actual can of deodorant that said his phrases whenever you sprayed. But that's exactly what happened, thanks to Lynx!
4 Celebrity friends
By the time Big Shaq made the proper video for Man's Not Hot he was so famous that DJ Khaled knew who he was and seemed starstruck when he met him in the video! Not only that but Big Shaq has met loads of other ace famous people, like Stormzy, Ed Sheeran and Skepta.
5 Quick maths!
We just love it when Big Shaq drops his quick maths on us! He can add and subtract pretty quickly, to be fair.
6 Houses of Parliament
Big Shaq's lyrics became so hot at one point that MP Fiona Onasanya dropped the quick maths lyrics during a speech about education in the Commons! Whatever next? Theresa May quoting Stormzy? Anything is possible!
7 Man's Not… Cold?
Big Shaq aka Michael Dapaah has teased fans that he may release a song called Man's Not Cold themed around winter! We hope it's true and we can't wait to see Shaq in his shorts and t-shirt braving the snow with an ice cream.
8 Massive jackets
One of the other very funny things Big Shaq has brought into our lives is huge coats! He posted a hilarious picture of Skepta in a huge puffer jacket to his Instagram then joined Jack Whitehall in a giant coat for the opening of the Brits this year. And none of these people were hot…