This Week's Issue of Beano: Try Before You Buy!
Beano is the world's longest running comic and is packed full of blamtastic stories, characters, pranks, jokes and more! Dennis Menace, Gnasher, Minnie the Minx, The Bash Street Kids and Harsha are all here! Get a taste of what's inside this week's awesome comic here or get delivered to your door every Saturday!
Beano 4204: Gnaw Patrol!
1. When moggies strike, you need Gnaw Patrol!
When a massive cat (which looks a lot like Clawdia) Gnasher rounds up Beanotown's pooches to form a formidable team to save the day!
2. Out of arm's reach!
Minnie's hurt her arm, which means her dad is rushing around to make sure she's on the mend. But after giving her a bell to alert him, it must sound like his ears are ringing constantly!
3. Break time!

Class 2B's seats are literally on their last legs and Teacher says there's no budget to replace them. But what's being delivered to his door? It's truly a chair-raising adventure!
4. Something fishy is going on in Beanotown!
This week's Dangerous Dan adventure is packed to the gills with fish funnies! Do net miss this this and take a hook at what he's getting up to!
5. The science of sleep!
What's Rubi up to this week? A special, state-of-the-art machine to help a restful night of sleep? Or is her invention something a little more simple?
Beano 4203: Welcome to Blightland!
1. Trouble is hard to dodge at Blightland!
General Blight has opened his own theme park called Blightland and the theme is... mayhem! How will Bananaman handle this 'fun' day out?
2. Photo finish!
It's school photo day at Bash Street School and Minnie has some plans to liven things up!
3. Paint the town red!
Roger has a nightmare about painting the fence. When he wakes up, he gets to work and things go from bad to worse!
4. Dennis is up to his old tricks!
Dennis' skateboard seems to have a mind of its own and causes mayhem in Beanotown... but becomes an unlikely hero!
5. Pranks, Inc.
Harsha tricks her sister into getting ink all over her face and drops some helpful hints before going to get her school photo done!
Beano 4202: Dennis's Disastrous Day!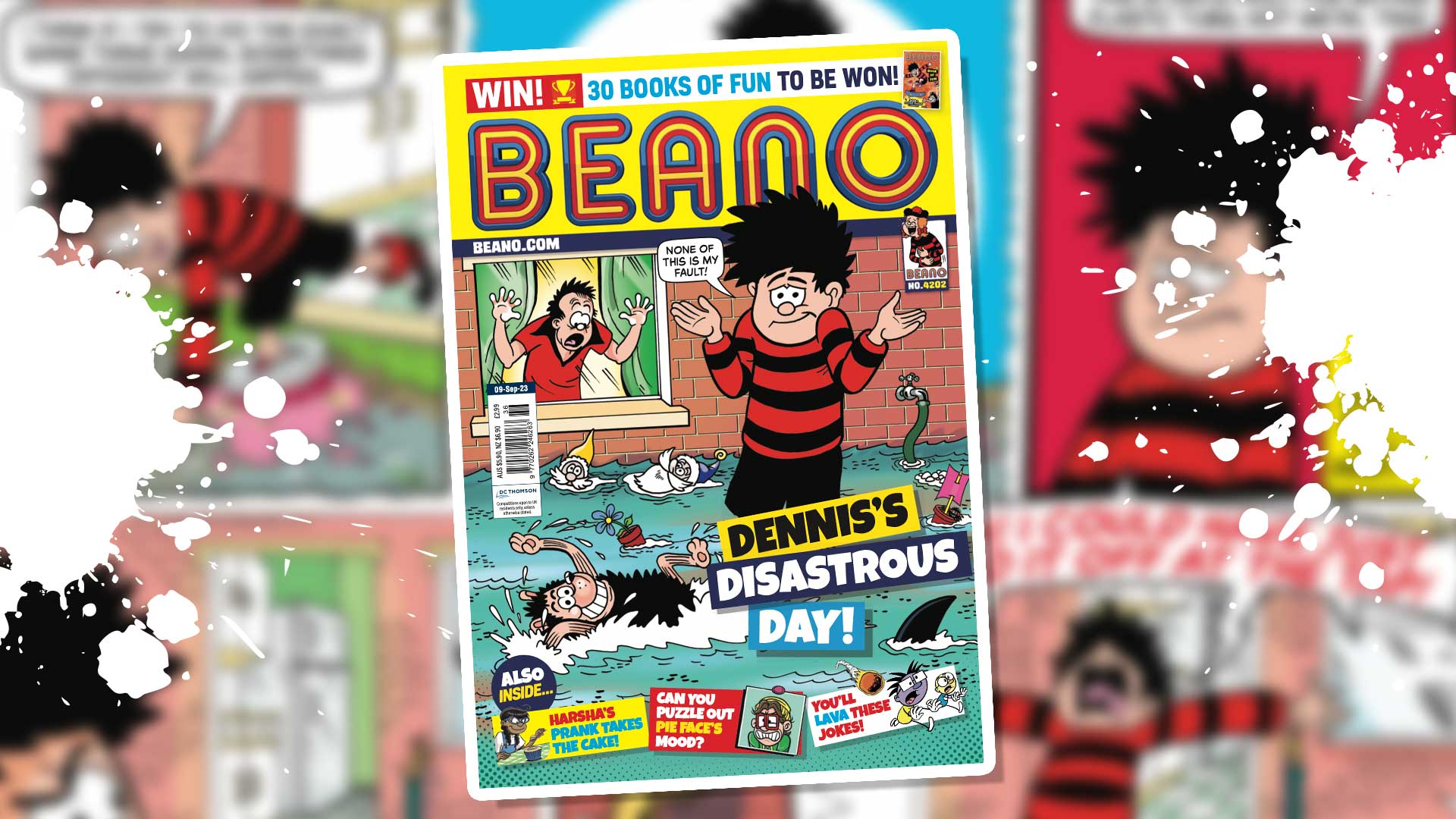 1. Dennis gets into tub-bble!
Dennis floods the garden with a hose and has the bright idea of using some tubs of paint as stepping stones. Of course, things don't go to plan and makes ever more of a mess than usual.
2. Minnie gets her just desserts!
Beanotown's unstoppable hero causes a custard flood and Mayor Brown orders her to clean up the delicious mess!
3. Dangerous Dan's race against time!
Bash Street School's top young spy is late for class and uses his connections to get to his first lesson on time. Will he avoid detention?
4. Count Prankula!
For her latest prank, Harsha pretends she's a vampire and tricks her sister into making some tasty garlic bread! Genius!
5. What's up, doc?
Teacher can't make it into the first day of the new term as he's "ill", so his class pay him a visit and help him get well quicker than he imagined!
Want MORE Beano? Just Click HERE! 👇🏾