10 Ways to Celebrate Star Wars Day!
We've got some top Star Wars Day ideas to help you celebrate May the Fourth!
May the Fourth be with you! That's the phrase you'll hear every year on the fourth day of the fifth month, which is Star Wars Day! It's a time of year when fans all around the world celebrate the epic space story that has gripped audiences for over four decades.
Star Wars began in 1977 with the release of the original film, which quickly became a favourite with sci-fi fans young and old. The Star Wars universe has since expanded to include movies, TV shows, books, comics, video games, and so much more – even intricate Lego sets. The story follows the battle between the Jedi and the Sith, with characters like Luke Skywalker, Darth Vader, Han Solo, and Princess Leia becoming heroes in school playgrounds around the world.
Star Wars Day is a chance for fans to show their love for the movie by dressing up in costumes, sharing fan art and memes, re-watching their favourite moments, and even attending Star Wars-themed events. It's a day to celebrate the impact that Star Wars has had on cinema and the lives of fans around the world.
So, in honour of all things Jedi, we've come up with a list of some of the best ways you can celebrate the best sci-fi film in the galaxy!
1. Have s a Star Wars movie marathon!
Return of the Jedi? Revenge of the Sith? The Rise of Skywalker? Whatever your favourite Star Wars film is, there are so many movies – and TV series – to choose from. It's pretty hard to pick just one, so instead, why don't you watch the entire series from beginning to end? While we don't have the exact number of minutes, we're certain it would take ages, so might be worth telling your grown-up before you start… you know, so they'll be able to provide water and snacks and stuff like that. If you had time to choose just one Star Wars movie, which one would you pick?
9. Attack of the snacks
And talking of snacks to, while you're preparing for your galactic film-fest, what better way to keep yourself going than with a plate full of Star Wars-shaped snacks? We reckon your could prepare enough tasty treats to keep even Jabba the Hutt from going peckish. While we're sure Bantha milk is delicious and nutritious, we wouldn't recommend making your own version. Just pretend it's blue, maybe?
8. Talk like Yoda for the day, you could
Ever wonder why Yoda talks so funny, do you? Well, wonder no more! The wise Jedi Master speaks in a unique way because he follows a grammatical structure known as 'Object-Subject-Verb' which is different from the usual 'Subject-Verb-Object' structure used in English. This distinctive way of speaking is known as 'Yoda-speak' and it helps to emphasise important words and create a more memorable sentence structure. It also adds to Yoda's mystique and wisdom, making his words more clever and memorable.
Yoda's speech pattern has become so iconic that it's been parodied and imitated countless times in TV shows and beyond! From adverts to memes, everyone loves a good Yoda impression! So next time you hear him say, "Do or do not. There is no try" remember that it's not just what he's saying, it's also how he's saying it. And that he was originally voiced by Frank Oz, who also gave Miss Piggy from The Muppets her legendary way of speaking to Kermit!
And let's be honest, speaking in the style of a Jedi Master is miles better than speaking like a boring old human being, so why don't you make things fun for May the Forth by talking like Yoda himself? And if you're at school, don't let that stop you! Teachers get confused, they might, but you can always use your Jedi mind skills to get out of class early.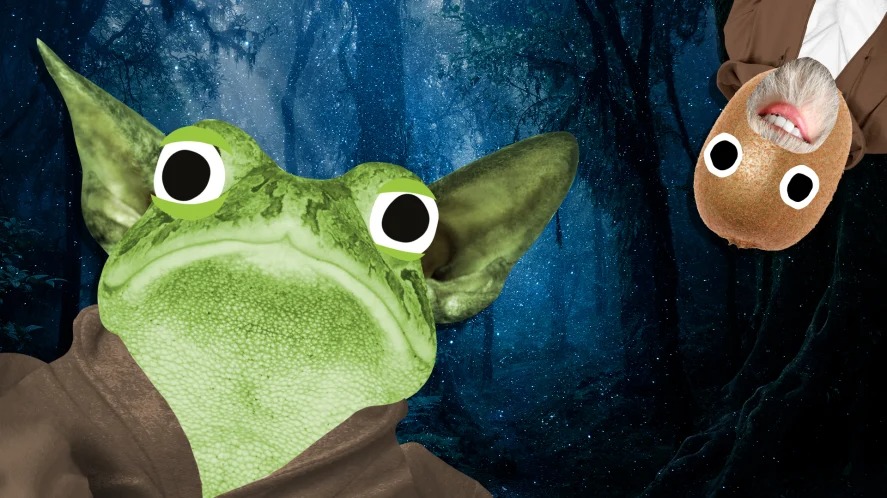 7. Give yourself a Star Wars name!
Kylo Ren, Luke Skywalker, C-3PO, Rey. Star Wars is full of characters with great names. So why not get in on the act yourself and give yourself a special Star Wars name for the day? You could be Jeanida Silth. Or Yagorn Deccol maybe? And the best thing is your teacher won't be able to call your name out when they do the morning register - unless your teacher's a Jedi.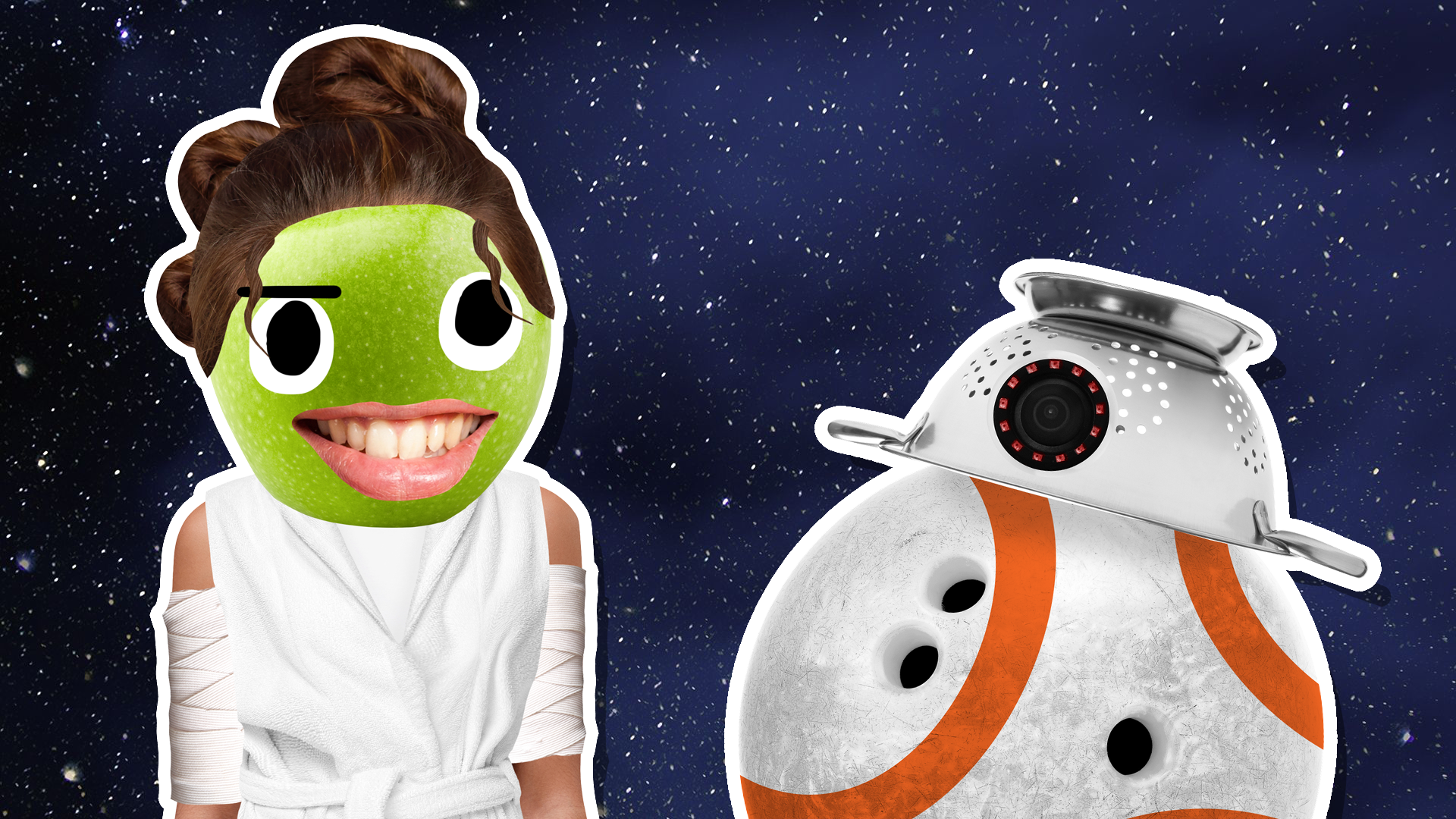 6. Take your Wookiee to work (or school)
Okay, well we know it can be hard to find a Wookiee, particularly at short notice, but that's find – just find a really hairy dog instead and take them with you to school! Well, that's if your school don't mind you bringing a dog along. Maybe Dennis might tell us some tips on how to keep a dog entertained in the classroom. If your school aren't into the idea of a dog wandering around while your teacher is trying to make you learn stuff, then maybe you might have to find a Wookiee after all!
5. Write a Star Wars story!
There's lots of different Star Wars stories with detailed back stories for the main characters. Why not pick a lesser-known character and write a story about them? You could even write the plot for a film involving your favourite gang! All you need is a pen, some paper and your imagination. You could even invent a new character and call them Keith! It's really up to you!
4. Listen to the Star Wars music!
The music in the Star Wars movies is amazing! That's thanks to the composer John Williams, whose genius shaped the more dramatic moments in this epic story. If anyone in your house uses a music streaming service, ask their permission to search for the Star Wars soundtracks and march around the house to those intergalactic bangers! Maybe use The Cantina Band song when dinner is being served and pretend you're with Obi Wan and Luke!
3. Have a lightsaber duel!
Woah, stop right there. We're not suggesting for one moment that you use a real lightsaber because they're very, very dangerous! Help is at hand as we have some extremely safe alternatives for any would-be Jedis. Why not get some different coloured long balloons and do battle with the other Star Wars fans in your house that way? Don't forget to make the sounds when you defend the Rebel Alliance and it'll just be like the real thing. Whooooosh!
2. Use the force... in the kitchen!
If you need a break from your Star Wars movie marathon – and let's face it, we're all human –  why not flex your creative muscles in the kitchen and get baking. Just like the staff on the Death Star, perhaps. While we didn't seen their canteen, everyone who worked there must have had lunch at some point. So why not team up with a grown-up in your house to make some Star Wars themed biscuits – you can make the basic dough and then get some help to cut out a Death Star (easy – a circle) or a T.I.E. Fighter (not so easy, especially if it's Darth Vader's custom-built vehicle).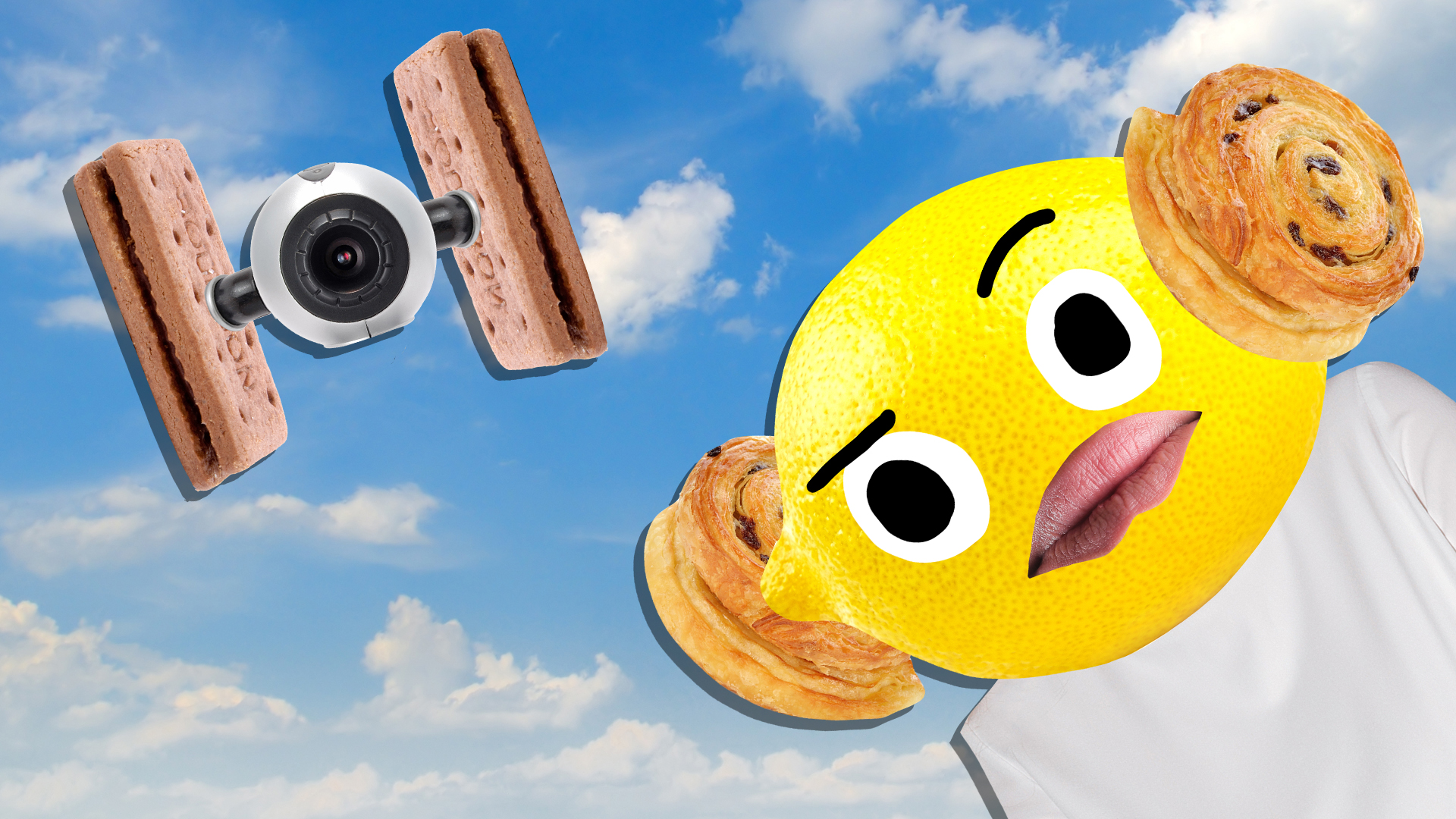 1. Take a Star Wars quiz!
Do you think you know everything there is to know about the galaxy far, far away? Test your knowledge and take one of our many Star Wars trivia quizzes! Not only is it a chance to prove your expertise to your friends, but it's also a fun way to learn even more about the wider Star Wars universe. With questions spanning all the main movies, as well as TV shows like The Mandalorian, our quizzes will challenge even the most dedicated Star Wars fan. So grab your lightsaber (device) and get ready to show off your Jedi skills!