Inside Beano no. 4077 – Happy Birthday, Dennis!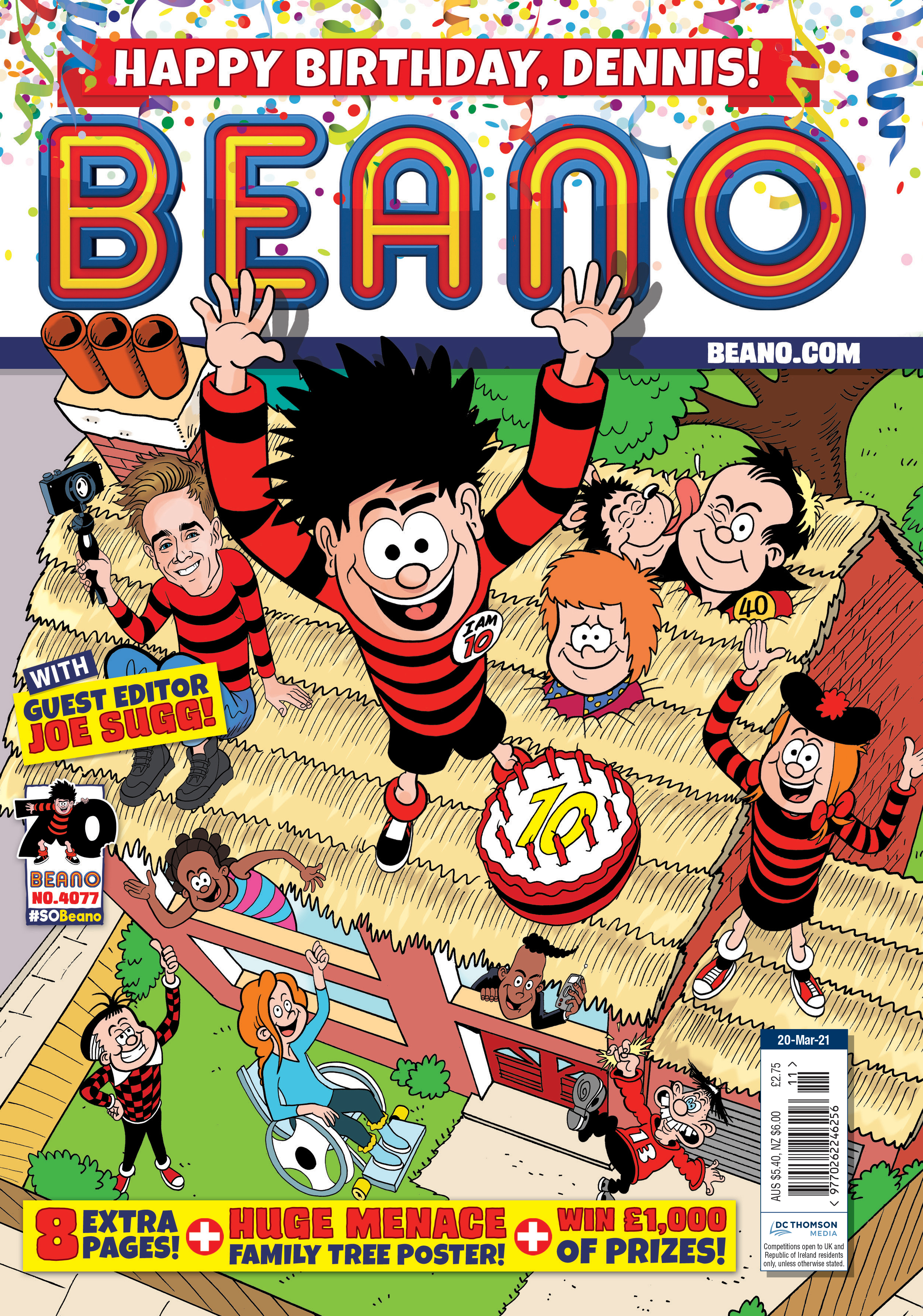 It's Dennis' birthday! We've called on our friend Joe Sugg to be our guest editor this week, so we can all have a big slice of cake and celebrate our favourite Menace's special day! Check out what's in store below!
1. RAISE THE ROOF!
It's Dennis's birthday! And Beanotown has got a special guest – YouTuber, Joe Sugg! Together, Joe and Dennis get up to some hilarious pranks, all in time for the biggest birthday bash that Beanotown's seen in 70 years! 
What's your favourite type of roof covering?
Results
Clay tiles

0.2 %

Slate

0.2 %

Metal

0.2 %

Thatch, obviously!

0.4 %
2. AHOY, ME HEARTIES!
Bash Street School has been taken over by pirates! The Bash Street Pirates, that is! They're the scourge of the seven classrooms – and they're looking for some pirate treasure! 
What would your pirate name be?
Results
Arrrr-manda

0.2 %

Arrrr-ndrew

0.1 %

Arrrr-listair

0.1 %

Keith with the parrot, you know, the one with the gold tooth

0.5 %
3. PAVEMENT TREASURE!
Bananaman has found a banana on the ground – score! There's nothing he likes more than free bananas, than well... bananas! But is this too good to be true?

What's the best thing about bananas?
Results
Its colour

0.1 %

Powerful antioxidants

0.1 %

They're a good source of fibre

0.1 %

Without them, there'd be no Bananaman!

0.7 %
4. PARK LIFE!
Minnie's on a trip to the zoo! But somebody's causing chaos and mayhem, and it's not Minnie! Shocking! Min needs to meet this mystery mayhem starter and join forces!
What's the best thing to do in the park?
Results
Have a picnic

0.4 %

Point at ducks

0.1 %

Petting squirrels

0.1 %

Recreate Lionel Messi's best goal with your mates

0.4 %
5. MAYOR 'MARE!
This week, we've got an extra-special long story for Dennis's birthday! The Mayor's had enough – he's chucked the Menace family out of Beanotown! They've had to move to the most boring place in the world – Yawnsville! How will Dennis and his friends get him back to Beanotown in time for his birthday!
What would you do if you were a mayor for the day?
Results
Just walk about in one of those big gold chains

0.1 %

Give everyone a day off

0.3 %

Hand out free slices of pizza

0.2 %

Make it illegal to be boring

0.4 %
All this and more in Beano, in shops from 17th March 2021!
Subscribe here to get Beano delivered to your home and receive an awesome free gift!