Inside Beano Issue 4089 – Dennis and Gnasher Caught On Camera!
What happens when a TV writer decides to write a sit-com about Beanotown's coolest duo?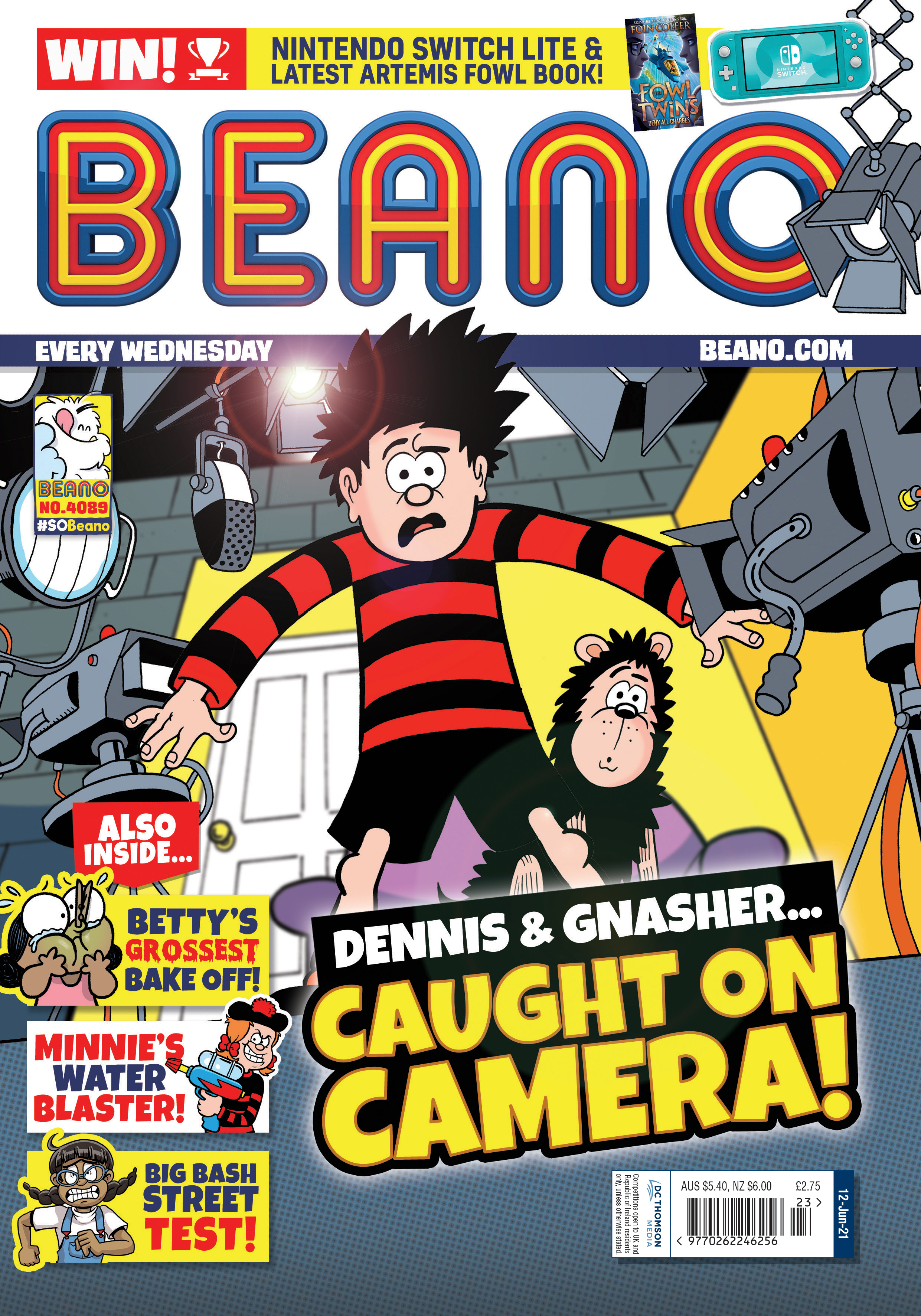 1. Menace TV!
Dennis and Gnasher live over the road from a sit-com writer – and what could be a better inspiration for a TV show than the Dennis and his best pal, Gnasher's antics?! But what will happen when Dennis discovers he's the star of a TV show?!
What's your favourite episode of Dennis and Gnasher Unleashed?
Results
Edubot 4000

0.3 %

Postcards From The Veg

0.1 %

The Order of the Golden Sausage

0.4 %

Bash Streets Back Alright

0.2 %
2. Full marks!
Class 2B is facing a big test! The most important question is how are they going to get out of it? And if they can't, where can they find the answers? Harsha has a plan to get Class 2B full marks every time! 
What's the best way to relax before a test?
Results
Do some push-ups

0.1 %

Sit quietly and enjoy a cold drink

0.3 %

Have a snack

0.4 %

Jump around like popcorn kernel in a hot pan

0.2 %
3. Water way to have a good time!
Minnie is busy helping everyone out this week, which doesn't sound like Minnie at all! But she somehow keeps accidentally helping people out! How can she be called Minnie the Minx if she doesn't keep minxing people!
What's the best way to wash a car?
Results
Blast it with a hose

0.4 %

Go through a car wash

0.3 %

Put it in the bath

0.1 %

Cover it in soap and wait for it to rain

0.1 %
4. Don't step in a poodle!
The weather has become very funky in Beanotown, and Bananaman knows exactly who is to blame – The Weatherman! Now the question is weather Bananaman can figure out what his plan is and put a stop to it?!
What's your favourite kind of weather?
Results
Sunny

0.5 %

Stormy

0.1 %

A bit of everything

0.3 %

Total blizzards

0.1 %
5. Football's coming home!
Roger and Dave have been chucked out of the living room – the football's on, so it's Roger's dad's turn to hog the TV! But watch out, Roger's got a dodge up his sleeve!
Which team do you want to win Euro 2020?
Results
Scotland

0.2 %

England

0.7 %

Wales

0.1 %

North Macedonia

0.1 %
All this and more in Beano, in shops from 9th June 2021! Subscribe here to get Beano delivered to your home and receive an awesome free gift!