Inside Beano – Issue 4104: Leaf it out, Dangerous Dan!
Can Dangerous Dan get to the ROOT of the problem?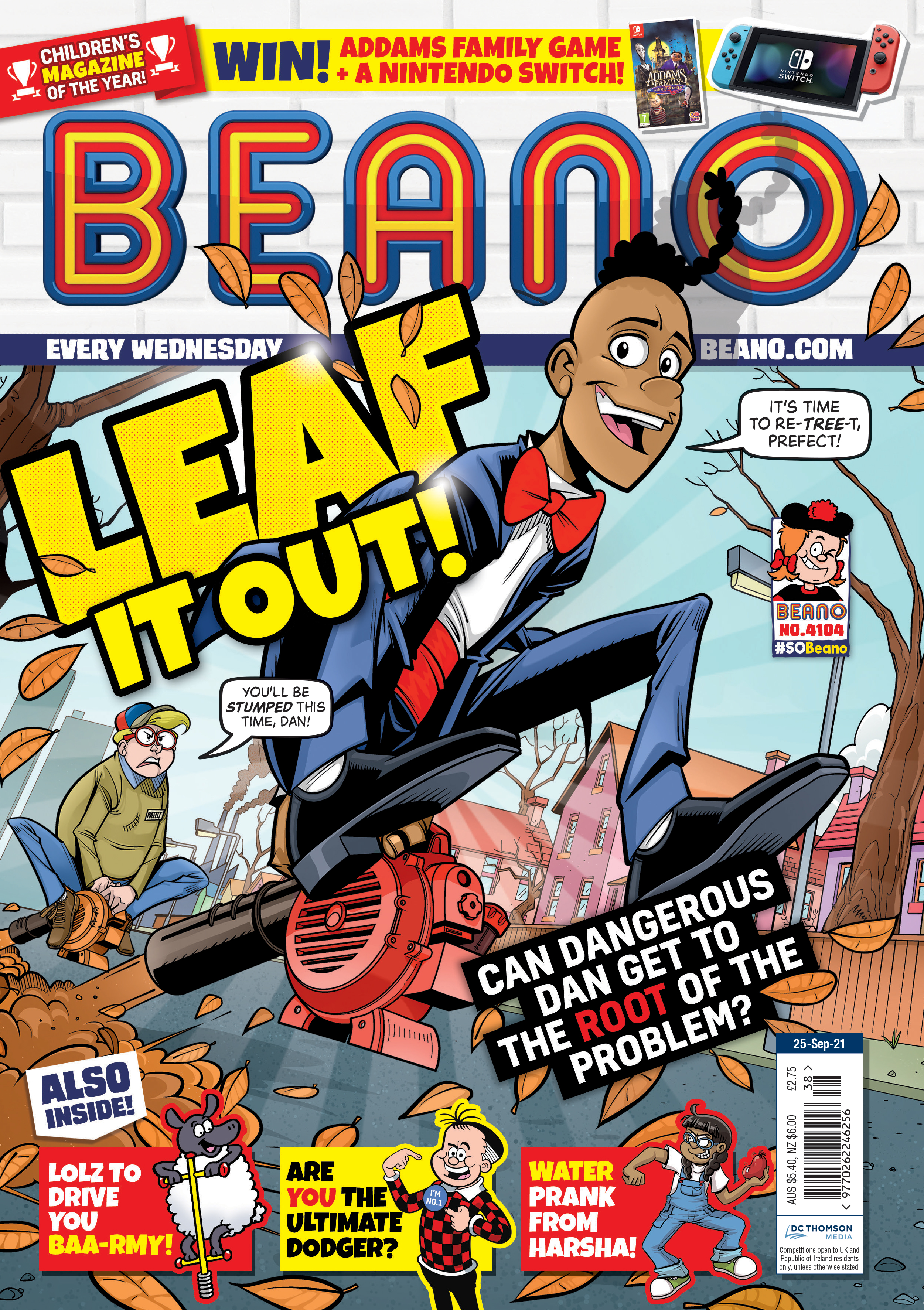 1. Branching out! 
It's un-tree-lievable! S.M.I.R.K. have covered Beanotown in leaves – it must be part of an evil plot to take over. Wood you be-leaf it, S.M.I.R.K. is doing something evil? It's tree-son! Dan's got a plan though – he'll get to the root of the issue!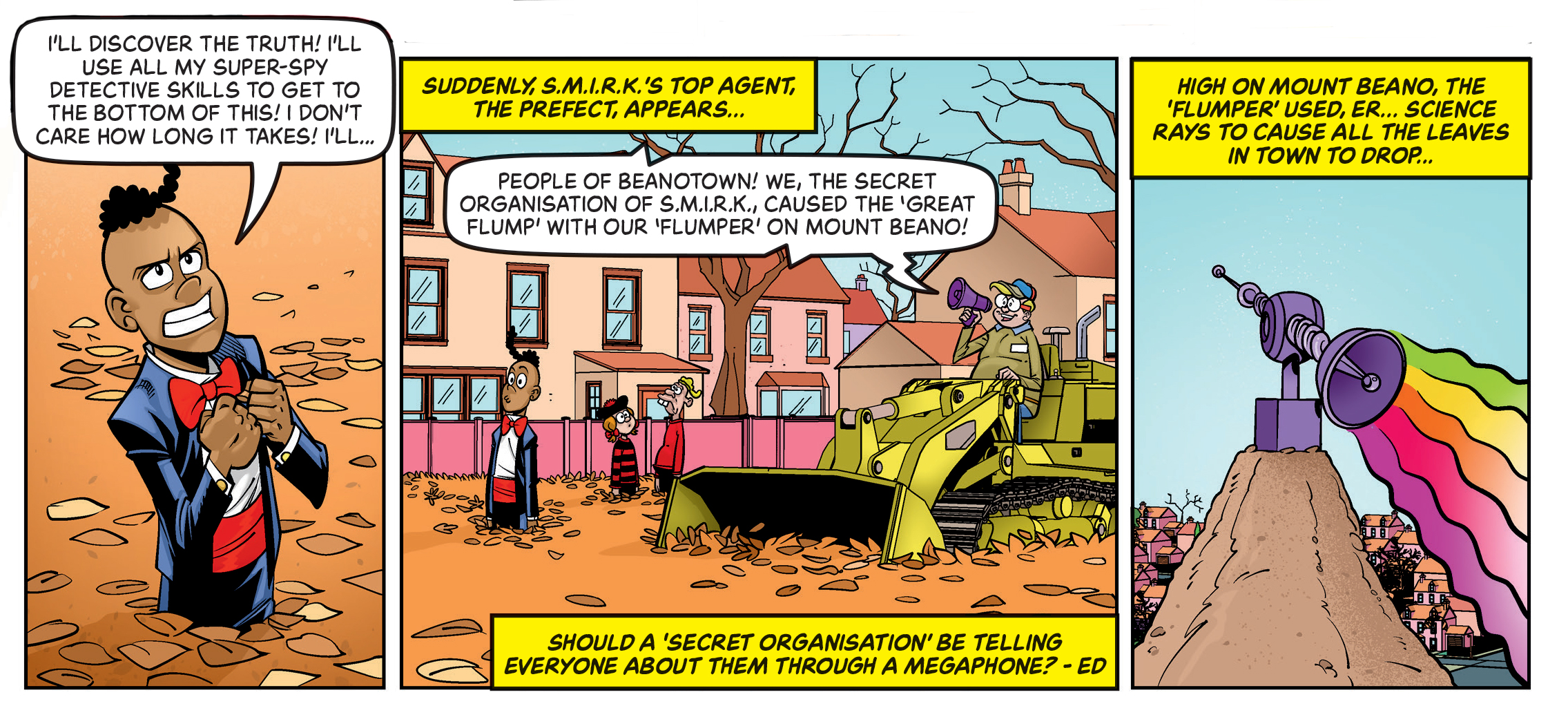 What would you call your secret organisation?
Results
The Secret Squirrels

0.2 %

The Top Secret Club

0.3 %

It wouldn't even have a name

0.3 %

The Blam Society

0.3 %
2. Sweet dreams!
Minnie's stayed up all night – how on Earth is she going to make it through the day. It's up to Dad to get Minnie to wake up – and maybe even eat some breakfast!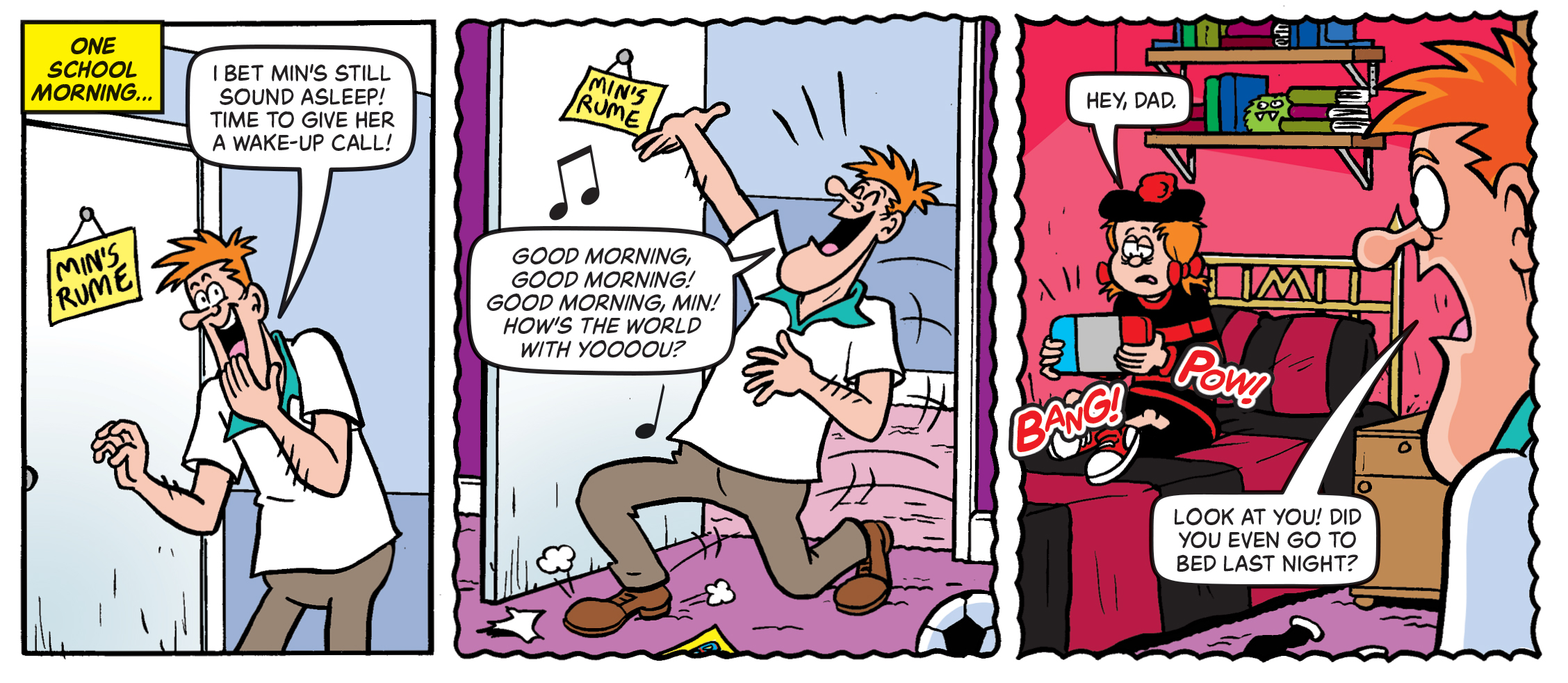 What do you normally have for breakfast?
Results
Toast

0.4 %

Cereal

0.4 %

A mega banquet of everything

0.1 %

Some fruit and a croissant, if I'm feeling fancy

0.1 %
3. Sweet saves! 
Dennis is getting entrepreneurial! He's wanting to get some money for an electric scooter, but saving his money is a little lost on him. Instead, he goes into the business of buying and selling sweeties. Fingers crossed for a sweet deal! 
How would you raise money to buy an electric scooter?
Results
Wash dishes

0.1 %

Walk the dog

0.3 %

Wash cars

0.3 %

Use a metal detector on the beach

0.3 %
4. Which witch is which?
General Blight has moved beyond his silly inventions... to magic! He's learning spells and curses to use against Bananaman to take over Beanotown! This will probably spell disaster for Bananaman!
What spell would you like to use?
Results
A 'do my homework' spell

0.4 %

A 'tidy my room' spell

0 %

An 'infinite lives on a video game' spell

0.3 %

A 'school holiday now' spell

0.3 %
5. New uniform day! 
Class 2B has new uniforms this week! They're always looking so scruffy in their normal clothes, so Teacher decided to freshen them up! Or did he?  
What would you wear to school if you could choose any outfit?
Results
Football kit

0.3 %

A superhero costume

0.1 %

Just something comfortable

0.5 %

An astronaut suit

0.1 %
All this and more in Beano, in shops from 22nd September 2021! Subscribe here to get Beano delivered to your home and receive an awesome free gift!