Inside Beano – Issue 4105: Fancy a Game of Pranks and Ladders?
Dennis reaches new heights of menacing in the latest Beano comic!
1. Pranks and Ladders! 
Dennis, Dad, a ladder and a skateboard is a recipe for disaster! They'll be reaching new heights of mayhem – and definitely not skating by! You'll be rung out by the end of this story!
What's your favourite kind of ladder?
Results
Step ladder

0.5 %

Articulated ladder

0 %

Extension ladder

0 %

Attic ladder

0.5 %
2. Wheely Funny!
Minnie's gone pottery! She's high-jacked Mum's evening class, and is learning the art of pottery. Just think – Minnie, some clay, water and a spinny wheel, absolutely nothing could go wrong!
What would you make in a pottery class?
Results
A massive bowl for my breakfast cereal

0.3 %

A nice vase

0 %

A spaceship for my cat

0.5 %

Something easy like a plate

0.3 %
3. Pen Pals! 
Pens have become currency in Bash Street School – and Cuthbert is rich! He's just got to make sure he gets it back from his classmates afterwards!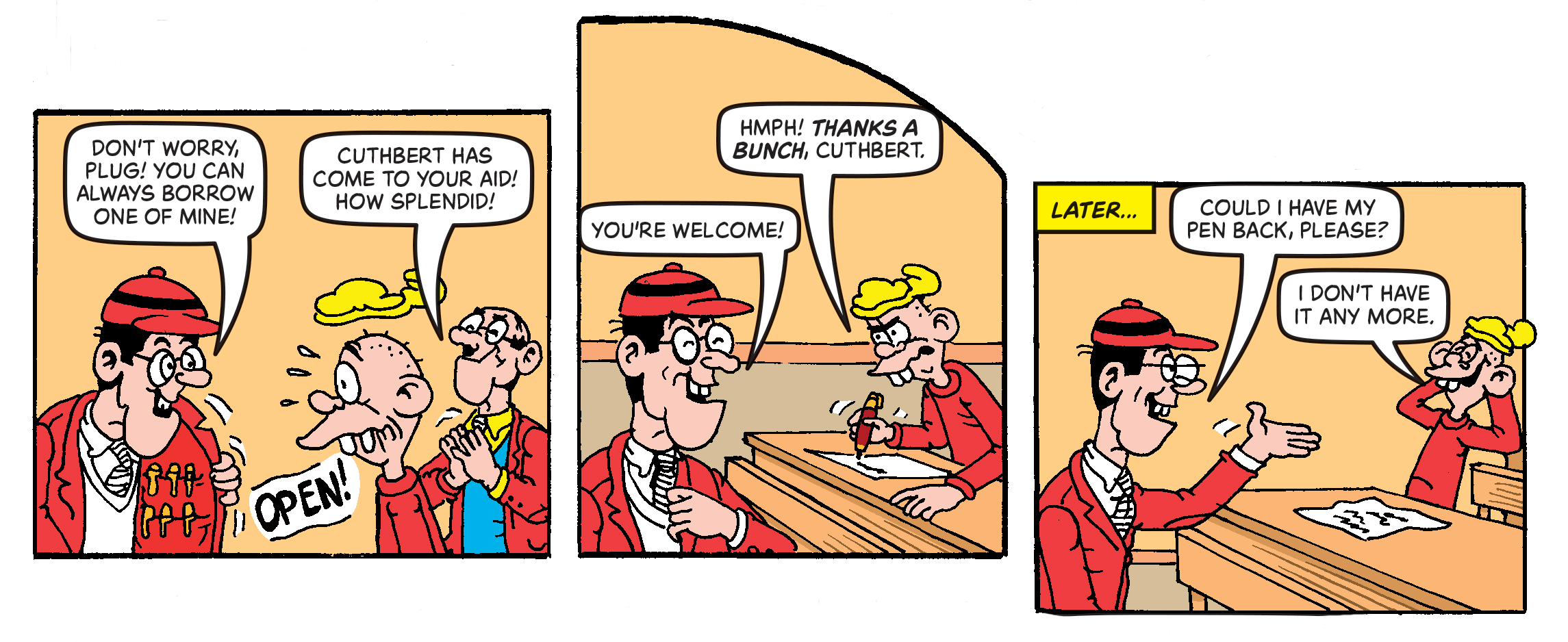 What's the best kind of pen to write with?
Results
Clicky-clicky

0.3 %

Biro

0.3 %

A novelty pen

0 %

A quill

0.3 %
4. Water you waiting for?
Roger is being made to wash the car! How on earth is he going to get out of it? Or if he can't – how will he make it easier for himself and get someone else to do it?! It's time to pull out the big guns – water guns, that is! 
What's the best way to wash a car?
Results
Go through a car wash

0.8 %

Blast it with a super soaker

0 %

Put it in a big washing machine

0.3 %

Wait until it rains and squirt some soap on the roof

0 %
5. Two villains are better than one!
What's worse than one supervillain? Or even seven supervillains? A machine that combines all those supervillains together! What will it make? How evil will this villain be? And will they finally beat Bananaman?  
How evil is this supervillain?
Results
Completely

0.3 %

65% evil

0.2 %

Pretty evil

0.1 %

It's beyond evil

0.3 %
All this and more in Beano, in shops from 29th September 2021! Subscribe here to get Beano delivered to your home and receive an awesome free gift!