Inside Beano – Issue 4115: Minxing on Ice
Minnie will need to get her skates on in this week's comic!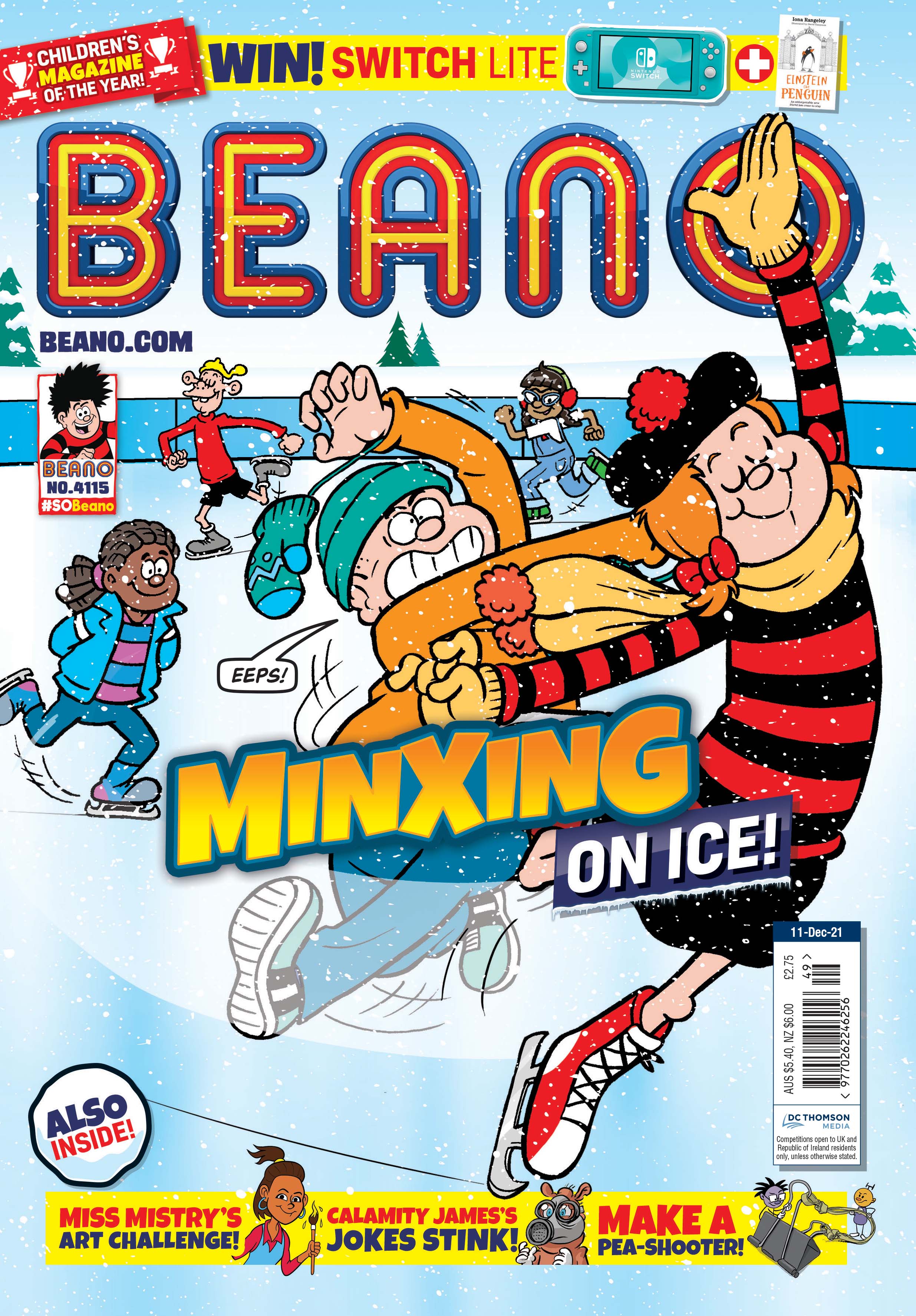 1. Friends or Froze!
It's Minnie on ice! Cruncher Kerr is busy being not n-ice at all – and Minnie won't let that slip! Cruncher better watch out, because Minnie is up to snow good!
What's the best thing about snow?
Results
Snowball fights!

0.5 %

Building snowmen!

0.3 %

Making snow angels!

0.3 %

Drinking hot chocolate!

0 %
2. Makeover Menace!
Dennis is on a home-makeover show – what will Dennis's house look like afterwards, I wonder? Will it be nice looking, or will it be a makeover disaster?!
What your favourite game?
Results
Fifa!

0.1 %

Minecraft!

0.4 %

Fortnite!

0.1 %

Roblox!

0.3 %
3. Seeing double... or triple!
There's been a big delivery to the joke shop and Dad needs some help getting all the boxes in. But instead of Heena, Harsha and Hani, he has three Heenas! That means triple trouble!
What's your essential pranking tool?
Results
Squirting flower!

0 %

Whoopee cushion!

0.3 %

Fart machine!

0.3 %

A snapping matchbox!

0.5 %
4. Utilityman!
Bananaman is getting a utility belt! He's going to use more gadgets, more inventions and be more tech-savvy! But will the utility belt prove too much for Bananaman – bananas might be more his speed!
What would you have on your utility belt?
Results
A rocket launcher!

0.3 %

Jetpack!

0.7 %

A sonic screwdriver!

0 %

Ninja stars!

0 %
5. Time to roll!
The skatepark has been closed! Class 2B is flipping out! They've got to get the Mayor to reverse the decision to close the skatepark! Time to cause chaos!
What's your favourite skateboarding trick?
Results
An Ollie!

0.2 %

A Kickflip trick!

0.3 %

A Heelflip trick!

0.2 %

A Fakie Bigspin trick!

0.3 %
All this and more in Beano, in shops from 8th December 2021! Subscribe here to get Beano delivered to your home and receive an awesome free gift!