Inside Beano – Issue 4118: Snow Day!
In this week's comic, school's out for the snow day!
1. Snow Days are snow joke!
It's a snow day for the kids of Bash Street School! There's snow question – the kids are going to love all the mayhem and mischief that a snow day brings! And there's snow way that any work will be done!
What would you do on a snow day?
Results
Have a snowball fight!

0.6 %

Build a snowman!

0.1 %

Go sledging!

0.2 %

Do some homework!

0 %
2. There's snow business like snow business!
Minnie is busy building a snowman – but when Francis mentions that the snow might all be gone tomorrow, Minnie has to take matters into her own hands! She must save the snow!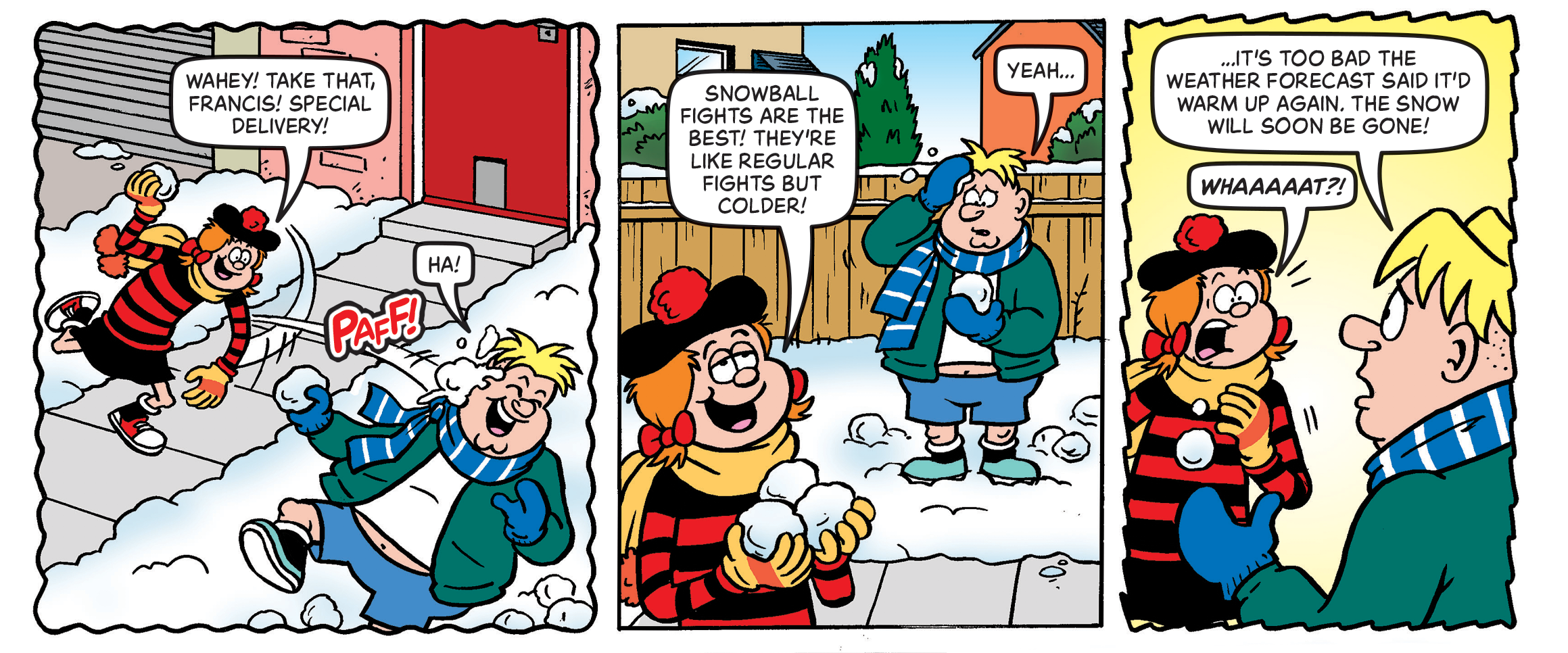 Who would you have a snowball fight with?
Results
Your parents!

0.2 %

Your best friend!

0.5 %

Your worst enemy!

0.2 %

No-one - I don't like snowball fights!

0.1 %
3. It's time to go to the snow ball!
The best bit of a snow day is the snowball fights – and Dennis is making the most of them! How many people do you think Dennis can get involved in the biggest snowball fight in Beanotown history?

What would you call a snowman?
Results
Jack Frost!

0.1 %

Frosty!

0.2 %

Dennis the Snowmenace!

0.5 %

Yeti!

0.2 %
4. The Museum of Bananaman!
Bananaman has a museum exhibition all about him! What would be included in it? Records of his previous battles, his favourite things (bananas) and all of his best villains are just a few things you'd expect. But one thing Bananaman won't expect is an attack – but who's attacking?
What's Bananaman's favourite things?
Results
Bananas!

0.1 %

More bananas!

0 %

Even more bananas!

0 %

All the bananas in the world!

0.8 %
5. Dan versus the snow-bot!
Dan has his work cut out – the Prefect doesn't even take a snow day off! His snow-bot is going to take over Beanotown – and melt all the snow! Dan can't let that happen! This is snow joke!
What should you have on your fish and chips?
Results
Just salt!

0.2 %

Ketchup!

0.3 %

Salt and vinegar!

0.2 %

Nothing - I like it plain!

0.3 %
All this and more in Beano, in shops from 12th January 2022! Subscribe here to get Beano delivered to your home and receive an awesome free gift!