Inside Beano – Issue 4123: Look out for Minnie Whizz!
Minnie's running wild in Beanotown - and 5 other reasons to read Beano this week!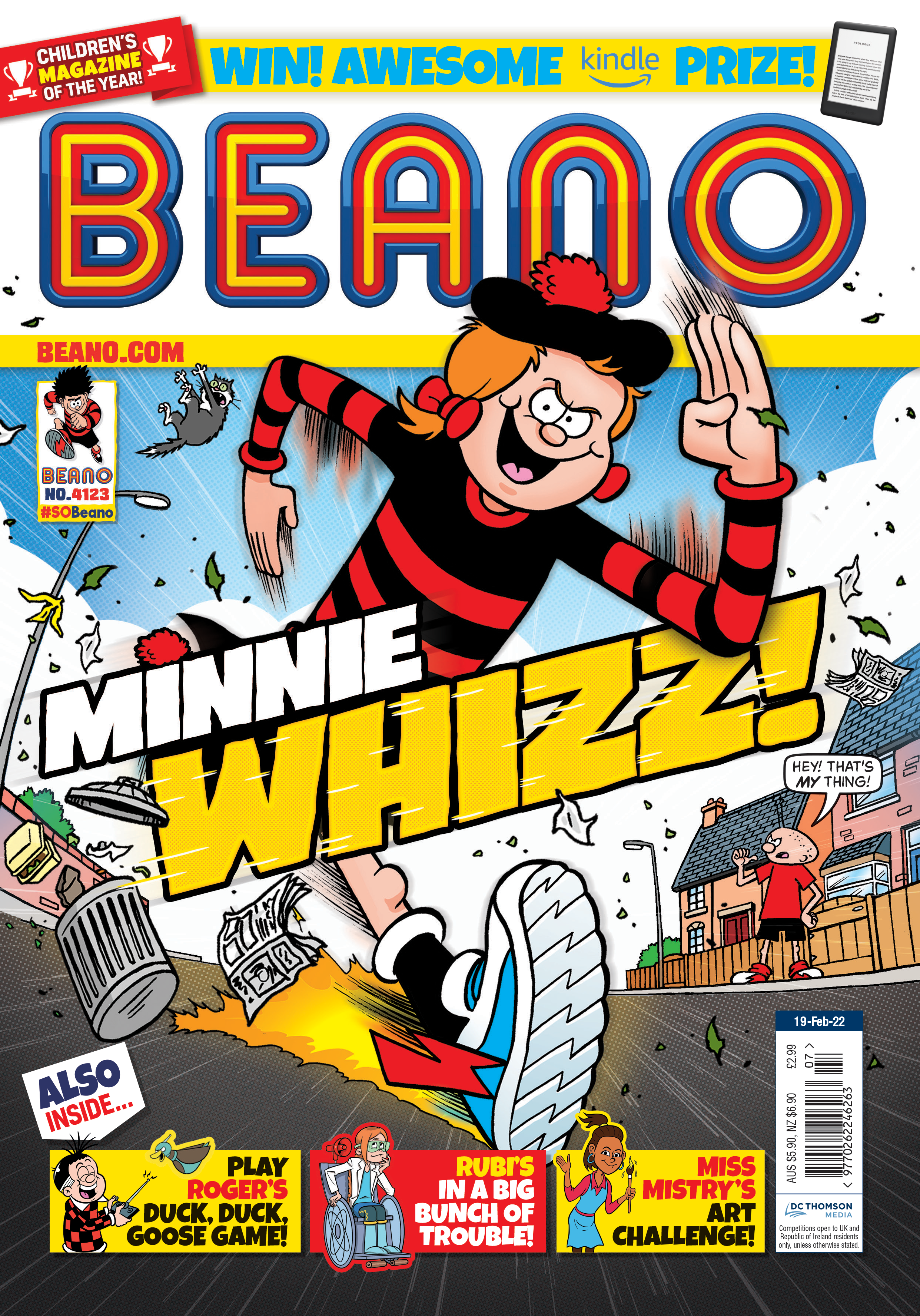 1. Race You!
Minnie has challenged JJ to a race! But JJ's the fastest runner in Bash Street School! There's no way Minnie can beat her! So how is Minnie going to get out of it without being embarrassed?
Who's the best sportsperson?
Results
Marcus Rashford!

0.5 %

Mo Farah!

0.2 %

Emma Raducanu!

0.2 %

Harry Kane!

0.2 %
2. Tablet Wars!
Dennis and Dad are in a war over the tablet! Who's turn is it to use it? Who deserves it more? Whoever touched it last wins!
What's the best tablet?
Results
iPad!

0.6 %

Amazon Kindle!

0.2 %

Chromebook!

0.1 %

Galaxy tab!

0.1 %
3. Now you see me!
It's all about the prank glasses this week for the Chandras! They'll be seeing clearly what kind of pranksters each kid is! And which glasses will Heena choose?
Who's your favourite character who wears glasses?
Results
Harsha!

0.5 %

Pie Face!

0.2 %

'Erbert!

0.1 %

Brainy!

0.2 %
4. Furs-day!
It's a very special day at school today: Furs-day! What happens on Furs-day, I hear you ask? Well, you have to dress up as something furry, obviously! But is Smiffy the only one to remember this momentous day?

What's your favourite furry creature?
Results
Dog!

0.5 %

Cat!

0.3 %

Lion!

0 %

Wooly mammoth!

0.2 %
5. Knight in shining... banana-armour?!
Bananaman has skilled up and gotten himself some banana-armour! After all, bananas have thick skins! Perfect protection – so perfect, that Bananaman can't get out!
What would your superpower be?
Results
Super Strength!

0.2 %

Invisibility!

0.3 %

Flying!

0.2 %

Teleportation!

0.3 %
All this and more in Beano, in shops from 16th February 2022! Subscribe here to get Beano delivered to your home and receive an awesome free gift!