Inside Beano – Issue 4124: It's too early for Spring... or is it?
Dennis is springing into mayhem this week in Beanotown - and 5 other reasons to read the comic!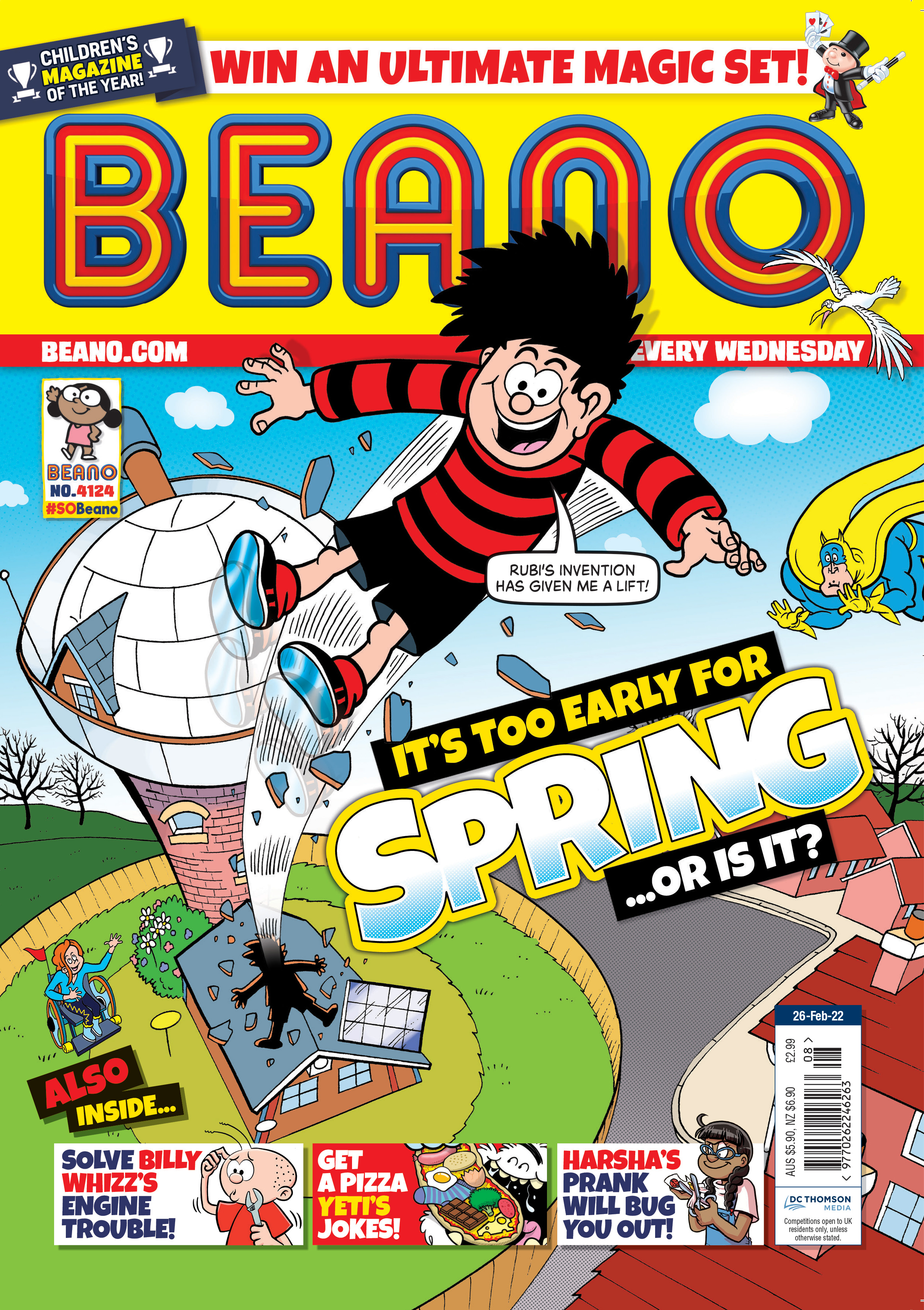 1. World Beano Day!
It's World Book Day in Beanotown, and Rubi's built a book projector! What sorts of books will Rubi make into movies – definitely I.P. Daley's latest book about Dennis's escapades!
Who's your favourite author?
Results
JK Rowling!

0.6 %

David Walliams!

0.3 %

Rick Riordian!

0 %

Jacqueline Wilson!

0.1 %
2. Minnie from the block!
Minnie has been causing trouble in the park – or has she? Who is this new Minnie on the block? And will Minnie prove that she's the top minx in Beanotown?
What's in your essential minxing kit?
Results
Catapult!

0.5 %

Peashooter!

0.2 %

Remote control car!

0.2 %

Skateboard!

0.2 %
3. Noble fart!
The Bash Street Kids are learning all about the periodic table and the noble gasses. There's one thing that the kids know a lot about is gas! Time to get paaaaarping!
Are your farts...
Results
Silent but deadly!

0.4 %

Loud!

0.2 %

Wet!

0.1 %

Ewww - I don't fart!

0.4 %
4. The Flavengers!
Bananaman has to stop a General Blight's treacle missile from hitting Beanotown – it's too much for one banana. He's going to have to call in some help. He's gonna have to call in... The Flavengers!
What fruit-based superhero would you be?
Results
Pear-Devil!

0.4 %

Guava Girl!

0.3 %

Doctor Satsuma!

0.3 %

The Kumquat!

0.1 %
5. Bounce-ability!
Rubi's putting a bounce into Dennis's step with her new bouncy soles. But will that mean that Dennis just jumps into more trouble – or more likely, jump away from the trouble he causes!

Would you rather?
Results
Bounce everywhere!

0.3 %

Be accompanied everywhere by a trampoline!

0.2 %

Have your feet stuck to the floor!

0.2 %

Levitate everywhere, but your feet can never touch ground again!

0.3 %
All this and more in Beano, in shops from 23rd February 2022! Subscribe here to get Beano delivered to your home and receive an awesome free gift!