Inside Beano – Issue 4128: Dangerous... Dennis?
Dennis and Dan have done a switcheroo – but why? Find out in this week's Beano comic!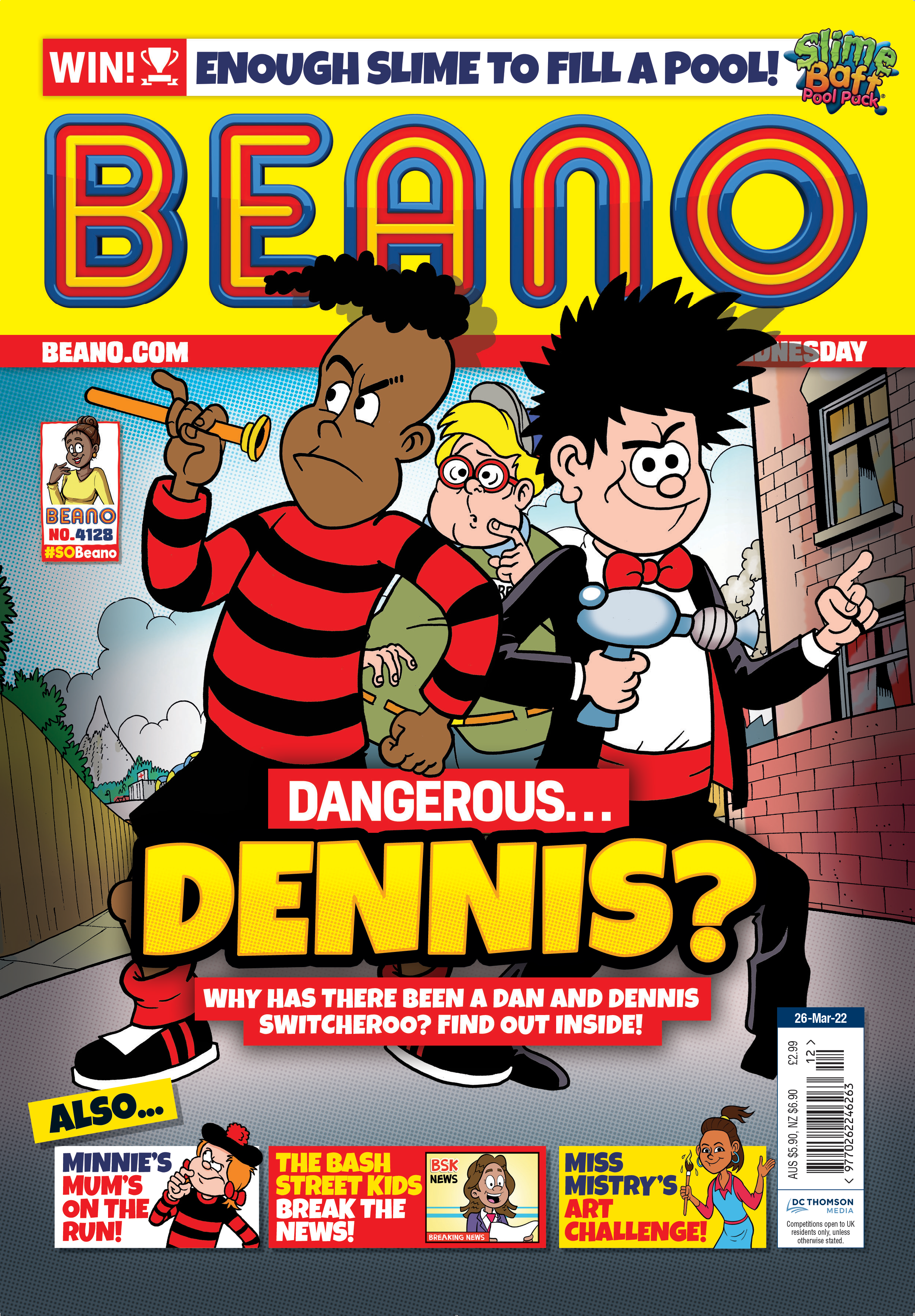 1. Spy Switcheroo!
Q has a mission for Dennis – if he chooses to accept it! It was supposed to be for Dan, but Dennis got there first! What sort of spy will Dennis be – James Bond or Johnny English?
Who's the best spy?
Results
James Bond!

0.7 %

Alex Rider!

0.1 %

Black Widow!

0.1 %

Carmen Sandiego!

0.2 %
2. Mum the Minx!
It's Mother's Day! And Minnie's mum is having a day off! How dare she?! And what do mums do on their days off? Minnie's going to find out and put a stop to Mum having any fun without her!
What are you getting your mum for Mother's Day?
Results
Flowers!

0.2 %

Card!

0.4 %

A 'You're the best Mum' mug!

0.1 %

Breakfast in bed!

0.2 %
3. Wet my plants!
Dan is facing his hardest mission ever – surviving a day in a garden centre with his mum! Is there an enemy to face – the diabolical daisies, or the evil ivy? Or even... a S.M.I.R.K. plot?
How boring is a garden centre?
Results
Really boring!

0.3 %

Super boring!

0.2 %

The most boring thing ever!

0.1 %

Like watching paint dry!

0.4 %
4. Bash Street News!
Class 2B are breaking the news – school is boring! They're reporting on the issues that matter to them – no more homework!
What would your top news story be?
Results
School is boring!

0.3 %

Homework is useless!

0.4 %

Dessert for every meal!

0.2 %

More snacks to be given to every child!

0.2 %
5. Baby Bananaman!
Bananaman is such a big baby this week – literally! Witchy Witch has turned him into a baby – how will he be able to stop all of the villains from doing naughty things?
Who's the biggest villain in Beanotown?
Results
Witchy Witch!

0.3 %

General Blight!

0.4 %

Doctor Gloom!

0.2 %

Appleman!

0.2 %
All this and more in Beano, in shops from 23rd March 2022! Subscribe here to get Beano delivered to your home and receive an awesome free gift!