Inside Beano – Issue 4131: Walk the Plank!
Will Dennis make Dad walk the plank? Find out in this week's Beano!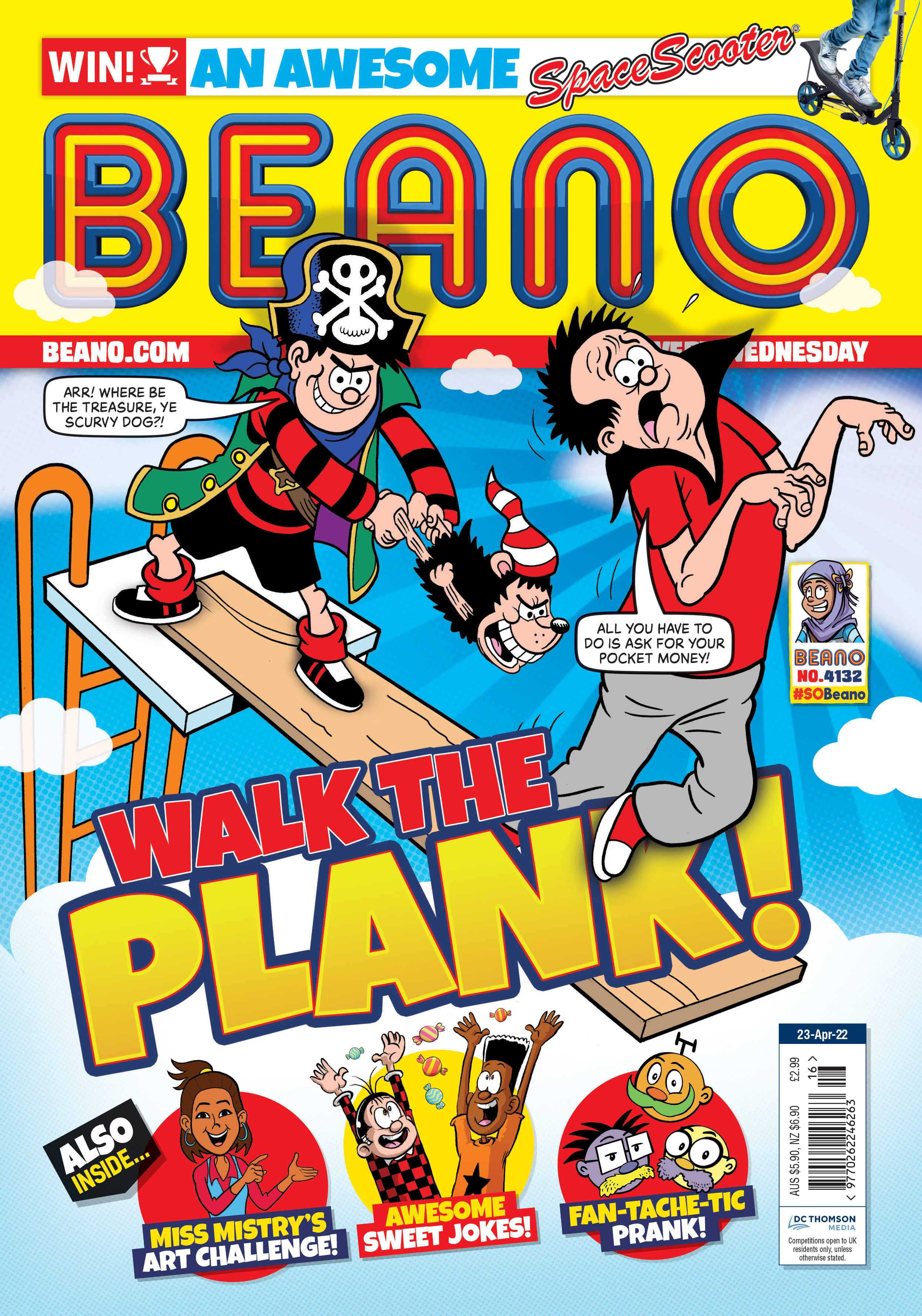 1. Captain Dennis of The Jolly Menace!
Dennis needs just one plank of wood - but there's a pirate in Beanotown who has other ideas! Who will win - Dennis or the pirate? And will it end with Dad wanting to walk the plank?!
What's the best bit about being a pirate?
Results
Owning a parrot!

0.2 %

The treasure!

0.6 %

Having a peg leg!

0 %

Getting to sail a ship!

0.2 %
2. Oh, Minnie! Wherefore art thou Minx?!
Minnie is taking inspiration from the Bard this week for her homework. But Minnie can even give the best playwright in the world a run for his money with her gift of the gab!
Which one is a real Shakespeare play?
Results
Romeo and Juliet!

0.8 %

A Minx-Summer Night Dream!

0.1 %

Min-Beth!

0 %

Minx Ado about Nothing!

0 %
3. All in a jumble!
It's time for Bash Street's annual jumble sale! Everyone's got some great things to sell - but some of Rubi's are a little too interesting!
What's the best bit about a jumble sale?
Results
Baked goods!

0.2 %

Toys!

0.2 %

Books!

0.1 %

Old Beano comics!

0.5 %
4. Escape from Bash Street School!
Teacher's locked the kids in the classroom. They can only escape if they complete his educational puzzle and riddles!
How would you escape from Bash Street School?
Results
Out the window!

0.5 %

In a rubbish bin!

0 %

Through the secret tunnels below the school!

0.3 %

Climb up to the roof and abseil down the side of the building!

0.1 %
5. As musical as a banana!
Bananaman getting musical this week - he has to protect a famous pop star from General Blight's wickedness! Just a shame he's not musical at all!
Who's your favourite pop star?
Results
Ed Sheeran!

0.4 %

Billie Eilish!

0.2 %

Dua Lipa!

0.2 %

Taylor Swift!

0.2 %
All this and more in Beano, in shops from 20th April 2022! Subscribe here to get Beano delivered to your home and receive an awesome free gift!