Inside Beano – Issue 4133: Bash Street's Got Talent!
The kids are showing off all their talents in the comic this week!
1. The Talented Bash Street Kids!
This week, Teacher's decided to put on a talent show. The problem is, he works at Bash Street School – their talents are never going to be just dancing or singing! What has he let himself in for?
Who's the best talent judge?
Results
Simon Cowell

0.4 %

David Walliams

0.5 %

Louie Spence

0 %

Craig Revel Horwood

0.1 %
2. Puppet Master Minnie!
Minnie has got a mini-Minnie puppet! She'll be unstoppable now there's two of her – and when it comes to demonstrating her talent, Minnie knows she's got this in the bag!
What would your talent be in a talent show?
Results
Juggling

0.2 %

Singing

0.2 %

Dancing

0.3 %

Unicycling

0.3 %
3. It ain't over until the Prefect sings!
The Prefect can sing! But Dan is certain he has a sinister plan – although it could also be because he's in the huff because he couldn't be part of the talent show!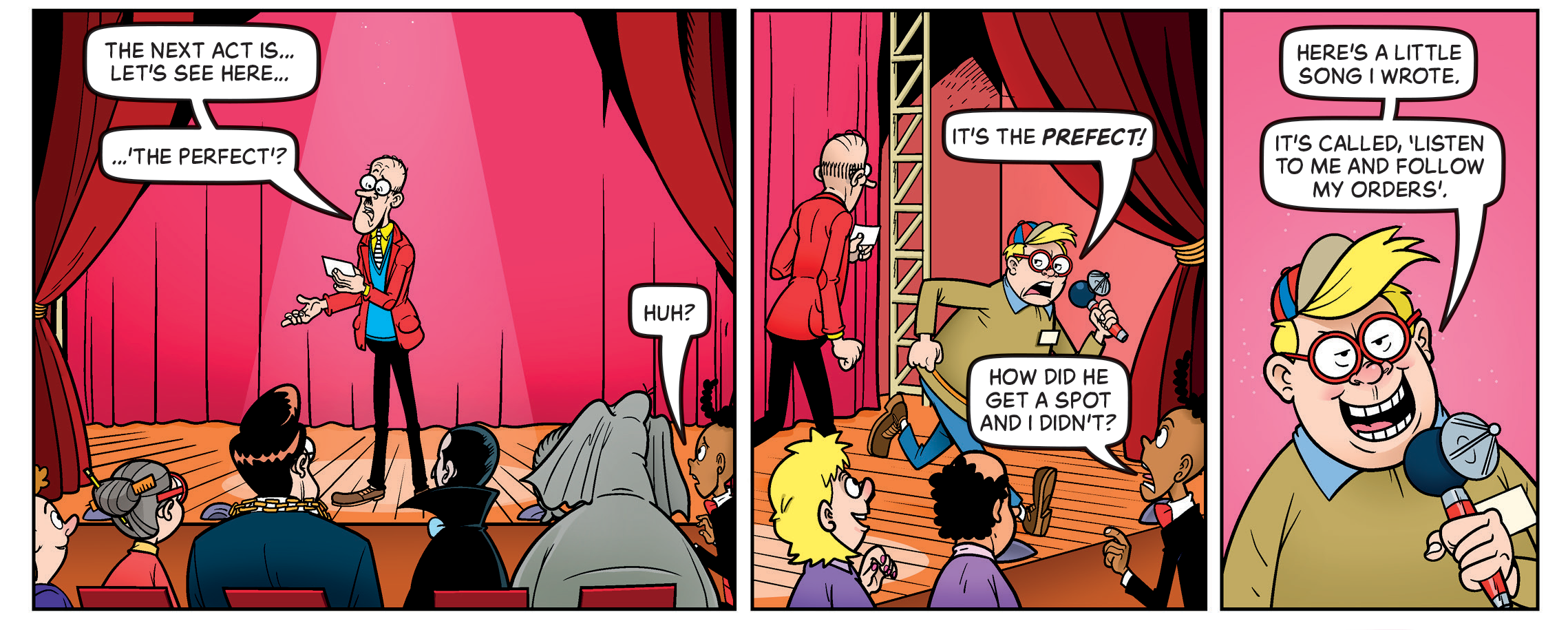 Who should present your talent show?
Results
Ant and Dec

0.4 %

Olly Murs

0 %

Bananaman

0.4 %

You

0.2 %
4. Skateboarding Skills!
It's now time for Dennis to show off his talent – skateboarding! Not a traditional talent, but one that Dennis has all the same. This will be nail-biting stuff – who really is the most talented kid in Bash Street School?
Who do you think will win this talent show?
Results
The Bash Street Kids

0.3 %

Minnie

0.1 %

The Prefect

0.1 %

Dennis

0.5 %
5. Kidnap conundrum!
Bananaman isn't at the talent show – he has to solve a kidnapping mystery and save Chiefy! Come on, Bananaman!
What's your favourite fairground ride?
Results
The Dodgems

0.3 %

Carousel

0.2 %

Ghost train

0.2 %

Ferris Wheel

0.2 %
All this and more in Beano, in shops from 27th April 2022! Subscribe here to get Beano delivered to your home and receive an awesome free gift!