Inside Beano – Issue 4135: It's time to try Menace Golf!
Dennis has a hole-in-one story – and four other reasons to read the Beano comic this week!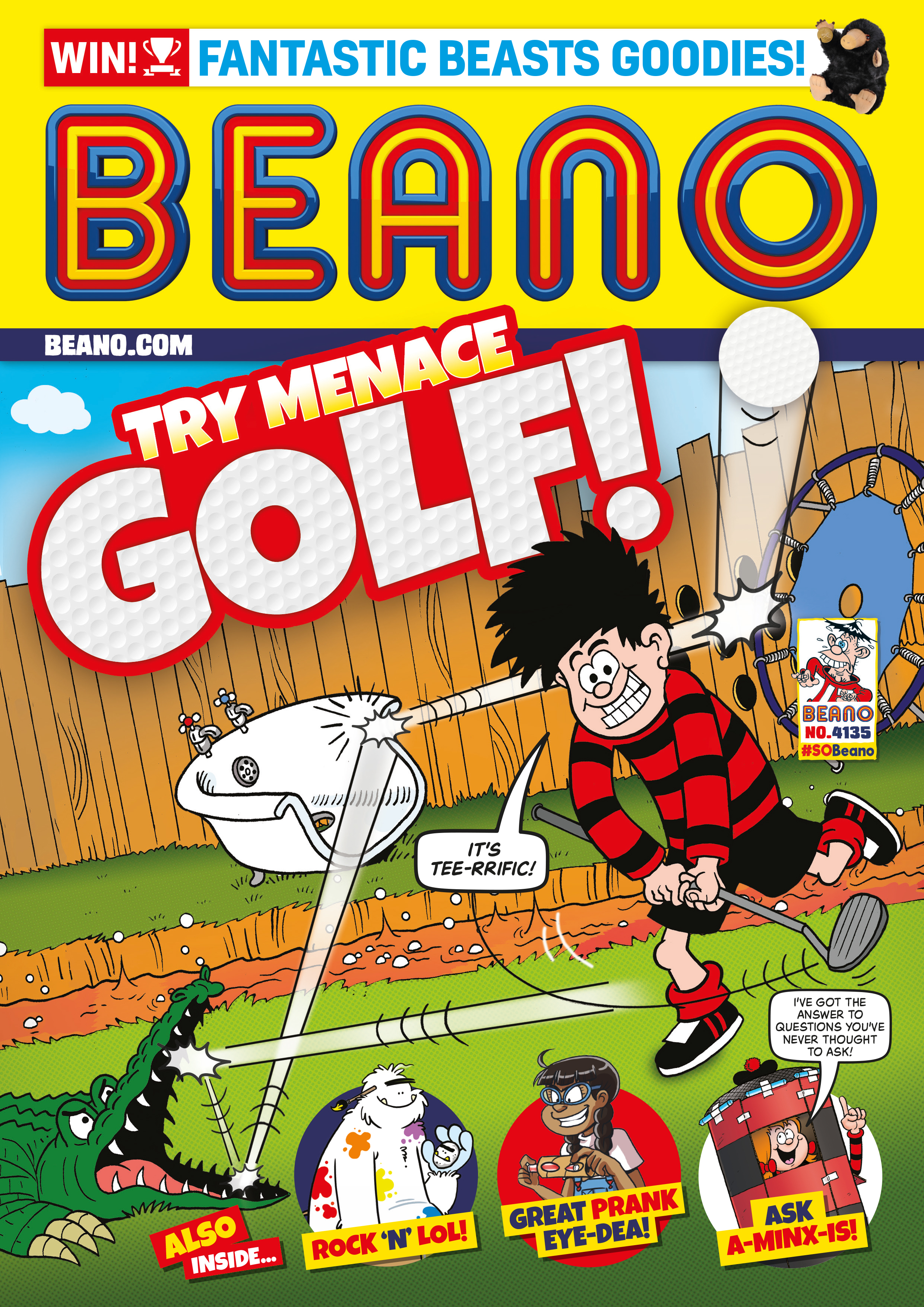 1. The Menace Open!
Dennis has been learning how to play golf – or menace golf at least. He's created the most epic crazy golf course ever. Will Dad be able to finish it, or will it finish him?!

Why did the golfer wear two pairs of trousers?
Results
No idea!

0.2 %

In case they got a hole in one!

0.7 %

To show how good a driver they were!

0.1 %

If they'd been clever, they'd have worn 'FORE!'

0 %
2. Ask A-Minx-is!
This week, Minnie is being really helpful – she's answering all of Dad's question as A-Minx-is! That doesn't sound like Minnie... what is she up to?
What is 1,278 multiplied by 901, divided by three?
Results
1 million!

0.1 %

Cat!

0.1 %

383,821.74

0.6 %

Numbers!

0.2 %
3. Snow... in summer?!
It's snowing in Beanotown – but it's May! What on Earth could be causing it? This is a super tough case for Bananaman, who does he know that can control the weather? Not Weatherman, surely?! That's waaaaay too obvious!
What's your favourite weather?
Results
Snow!

0.4 %

Sunny!

0.4 %

Rain!

0.1 %

Stormy!

0.1 %
4. Rock, Paper, Scissors, Yeti!
Betty's been teaching Yeti how to play rock, paper, scissors! But Yeti's finding the rules a little complicated – he needs a bigger example!
Rock, paper, scissors or Yeti?
Results
Rock

0.1 %

Paper

0 %

Scissors

0.1 %

Yeti

0.7 %
5. Inspector Bash Street!
Class 2B are being inspected – this can't end well for Teacher. But this Inspector has a secret... they're never passing this inspection!
What grade would you give Class 2B?
Results
A* for mischief!

0.3 %

C! Because you'd like to 'C' them all in real life!

0.2 %

B! Because you'd like to 'B' part of the class!

0.2 %

F! For Fun!

0.2 %
All this and more in Beano, in shops from 11th May 2022! Subscribe here to get Beano delivered to your home and receive an awesome free gift!