Inside Beano – Issue 4137: Operation Cookie!
Dan risks it for a biscuit this week in the Beano comic!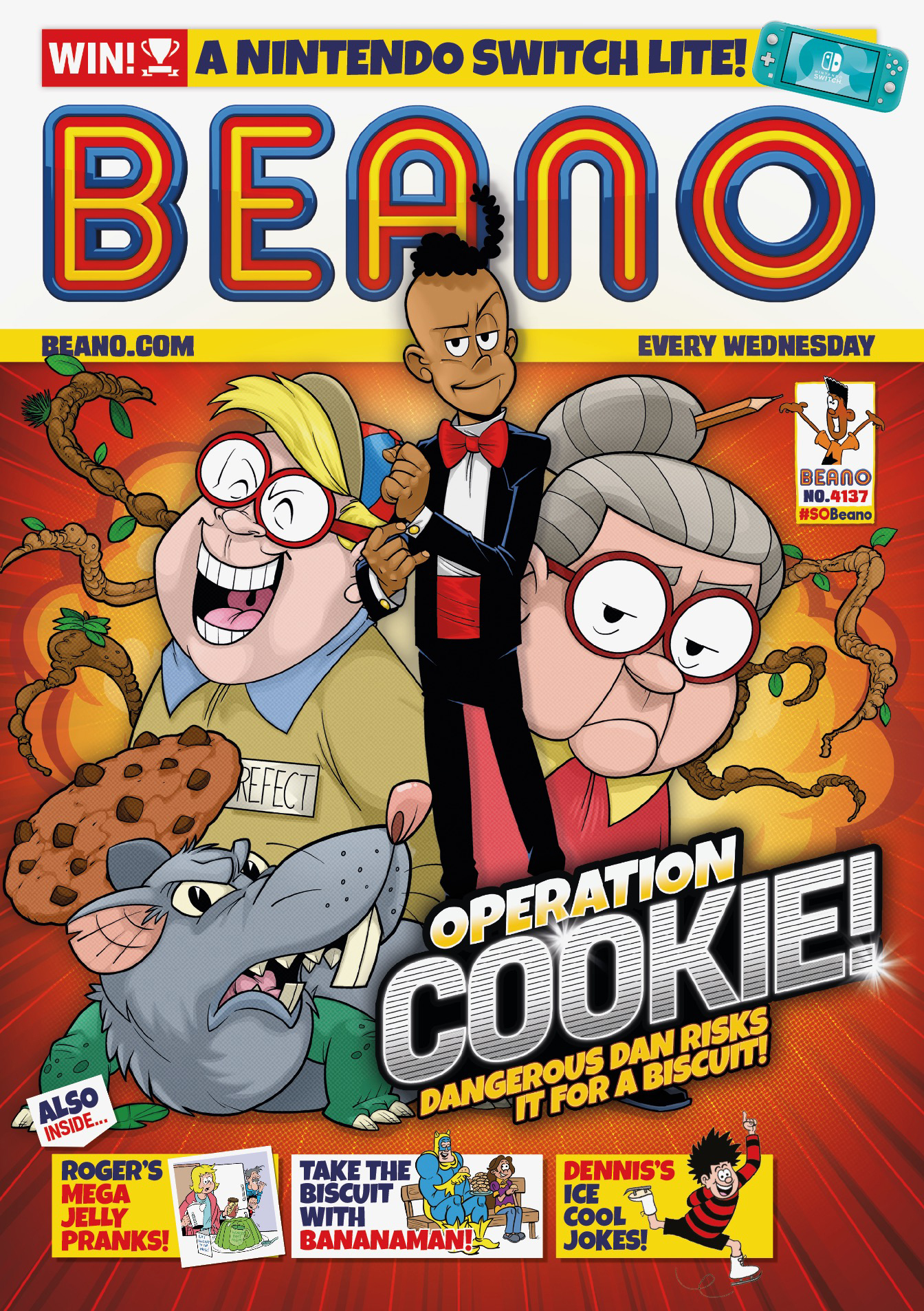 1. Biscuit Bonanza!
Bash Street School is in a lockdown – nobody in or out. It's a grave emergency – there are no biscuits in the staff room! It's up to Dan to find the biscuits and stop the evil S.M.I.R.K. plan!
What's your favourite biscuit?
Results
Chocolate digestive!

0.5 %

Bourbon!

0.2 %

Ginger snap!

0.1 %

Custard Cream!

0.2 %
2. Mixed Feelings!
Bananaman's getting emotional – and so's General Blight! His new ray blaster affects your mood, and it's getting Bananaman down... literally!
Who's the best super villain?
Results
General Blight

0.5 %

Doctor Gloom

0.1 %

Appleman

0.2 %

Witchy Witch

0.2 %
3. Shooting for the stars!
Teacher's giving out gold stars to the best pupil in the class, Cuthbert – and the rest of the kids want in on the action. However, we know that the only thing Class 2B get a gold star for is causing mayhem!
What's your favourite subject at school?
Results
Maths

0.2 %

English

0.2 %

Art

0.4 %

P.E.

0.2 %
4. Ice, ice, baby!
Dennis and Dad are arguing about the freezer – but Dad is definitely going to give Dennis the cold shoulder! A blue ice lolly won't make up for the freezing temperatures in the Menace house this week!
Who's the best ice lolly?
Results
Solero!

0.1 %

Magnum!

0.4 %

Twister!

0.4 %

Cornetto!

0.1 %
5. Stained reputation!
Minnie's cleaning up this week – literally! She's spilled some juice on a rug and needs to hide it from her Mum! How will she do it? Easy – turn the rug over! But cleaning is never that easy!
What's the best juice?
Results
Coke!

0.4 %

Water!

0.2 %

Irn Bru!

0.2 %

Cream soda!

0.2 %
All this and more in Beano, in shops from 25th May 2022! Subscribe here to get Beano delivered to your home and receive an awesome free gift!