Inside Beano – Issue 4138: Royal Rumpus!
The Queen visits Beanotown... what could possibly go wrong?!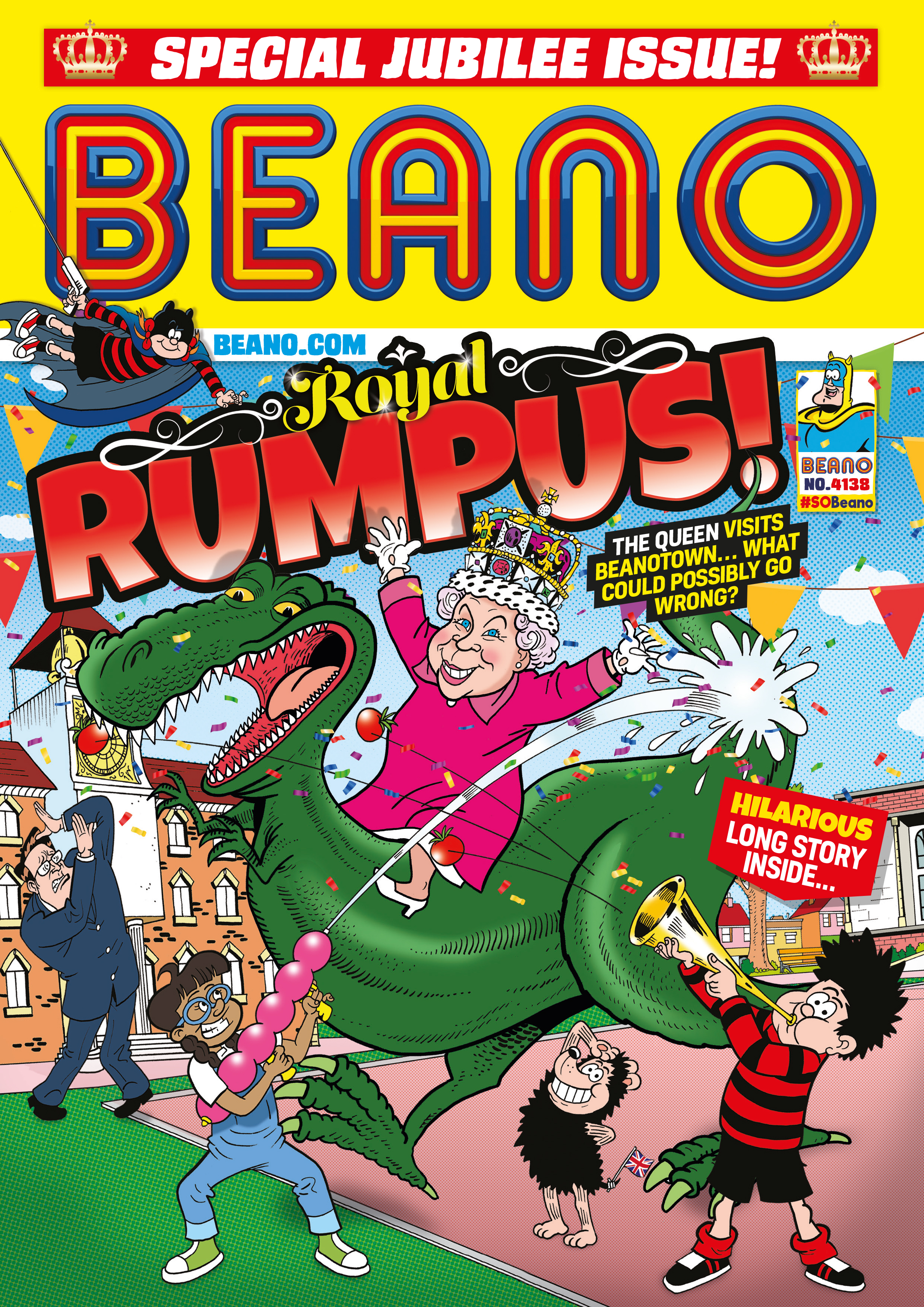 1. A Right Royal Ruckus!
The Queen is visiting Beanotown as part of her special tour for the Jubilee – but somehow, there's a dinosaur rampage, a stolen crown, and a custard monster loose – what else could go wrong? And how will the Queen react?
Who's your favourite Royal?
Results
Kate and William!

0.4 %

The Queen!

0.3 %

Harry and Meghan!

0.2 %

Charles and Camilla!

0.1 %
2. Dangerous School Dinners
Who would have thought that eating school dinners was dangerous (even when Olive's cooking!)? But this week the Prefect has been cooking up a storm and this time – the school dinners will eat you instead!
What would you rather have at school dinner?
Results
Custard and herring soup!

0.5 %

Curried Brussels Sprout stew!

0.3 %

Broccoli and pilchard pie!

0 %

Spinach and anchovy chilli

0.2 %
3. Making History!
The Bash Street Kids are on their way to a living museum – which doesn't mean the museum is alive and will eat you, Smiffy! There are people doing things the way they would have been doing them throughout history. But we guarantee you – the Bash Street Kids are a once in a lifetime experience!
What's the best bit of history?
Results
Cavemen!

0.5 %

Victorians!

0.3 %

Tudors!

0 %

Jacobites!

0.2 %
4. Bananamoon!
This week, Bananaman is out of this world! He's investigating a banana-shaped object in the sky, and it's not the moon! What on (not) earth could it be?
What jumped over the moon?
Results
Cat!

0.4 %

Cow!

0.3 %

Owl!

0.2 %

Spoon!

0.1 %
5. Show and tell!
Minnie is waffling on all about Belgium this week! Her project is to do a talk all about Belgium – the home of chocolate, waffles and cheese! What more could a Minx want?
Which is your favourite food from Belgium?
Results
Waffles!

0.4 %

Chocolate!

0.4 %

Cheese!

0.2 %
All this and more in Beano, in shops from 1st June 2022! Subscribe here to get Beano delivered to your home!