Inside Beano – Issue 4152: Back to School!
The kids are back to school this week, but there's been a few changes!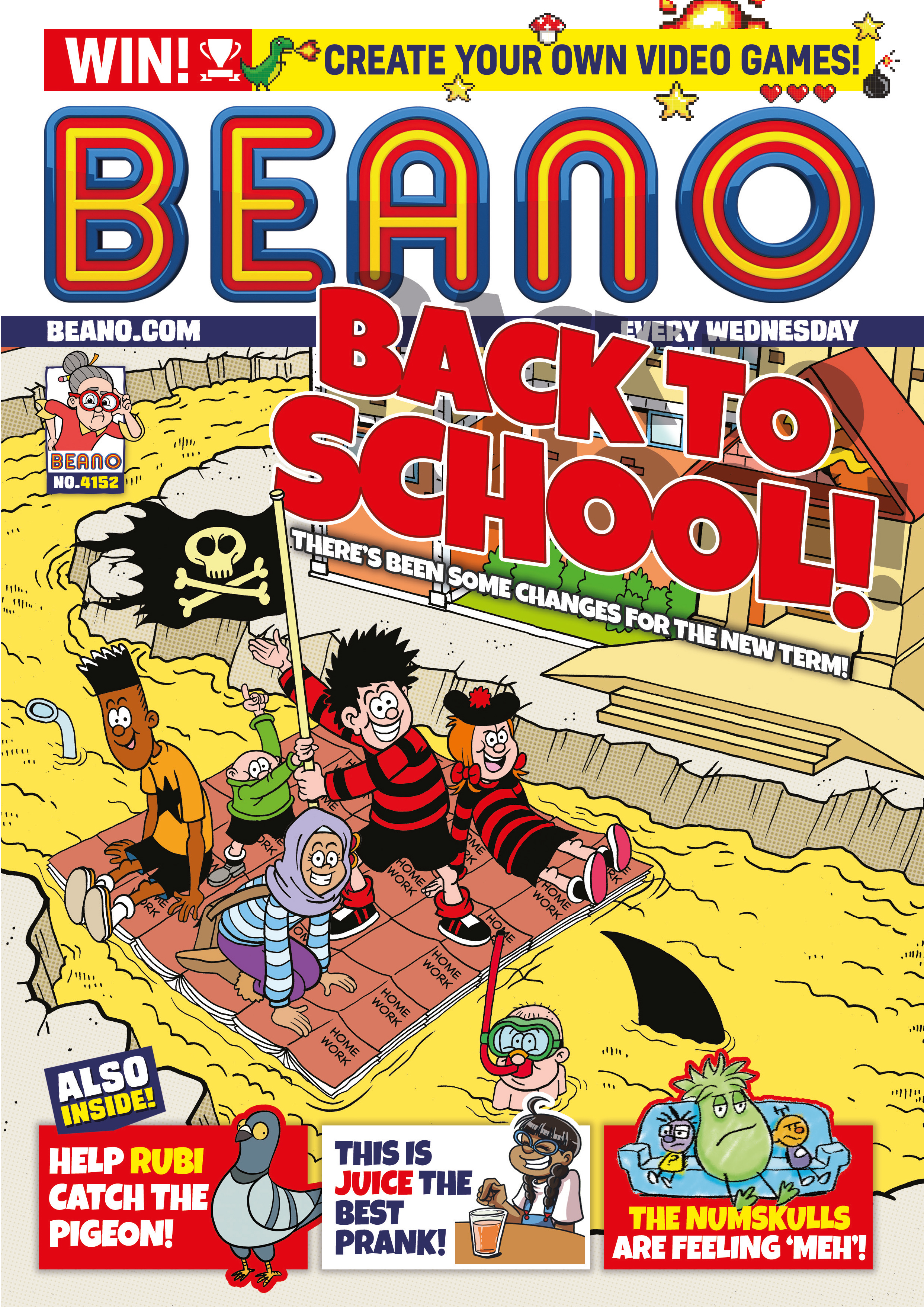 1. The Secret Life of Teachers concludes!
This week, our series all about what the teachers get up to in the summer holidays has its epic finale! What on earth is Mr Throbb going to do with all those whoopee cushions? Clearly, a very big fart prank! But who's the victim?
What would you do with hundreds of whoopee cushion?
Results
Create a raft and sail to Beanotown!

0.6 %

Donate them to pranksters in need!

0 %

Sell them and make loads of money!

0 %

Prank hundreds of people!

0.3 %
2. Dr Pfooflepfeffer's revenge!
Class 2B are finding all the changes that Dr Pfooflepfeffer has made throughout the school! How on earth will they be able to cause mayhem with all these gadgets to stop it?! I'm sure they'll be able to work it out!
3. Never-ending holidays!
Minnie and Francis are on a mission to keep the holidays going forever! But how, when they're in school? Bring the holidays to school, obviously!
4. Console yourself!
Bananaman's got the gaming bug! He's the star of a new video game sensation taking over Beanotown! But it makes him look really stupid! That doesn't sound like Bananaman at all!
5. Game on!
Instead of doing homework before school starts back, Dennis has decided to complete his game! But he might not be as awesome at as he expects to be! But the old adage for writer is key: write what you know! And Dennis knows games!
All this and more in Beano, in shops from 7th September 2022! Subscribe here to get Beano delivered to your home!
Well done! You've found 11 of Phil's passport stamps!
Visit my Passport Puzzle to see if you can crack the code!