Inside Beano no. 4072 – Dangerous Dan Faces... The Stoopidizer!
5 reasons this week's Beano rules!
Inside Beano no. 4072 – Dangerous Dan Faces... The Stoopidizer!
How will Dan cope when he comes face-to-face with S.M.I.R.K's latest weapon?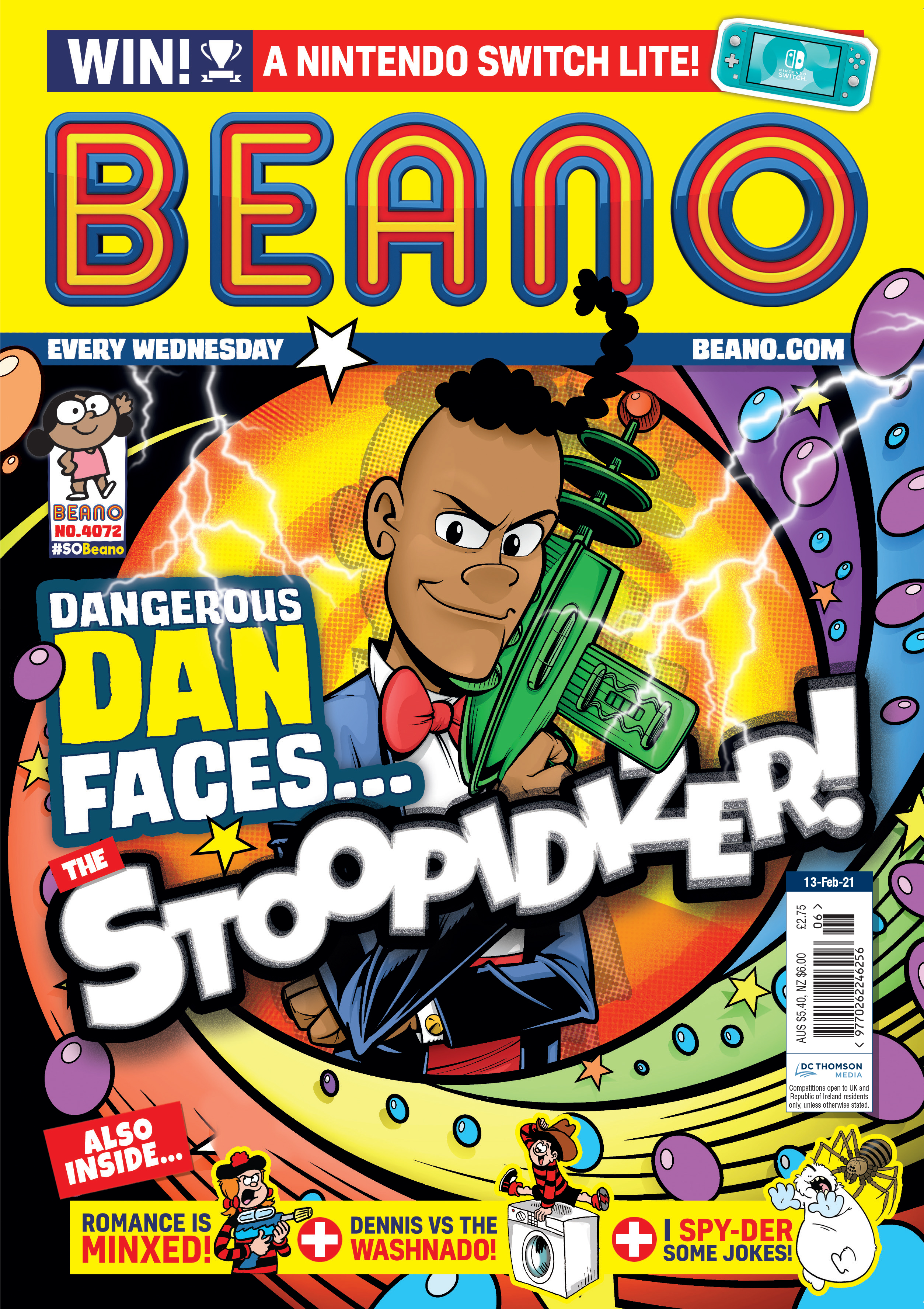 1. THE ONE WITH THE STOOPIDIZER
This week, Dan faces the stupidest weapon ever from S.M.I.R.K. – the Stoopidizer! It makes people stupid, and The Prefect has used it on Q! How will Dan ever beat The Prefect without his back-up?
2. THE ONE WITH GENERAL BLIGHT
It's that time of the week – General Blight has broken out of jail again! And he accidentally turns Beanotown alive for 30 minutes! And it's not happy! Bananaman and General Blight blow up the town every other week! It's time for Beanotown's revenge! 
3. THE ONE WITH THE FANCY DINNER
Minnie's Mum and Dad are having a date night! But not a relaxing one, if Minnie has anything to do with it. Minxing is on the menu! Posh restaurants and Minnie don't mix well! 
4. THE ONE WITH THE LAUNDRY MISHAP
Dennis is doing some laundry! His famous jumper needs a wash – but he's mixed his darks and his lights! You NEVER do that! The whole universe will start to implode! 

5. THE ONE WITH THE JOURNEY BACK IN TIME
The Bash Street Kids are travelling through time... to meet Teacher? They want to find out when he became uncool! But time travel never works out the way you expect as Class 2B are about to find out! 

All this and more in Beano, in shops from 10th February 2021!
Subscribe here to get Beano delivered to your home and receive an awesome free gift!