Inside Beano no. 4084 – How Do You Hide An Elephant?
Here's five awesome reasons why this week's Beano is totally blam!
1. A Thankless Tusk!
How on earth do you hide an elephant in Beanotown? Dennis and Gnasher need to hide Ellis the Escaping Elephant from the zookeepers who want to take him back to the zoo. 
Where would YOU hide an elephant?
Results
In a very large box

0.2 %

On top of a house

0.1 %

Under a sock

0.1 %

Behind an elephant-shaped hedge

0.6 %
2. Class Act!
Bananaman has become a substitute teacher at Bash Street Kids! He's going to pass on all his wisdom onto the students – because he is so full of wisdom! Or hot air... those always get mixed up!
Which movie superhero would you like to be your teacher?
Results
Black Panther

0.3 %

Wonder Woman

0.3 %

Hulk

0.2 %

Captain Marvel

0.2 %
3. Creecher Feature!
It's careers day in Mrs Creecher's class! Mr Jobsworth is visiting to help them work out what jobs they can do. We'll find out what Minnie wants to be when she grows up – apart from a total minx!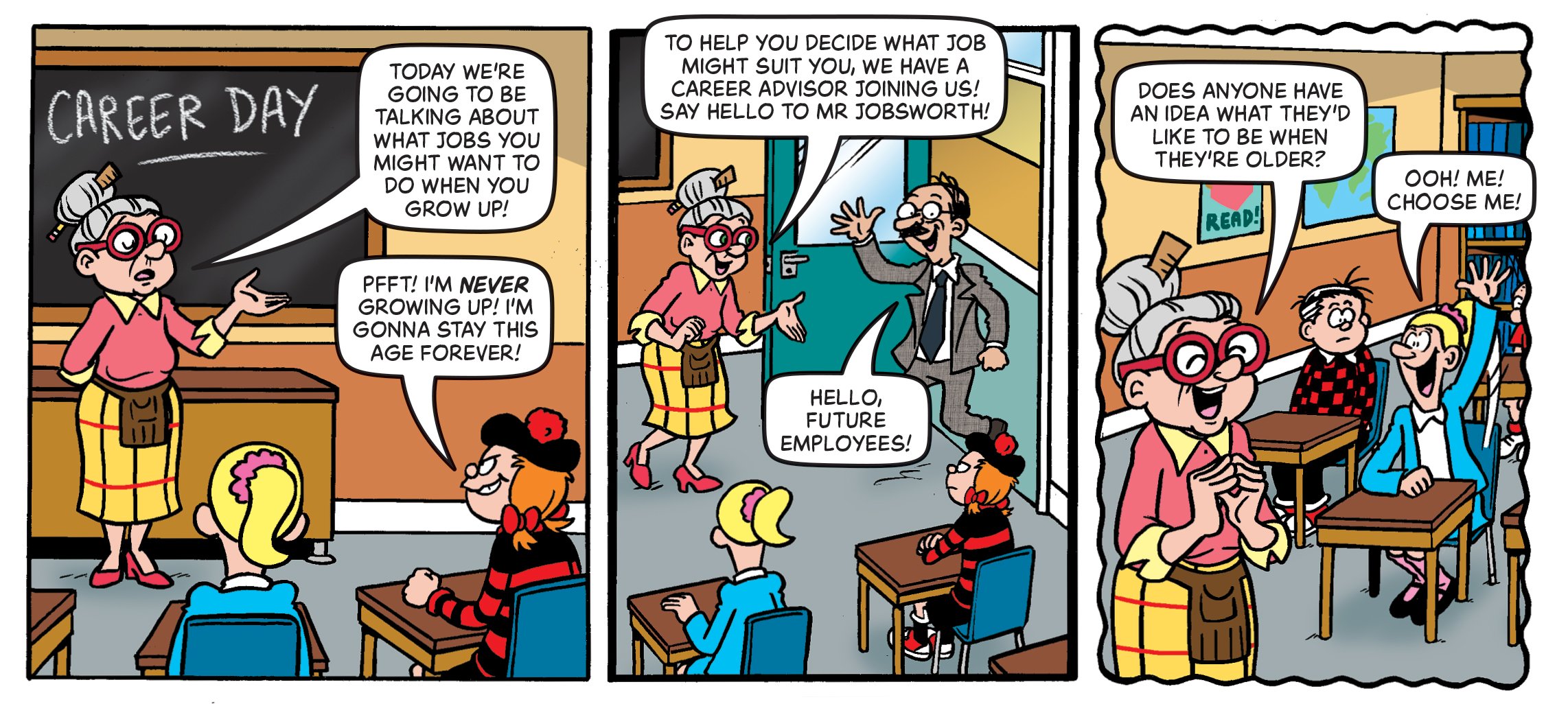 What job would you like when you're older?
Results
Astronaut

0.1 %

Dinosaur trainer

0.2 %

Ice cream flavour inventor

0.2 %

Full-time menace

0.5 %
4. Mission: Trimpossible!
Dan's got some chores to do – including mowing the lawn on his rather unkempt garden! This task will need some super spy skills... and equipment to finish it! 
What's the best way to cut grass?
Results
Get a cow to nibble it

0.3 %

Scissors

0.1 %

Fly a helicopter upside down

0.3 %

Get a massive tractor from a local farm

0.3 %
5. Soak Joke!
Class 2B is planning the biggest prank on Teacher this week! A reworking of the classic 'bucket of water on the door' trick! But will they manage to pull it off? With 'Erbert on lookout, they're sure to succeed... perhaps?!
How would your teacher react to a watery prank?
Results
They'd laugh their shoes off

0.2 %

Nah

0.2 %

They'd see the funny side... eventually

0.2 %

Not even worth thinking about

0.4 %
All this and more in Beano, in shops from 5th May 2021! Subscribe here to get Beano delivered to your home and receive an awesome free gift!