Inside Beano no. 4094 – Sky-Shark Attack!
Here's five compelling reasons why you should check out the new Beano!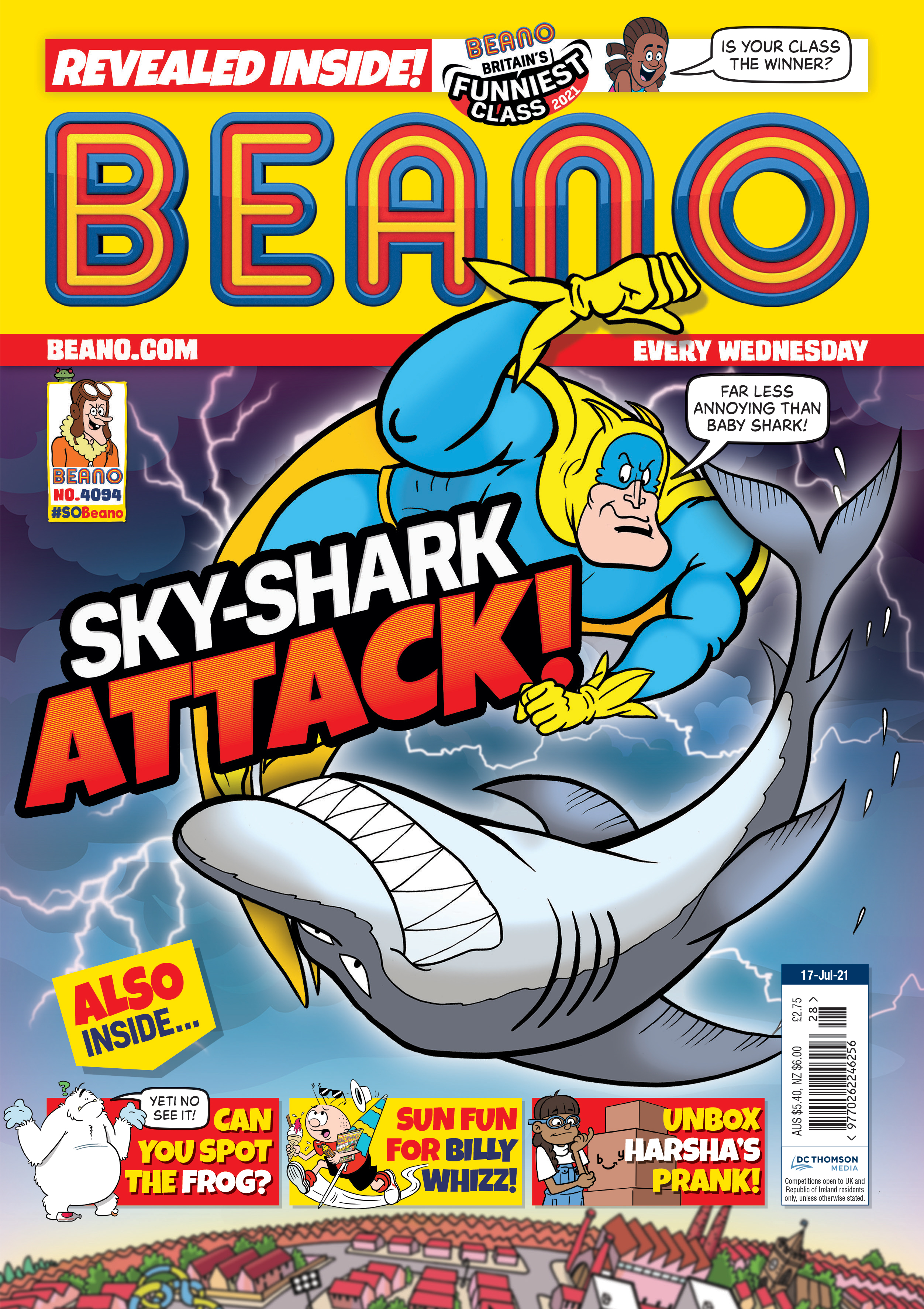 1. Bananaman vs Sky-Sharks! 
Beanotown's being attacked by a lot of mysterious creatures – including sky-sharks! What is Bananaman to do? Who's behind this evil plot to destroy Beanotown? And can Bananaman save the town without destroying it himself?
If you were a journalist, what would you cover?
Results
Investigative reporting

0.3 %

Sports

0.2 %

Pets corner

0.2 %

Jokes page

0.4 %
2. Mission Min-Possible! 
Minnie's on a mission to get her confiscated toy back! This time, Mrs Creecher's gone too far! Minnie's going to Mission Impossible this! It's time for spy-Min!
What should you win an award for?
Results
Worst singer

0.2 %

Best farts

0.5 %

Loudest snorer

0.1 %

Biggest scaredy cat

0.3 %
3. Costume Chaos!
Dennis's Dad has a costume conundrum – and Harsha's just the person to help! But will this fancy dress party be a costume catastrophe or will it be a fancy dress delight?!
What would you name your ship?
Results
The Good Ship Lollipop

0.2 %

HMS Warthog

0.2 %

The Scurvy Sea Dog

0.3 %

Kevin

0.3 %
4. Biscuit Bother!
Dennis has been warned to not touch the biscuit tin on pain of grounding as he didn't finish his tea, but obviously that's not going to happen! But Mum's one step ahead – watch out, Dennis! 
What sort of artist would you be?
Results
Painter

0.2 %

Sculptor

0.1 %

Potter

0 %

Comic book artist

0.7 %
5. Nature Rocks!
The Bash Street Kids are out on a nature ramble with Teacher. But nature is anything but fun when Teacher's explaining it. Class 2B has to embrace their nature and cause mayhem to make this afternoon a little more fun!

What's your favourite beach prank?
Results
Seaweed in the sandwiches

0.2 %

Burying dad in sand while he's asleep

0.3 %

Using pen to black out mum's sunglasses

0.1 %

Fake sea monster scare

0.3 %
All this and more in Beano, in shops from 14th July 2021! Subscribe here to get Beano delivered to your home and receive an awesome free gift!