Inside Beano no. 4100 – Minnie's Latest Ant-ics!
Five awesomely blam reasons to check out this week's Beano comic!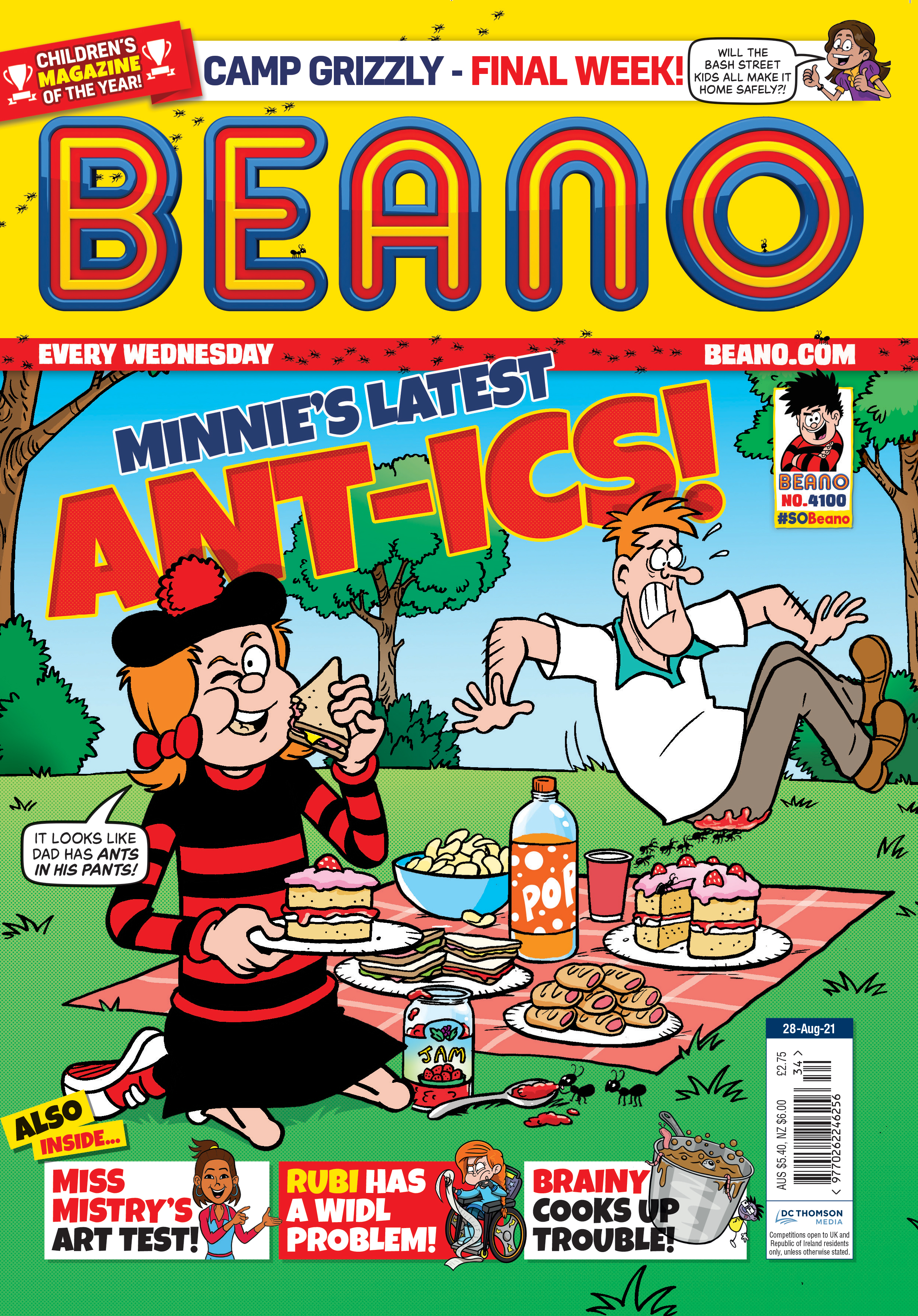 1. Life's a picnic with Minnie the Minx
The Makepeace family is spending the day having a picnic – but it gets taken over by ants! Minnie learns exactly how much mischief she can get up with ant ant-ics!
What is an ant's favourite part of a picnic?
Results
Jam

0.5 %

Crisps

0.1 %

Anything they can carry and take home, really

0.4 %

Fancy sandwiches

0.1 %
2. The elephant in the room!
Roger is trying to pull off his best dodge yet – it'll get him unlimited naps, food and absolutely no responsibilities! Perfect! He just has to pass as an elephant in the zoo – and Ellis has to pass as Roger at home! There are absolutely no problems there at all!
What's the best name for an elephant?
Results
Elle Phant

0.3 %

Trunky

0.2 %

The Tusk Master

0.2 %

Nelly

0.3 %
3. Act your age!
Gnasher is starting to look a little worse for wear – he's been around for about what feels like over 60 years, so no wonder! How old is he in dog years?! Dennis has got to start treating Gnasher appropriately for his age – although Gnasher will also have to act his age too! 
How should Gnasher relax?
Results
Watch Gnashflix

0.5 %

Chew a toy

0.1 %

Chew a slipper

0.2 %

Go for a walk and not chase any cats at all – not even one

0.2 %
4. Escape from Camp Grizzly!
The Bash Street Kids are still lost at Camp Grizzly! What on earth are they going to do? They're tired, hungry and frankly ready to get out of Camp Grizzly! It's time for them to escape!
What's the best thing about camping?
Results
Experiencing nature

0.2 %

Experiencing midnight snacks

0.4 %

No bath time

0.2 %

Is there one?

0.2 %
5. There's some-paw-dy for everyone!
Bananaman has decided to get a pet! I wonder what sort – a dog? A rabbit? A rat? A snake? But having a pet is a lot of responsibility, which the pet shop owner is not sure Bananaman is ready for – how can our banana-brained superhero show he's ready for a pet?
If you were Bananaman, what pet would you get?
Results
Cat

0.3 %

Dog

0.3 %

An unusual bird

0.2 %

I could take great care of a... gaming console

0.3 %
All this and more in Beano, in shops from 25th August 2021! Subscribe here to get Beano delivered to your home and receive an awesome free gift!