15 Crazy Riverdale Fun Facts You Didn't Know
Riverdale has been making us laugh, cry and say 'Wait, what?' since 2017. But how many of these fun facts about the show did you know? Find out who's from New Zealand, who's terrified of water and what the show could have been with our awesome facts!
If you liked these, why not check out our Scooby Doo facts, Twilight facts and Stranger Things facts for more spooky fun!
It's based on a comic
If you didn't already know, the show is based on a popular series of comics which have been around since the 1939! That's over 80 years! It might explain why the show has such a retro feel!
It's got a connection to Sabrina
If you're wondering why they have a similar feel, The Chilling Adventures of Sabrina is also from the Archie comics, and that's why you can occasionally hear them mentioning Riverdale in the show! There hasn't been an actual crossover, but Chance Perdomo, who plays Ambrose, did originally audition for Riverdale!
It was almost a movie
Before it became a TV show, the creators originally envisaged it as a movie - with time travel! Well, that doesn't sound much weirder than most of the stuff that already goes on in Riverdale!
The meaning behind the crown beanie
You might notice that Jughead always wears the same beanie with crown-like edges. The reason? In the comics, Jughead goes round in a crown, apparently as a good luck charm. The costume designers decided to make it more subtle in the show, and re-imagined it as a beanie. We hope he washes it occasionally!
It's all based on old films
If you've ever wondered why the episode titles are so strange, that's because they're all based on old films! They also reveal what will happen in the show - for example,
KJ Apa isn't a real redhead
Nope, it's a dye job! Archie is famously redheaded so of course the character had to have russet locks, but KJ Apa has naturally dark hair. Madelaine Petsch, on the other hand, is a real redhead, and wears high factor sunscreen every day! Good idea, Madelaine!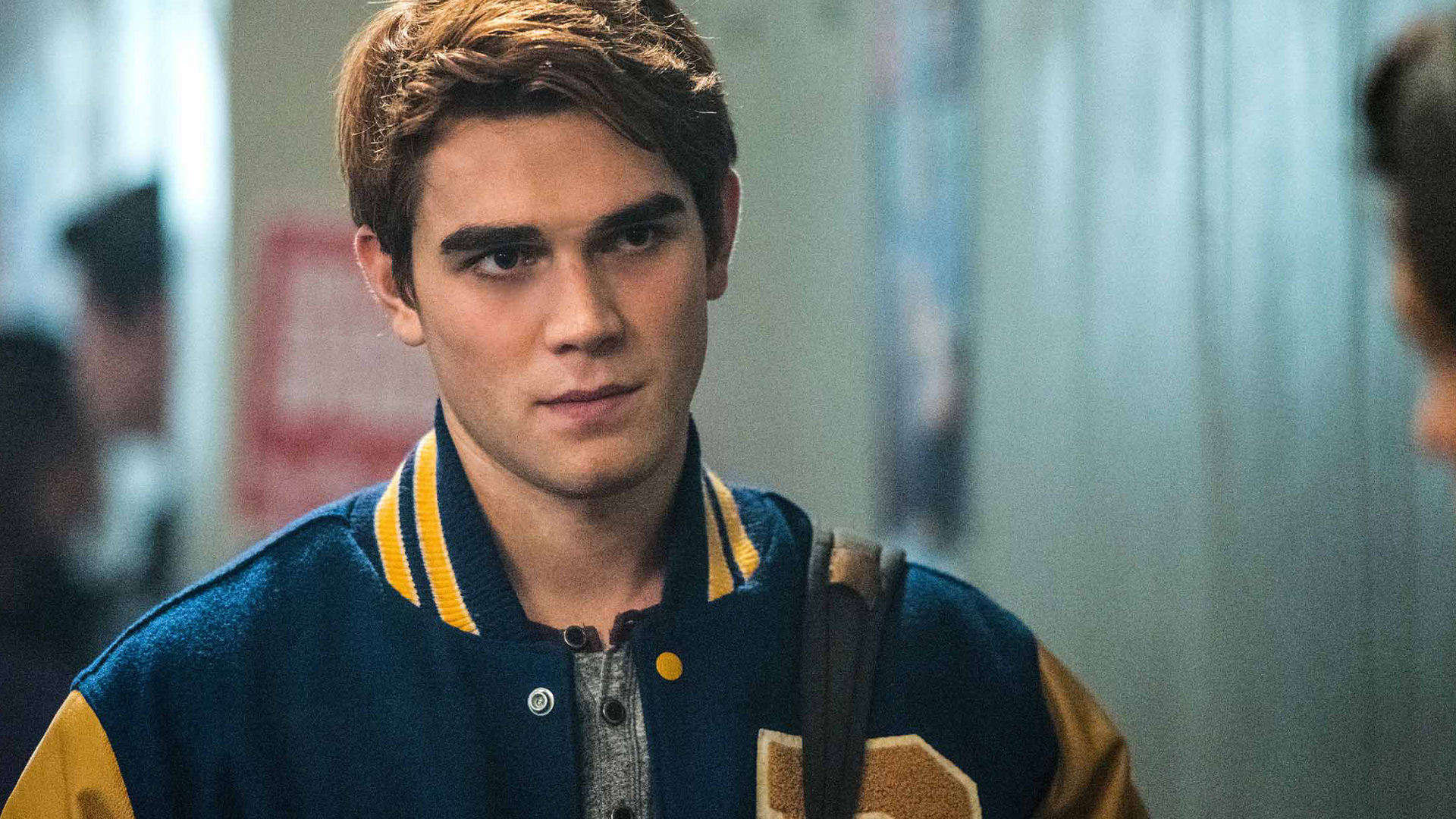 Madelaine Petsch is scared of water
 Madelaine Petsch has a phobia of water, after a glass-bottomed boat she was in as a child broke, and was therefore terrified of filming scenes in which she nearly drowns. Luckily,  Madelaine said that once she was shooting, her acting instincts took over and she was totally fine. Way to face your fears!
There's going to be a spinoff
Pop's is based on a real diner
Pop's Chock'Lit Shoppe, the Riverdale diner, is so real looking that people have mistaken it for an actual restaurant, even though it's built in a carpark! However, it is based on a real diner - Rocko's in British Columbia, where the show was filmed. The diner doesn't need the publicity though - it's already been in other films like Percy Jackson and the Lightning Thief, and it's open 24/7 if you're ever in the area!
There is no set time period in Riverdale
If you've every looked at Riverdale and been confused about the time period, you're not alone! As mentioned, the show is based on comics from the 40s, which means they retain some of the aesthetics of the time, whilst still having some modern technology. The showrunners have said that the show deliberately has no set time period, to help give it an unreal, dreamlike feel. It definitely works!
KJ Apa broke his hand while filming
During the filming of Archie saving Cheryl from drowning, Archie breaks the frozen ice to get to her. KJ Apa got so into the role that he actually broke his hand doing it! Although he was hitting a mat, and not ice, he still managed to do it hard enough that it did some real damage, and it was so cold he didn't realise until afterwards! That's real dedication to a role!
It's filmed in Vancouver, but it might be set in New York
The show is filmed in Vancouver, British Columbia, Canada. But a few of the cast members think that it's set in upstate New York, or at least New England. This would explain the moody weather, woodlands and small town feel, as well as it's links to Greendale in Sabrina, but the specific location of the town is never stated, further adding to it's mysterious air. Where do you think it is?
 Madelaine Petsch originally auditioned to play Betty
Originally,  Madelaine auditioned for the role of blonde, bubbly Betty. It was only after she came in that she found out she was auditioning for a 'secret role', which turned out to be Cheryl Blossom. It's hard to imagine anyone else playing Cheryl, or  Madelaine!
Cole Sprouse wants to write a Riverdale comic spinoff
Cole Sprouse is such a big fan of the show, he wants to write spinoff comics! Cole was already a huge comicbook fan before the show, and has even worked in a comic book store! We can't wait to see what he comes up with!


KJ Apa is from New Zealand
Yup, KJ is actually a kiwi! KJ is part Samoan, and KJ stands for Keneti James, his real name. Before Riverdale, KJ was in a Kiwi soap opera called Shortland Street. He says that he's often mistaken for Australian and has to correct people. He's also not the only non-American in the cast - Madelaine is from South Africa!