The 6 Secret Harry Potter Books
You'd have to be magic to have read all of these extra Harry Potter books!
1. Fantastic Beasts and Where to Find Them
This Hogwarts text is a must read. It's part of every wizard and witch's reading list for as long as anyone can remember. In the muggle world, this book actually came out in 2001. There's 5 films based on it coming out soon!  
2. Quidditch Through the Ages
Like Fantastic Beasts and Where to Find Them, this book is the Hogwarts reading list but it great for muggles too. It has lots of information about Quidditch teams from across Britain and around the world.
3. The Tales of Beedle the Bard
Every wizarding child has a copy of this book and it's an important part of the last Harry Potter book, so J. K. Rowling made it a real book too. 
4. Hogwarts: An Incomplete and Unreliable Guide
The first of 3 e-books that came out September. This one is all about the secrets and surprises that lie within the walls of the magical school, Hogwarts.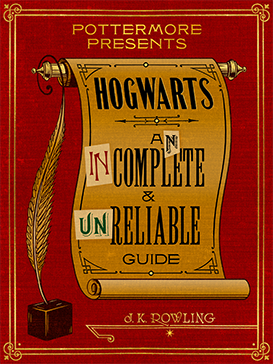 5. Short Stories from Hogwarts of Power, Politics and Pesky Poltergeists
This e-book is all darker side of the wizarding world and just might have some secrets about the origins of you-know-who
6. Short Stories from Hogwarts of Heroism, Hardship and Dangerous Hobbies
The final e-book from the world of Harry Potter, this one is about the the most mysterious part of Hogwarts - its teachers!