The Best Blob Jumps
Check out our selection of the coolest and most epic Blob jumps. Would you be brave enough to take on the Blob?
When it's hot weather outside we all love to cool off by having a dip in a swimming pool or a lake.
But how do you cool off if you are a daredevil?
You take on a Blob jump, of course.
Blob jumps are as fun to watch as they are to take part in – where else can you see people being launched into the air only to crash into the water with a big splash?
So we've collected some of the most epic Blob jumps for you to watch involving some big air, some cool flips and some huge splash landings.
Would you be brave enough to take on a Blob jump?
There's some seriously big bounces in store so be sure you check out this video before you answer that question.
And to get you in the mood, that's see how big those bounces actually get!
Big Bounce
Yep, it's a big one but is it the best bounce?
Bigger bounce
Now we're getting somewhere! Only a super big bounce could get that epic airtime! Just don't try this at home!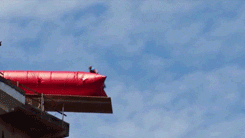 Biggest bounce!
At last! Surely bounces don't come any bigger than this? Just make sure you pack a parachute!