Everything You Need To Know About The Han Solo Movie!
Everyone's favourite space cowboy has a new prequel movie in the works, and we know as much about it as anyone!
It technically doesn't have a title yet!
The official name of the film hasn't been announced at any point – we just know it's a film about Han Solo. It's officially known as Untitled Han Solo Film. There are lots of predictions as to what it'll end up being called, the most convincing of which seems to be Solo. 
This dude will be Han Solo!
His name is Alden Ehrenreich and he's really good – he was in a film a few years ago called Hail, Caesar! that he was the best part of, and he's been nominated for loads of acting awards. We reckon he's going to be great!
It might be about the Kessel Run!
Director Ron Howard put this image on Twitter with the message "Spicey". People reckon the image looks like the kind of elevator you might find in a mine, and the most famous space mine in Star Wars was on Kessel. If you remember, in A New Hope, Han Solo boasted that the Millennium Falcon "made the Kessel Run in less than 12 parsecs" – maybe we'll see that!
Chewie's in it!
A new actor is playing Chewbacca now – original actor Peter Mayhew is very old, so a Finnish basketball player named Joonas Suotamo is replacing him (Suotamo and Mayhew shared the role in The Force Awakens). 
And so is Lando!
The young Lando Calrissian will be played by Donald Glover, an actor, rapper, singer, comedian and award-winning director, who is bound to do a good job because he's basically great at everything!
Darth flippin' Vader might show up!
There are rumours that the most asthmatic of all Sith Lords has been seen on set! This could mean a lot of things – it might just be someone goofing about with a helmet they got for Christmas – but could mean a look at what Darth Vader got up to between Episode III and Episode IV...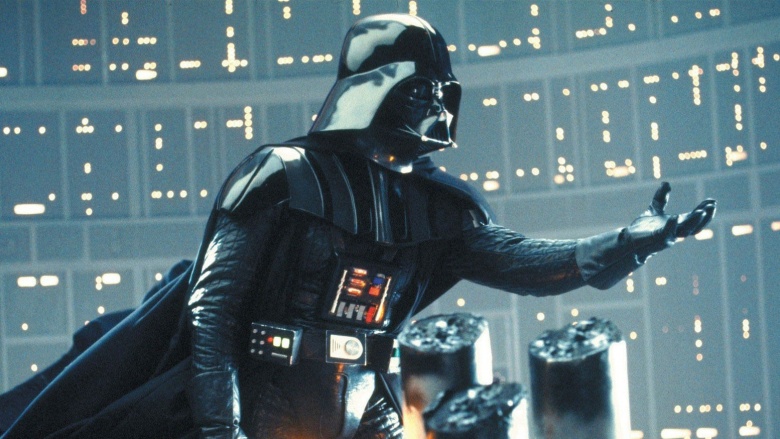 So might R2-D2!
Ron Howard tweeted this image, which seems to show either R2-D2 with a paint job (did he win something? why is he gold?) or a fairly close relative of his.
The cast of all your parent's favourite shows are in it!
Nobody knows what each of their characters is yet, but there is a trio of incredibly talented actors from some of the most popular grown-u shows on TV at the moment. Emilia Clarke (from Game Of Thrones), Thandie Newton (from Westworld) and Phoebe Waller-Bridge (from Fleabag) are all there, and will be the reason your dad keeps going "Who is that? I know who that is. Do I? Yeah, I do. Hang on..." all the way through it. 
There are Hunger Games and Harry Potter veterans in there!
Woody Harrelson, who you might have seen in the Hunger Games films as Haymitch Abernathy, is showing up as some kind of mentor figure to Han Solo. And Warwick Davis, who played both Griphook and Professor Flitwick in the Harry Potter films and has already been in loads of Star Wars movies (including playing three different roles in Episode I!) will be in there somewhere!
There's been some trouble on set!
This is a picture from near then beginning of the production. The guy on the bottom left with the grey t-shirt and the guy in the brown jumper with curly hair were originally directing the movie (and previously made The Lego Movie, which was awesome), but they had a bit of a disagreement and have now been replaced. The producers probably went "These aren't the directors we're looking for". AHAHAHAHA.