Halloween Whodunnit! : Sabotage at Squad Hoose!
There are some criminal goings on going down at the Squad Hoose. Can you help solve the mystery in this ridiculous crime thriller?
Magnifying glasses out! It's Chapter One of Beano.com's four-part mystery, and someone has sabotaged the internet at Squad Hoose. Can you help Detective Plodberg solve the crime? Read along and see if you can work out who the culprit is in week one of Beano's Halloween Whodunnit and you could win a Nintendo Switch!
Think you're ready? Then join us in exploring... the Sabotage at Squad Hoose!
Chapter 1
It was a grey and gloomy overcast afternoon (a bit like last Tuesday teatime) when a grumpy-looking policeman walked up to a stately home and banged on the door.
"Attention! Detective Jeff Plodberg here, from the Metropolitan Police Youtube Division. Open up!"
A well-dressed man with colourfully-dyed hair opened the door.
"YO, YO, YO! WHAT IS UP officer?! Please come in, there's been a terrible crime."
The Detective walked in, side-stepping over a bucket of slime and dodging a pile of 10,000 Orbeez that looked perilously close to collapsing. The teenager with the coloured-hair looked worried.
"You see, Officer" said the teenager, trying to ignore the Orbeez "We all won awards in the Best Youtuber of the Year Contest - I won best haircut, obviously - and now we all live in this squad house. We have our first livestream tonight and someone has switched off the internet and deleted all of our videos! It's a complete disaster!"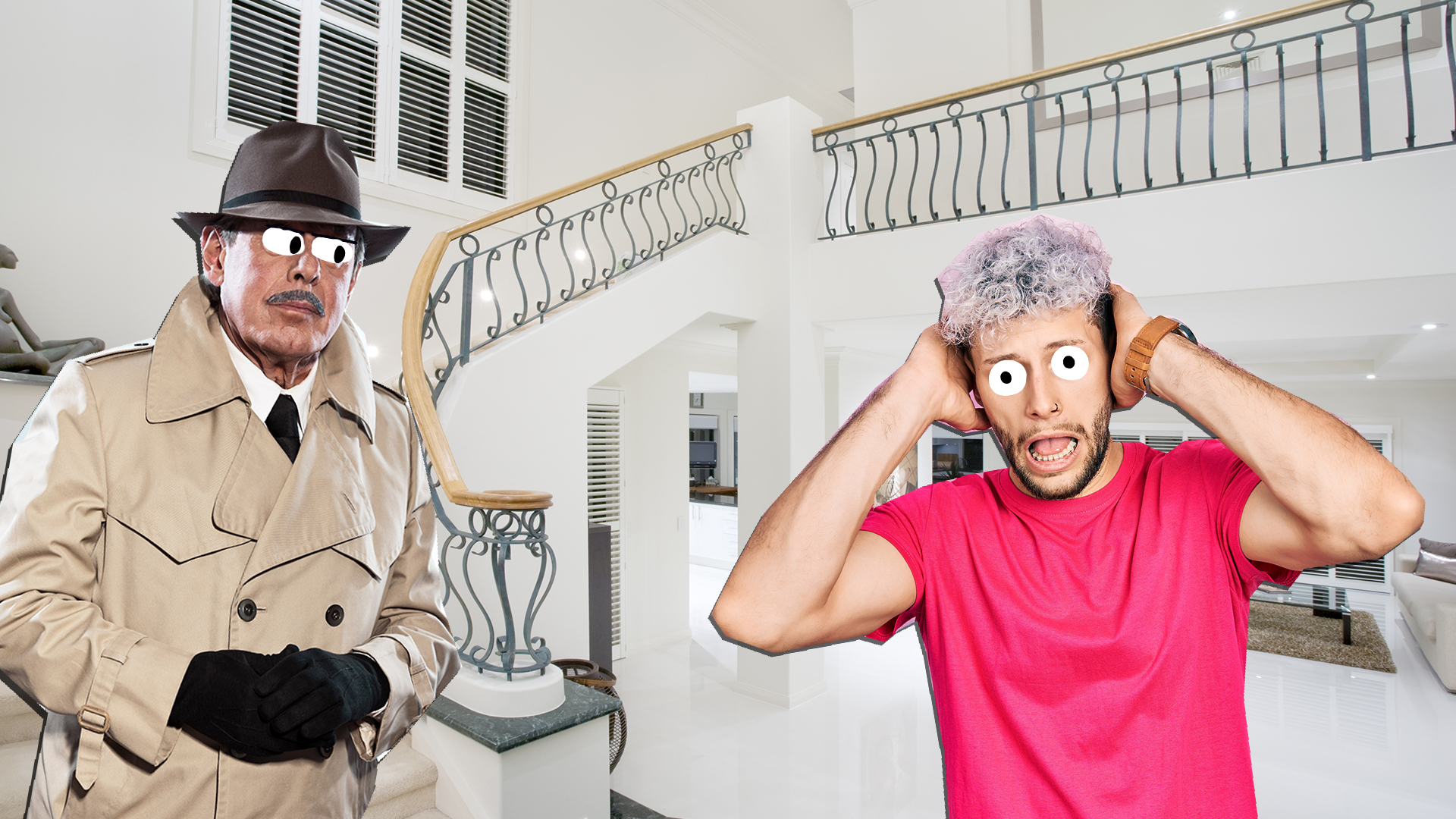 The Detective had never seen a crime like this before - particularly not one involving such a massive pile of Orbeez.
He looked around the room and saw 5 young YouTubers, all looking upset, embarrassed, and, if he didn't mind saying so, just a little bit guilty. This was going to be a tricky case and he'd have to start right at the beginning.
"You, then!" the Detective barked "Name and occupation"
The man with the dyed hair replied: "Oh, err, I'm Logan Bland sir, I mean... Your Honour, er, Your Highness. I do makeup tutorials and style guide videos. I have 3 million subscribers and really great hair. Honestly I didn't do…"
"Next" grunted the policeman, clearly not interested in what Logan was saying. "You, the girl in the red top"  
"HI I'M SALLY CAPSLOCK. I MAKE EPIC PRANK VIDEOS AND CRAZY CHALLENGES LIKE..."
"Ahem. Could you speak a little quieter, please?" asked the Detective, scribbling notes down in a pad.
"SORRY NO I JUST SPEAK LIKE THIS. IT'S KIND OF LIKE MY THING."
The Detective sighed and moved on.
"Next."
"Hi, I'm Liz Sync" said a girl who seemed to be doing a handstand. "I make little Tik Tok routines of me dancing and doing gymnastics and stuff. They're not vas good as I'd like them to be. I only have 32 million followers".
The Detective raised an eyebrow. He only had 7 followers on his own YouTube channel. He wished police detectives got more time to practice dancing, but there was always so much police detecting to be done.
"Next!" he grumbled.
A new face loomed into view.
"Hey man. I'm Johnny 1brow. I do like, gaming livestreams. Mostly Fortnite but really anything with battle royales in. I don't have that many followers but that's because…"
"Next" interrupted the policeman.
"Hi…"
For a moment the Detective didn't know where the sound was coming from. Then he noticed it was a tiny, timid whisper that came from an equally tiny, timid person. They were wearing lip gloss and a unicorn onesie, and the Detective had to really strain to hear them.
"I'm Peep Mumble..." the tiny, timid person whispered "And I make ASMR videos. I basically just eat crisps really slowly. I like the pickled onion flavour the best."
The Detective finished writing in his notepad. He had no idea who the culprit was, but he was positive that any one of these nitwits could have done it. 
"This is a crime scene," said the Detective. "None of you can leave. I will be interviewing all of you and I WILL crack this case. As of now, you are all suspects, and the culprit will feel the full force of Her Majesty's Constabulary Youtube Division!"
There was a gasp! Finally, after a moment of stunned silence, Liz Sync spoke up.
"Sorry, could you just do that bit again? This is all great content and I wasn't filming".
Chapter 2
Detective Plodberg sat opposite Peep Mumble and leaned forward.
"So, Peep. You make ASMR videos, correct?"
"Yes" whispered Peep.
"What do you like about ASMR?" asked the Detective. "I... just love how quiet it is. To be honest, I really don't like all the other guys' videos. They're just too loud. Especially SALLY CAPSLOCK's stuff."
"So…" The policeman suddenly seemed interested. "You must be pretty pleased that Sally's videos all got deleted, then?"
Peep shifted in their seat uncomfortably.
"Look, just because I don't like Sally and all those shouty videos, doesn't mean I deleted them all. Besides, I don't know how to do that. My mum manages my channel and I have no idea how to do the technical stuff. I just like whispering, honest!"
Plodberg decided to interview SALLY CAPSLOCK next.
"Sally. I've seen your videos. You've done some pretty extreme pranks. You seem the kind of person who'd be willing to do anything to get views. How do I know this crime isn't just another one of your online capers, hmmm?"
"LISTEN COPPER" shouted Sally. "I MIGHT HAVE HANDCUFFED MYSELF TO A NUN FOR 24 HOURS BUT I'D NEVER DO SOMETHING LIKE THIS."
Detective Plodberg got his phone out, which was open on Sally's Youtube channel. On it was a video of hers, called SALLY UNPLUGS INTERNET AND DELETES ALL HER FRIENDS VIDEOS. Sally went bright red.
"Interview suspended. Next!" said the Detective, with a smile. 
Next up was Liz Sync.
She sat opposite the detective, bawling her eyes out.
"It's such a shame! Sniff! I worked so hard on my videos, I nailed my dance routine and had done all these great edits...I can't believe it's all gone!"
The Detective wasn't convinced.
"Interesting. Because I checked your instagram and in a post from yesterday you complained you weren't ready. Isn't that true?"
Liz looked shocked, her eyes shifting left and right.
"Oh, ummm yes….but that was just Instagram you know, don't believe that. And I'd never sabotage the whole thing just to cover my back! I swear!"
And with a shout of "next!" from the Detective, Liz cartwheeled off in a huff.
Johnny 1brow wandered into the interviewing room next. He had bags under his eyes and was slurping from a bottle of some bright green coloured drink.
"Sup, Ploddy. I know what you're thinking man but it wasn't me. Sure I don't really like these guys and it's unfair that they all have way more views than me, but I'm not gonna delete their stuff. I don't play games. Well, I play Fortnite obviously, but you know what I mean. If you don't believe me, ask Peep. We were chatting when the internet went down so they'll back me up."
And with that, Johnny walked out.
"What a strange man", thought Detective Plodberg.
Finally, it was Logan Bland, the young lad who answered the door to the Policeman.
"Hey officer. I just wanna say that I can prove it wasn't me. When the internet went down I was upstairs doing my hair. So it definitely wasn't me".
The detective paused for a moment.
"So, when you say you can prove this… how? Did anyone see you?" Logan looked confused. "Ummm, I dunno. I always close my eyes and sing when I do my hair. But, maybe?"
"Thank you, Logan". Said the Detective, rolling his eyes. "That will be all"
Chapter 3
Everyone had been interviewed, but there was still a lot that Detective Plodberg didn't know.
Everyone had something to gain and something to lose from this crime being committed. The question is, who stood to gain the most?
Detective Plodberg wanted to find out more, and dropped in on Liz Sync.
"Liz, tell me. Did you see anyone acting suspiciously on the day of the crime?"
Liz cleared her throat.
"Well, I did hear Logan complaining that this whole Squad House thing is stupid and he wants to go home. I guess no internet is the perfect excuse, right? Him and Sally had an argument about it because she loves it here. She's really upset her videos were deleted, this was gonna be her big break".
Plodberg nodded, his giant policeman's brain chuntering furiously behind his eyes. 
Detective Plodberg went for a walk.
He soon bumped into Johnny 1brow, who was sitting cross-legged in a state of meditation, playing Fortnite in his own brain from memory. He snapped out of his trance when he heard the detective approach.
"Oi, I was enjoying that!" Plodberg sat next to him, and asked him if he remembered anything unusual from the day of the crime.
"I do actually" said Johnny, snarkily.
"Liz Sync was practising her stupid dances over by the internet router. She's actually really clumsy and I reckon she just kicked the internet router and broke it that way. Or I dunno, maybe she did it deliberately. She's never liked me, which proves she's a weirdo".
Johnny burped. "I'm the best." 


Detective Plodberg carried on his tour of the squad house.
He found Sally Capslock in the spare room, painting all the furniture neon pink.
"Hi Sally" said the Detective.
"HI OFFICER!" shouted Sally.
"Tell me what you remember from the day of the crime".
"SURE, SO ME AND LOGAN WERE HAVING A CHAT ABOUT THIS WHOLE SQUAD HOUSE THING. IT GOT PRETTY HEATED. HE KEPT SAYING STUFF LIKE HOW IT'S JUST A WAY FOR ADVERTISERS TO MAKE MONEY BUT I THINK THAT'S STUPID. THIS WAS GONNA BE GREAT FOR ME, AT LEAST BEFORE THE INTERNET WENT DOWN AND ALL MY VIDEOS WERE DELETED. ANYWAY, THEN LOGAN STORMED OFF TO DO HIS HAIR."
Detective Plodberg raised an eyebrow.
"Did you actually see Logan do his hair?"
"YEAH, HE HAS THESE RIDICULOUS CURLERS IN AND WAS JUST WANDERING AROUND SINGING. IT CAN'T HAVE BEEN HIM. IF YOU WANT TO KNOW WHAT'S SUSPICIOUS, IT'S PEEP AND JOHNNY. PEEP DOES WHATEVER JOHNNY WANTS, IT'S WEIRD".

DetectivePlodberg had heard enough.
"Thank you Sally. That was helpful. Very loud, but helpful. I'm beginning to get to the bottom of this case…"
And with that, the Detective stood up and slinked out of the room.  
Chapter 4
Detective Plodberg called the Youtubers into the living room. They waited whilst the detective shuffled some papers about to create tension. Detective Plodberg spoke in a deep, spooky voice.
"I have almost completed my investigations, and am ready to name the person who committed this heinous crime. But first I will sum up my findings. All five of you are still suspects.
"Logan - you never liked this Squad House project and you could have deleted everyone's videos to stop it going live. We all know your videos get the lowest views in the group, so you don't have much to lose. However - Sally Capslock has backed up your alibi. But perhaps she is lying too?"
"Peep Mumble - we know you have a motive. You hate how loud everyone else's videos are. But you lack the technical skills to delete everyone's videos, so you could not have committed the crime. Unless of course, you had help."
"Liz - you could have done it to cover up the fact that you hadn't finished working on your dance routine. But you have by far the biggest fanbase, who all love you whatever you do. So you stand to lose the most out of everyone here."
"Johnny 1brow - you are clearly jealous of the others, especially Liz, and have pretty low views on all your videos. You also have the technical skills, but Peep says you were with them at the time of the crime. And I can't find any evidence to prove otherwise."
"Sally Capslock - you have done exactly this kind of thing before. But did you do it this time? Perhaps, but you also stand to lose a lot from your videos being deleted. You have a big audience and were clearly enjoying living in this Squad House."
"But I have made up my mind." Detective Plodberg got out his handcuffs. "I am placing you under arrest!"
And the Detective pointed at...
Who Did It?
Logan Bland
Peep Mumble
Liz Sync
Johnny 1brow
Sally Capslock
Peep and Johnny
Logan and Sally
The Big Reveal!!!
Result - It was Peep and Johnny! 
All the other characters had much better alibis, or didn't have such a strong motive. Both Peep and Johnny wanted to sabotage the Squad House but Peep couldn't do it on their own, so Johnny told them how to do it. 
Johnny then tried to frame Liz, because he doesn't like her, and fed Plodberg a story he'd already made up.