What's On: How You Can Celebrate with Dennis!
It's the World's Greatest 10-Year-Old's birthday and we've got some great events going on to help you celebrate and find your inner prankster!
This year at Kew Gardens, everything's coming up Dennis!
In case you haven't heard, the World's Greatest 10-Year-Old (Dennis told us to say that! – Ed.) is having a very special birthday this year and to help the big day go with a botanical bang, the awesome people at the Royal Botanic Gardens (that's Kew and Wakehurst Place) are hosting Dennis and Gnasher's Big Bonanza which is due to take place between Wednesday 31st March and Sunday 18th April 2021. So what's in store? Let's take a closer look…
Kew Gardens
At Kew, you can follow an interactive trail and join Dennis and his Beanotown friends on a mission to protect the banana from Dr Gloom and the risk of extinction, and rescue Bananaman, who has been shrunk by the evil villain. With help from new characters based on members of RBG Kew staff – Lee (The Fun Guy who loves Fungi) and Katie (the tree-swinging Horti-hero) – you'll join Dennis and friends in learning about some of nature's cleverest tricks in the plant kingdom. At the end of the mission, enjoy a slice of Dennis' favourite banana cake for his big birthday picnic.
Interactive activities along the trail, in true Beano style, will include noise-making whoopie cushion steppingstones, bendy mirrors transforming onlookers into villain-catching superheroes, and foot-pump water pistols (at Kew Gardens only). You can also take a quiz to discover which Beano character matches their own personality.
Wakehurst Place
At Wakehurst, Kew's wild botanic garden in Sussex, young visitors will be invited to take on the Beano Banana Mission, to track down hidden bananas buried among Wakehurst's wild habitats and discover the letters that accompany each piece of fruit. A top-secret prize, provided in collaboration with Beano licensees, awaits those who can solve the anagram to crack the password.
Somerset House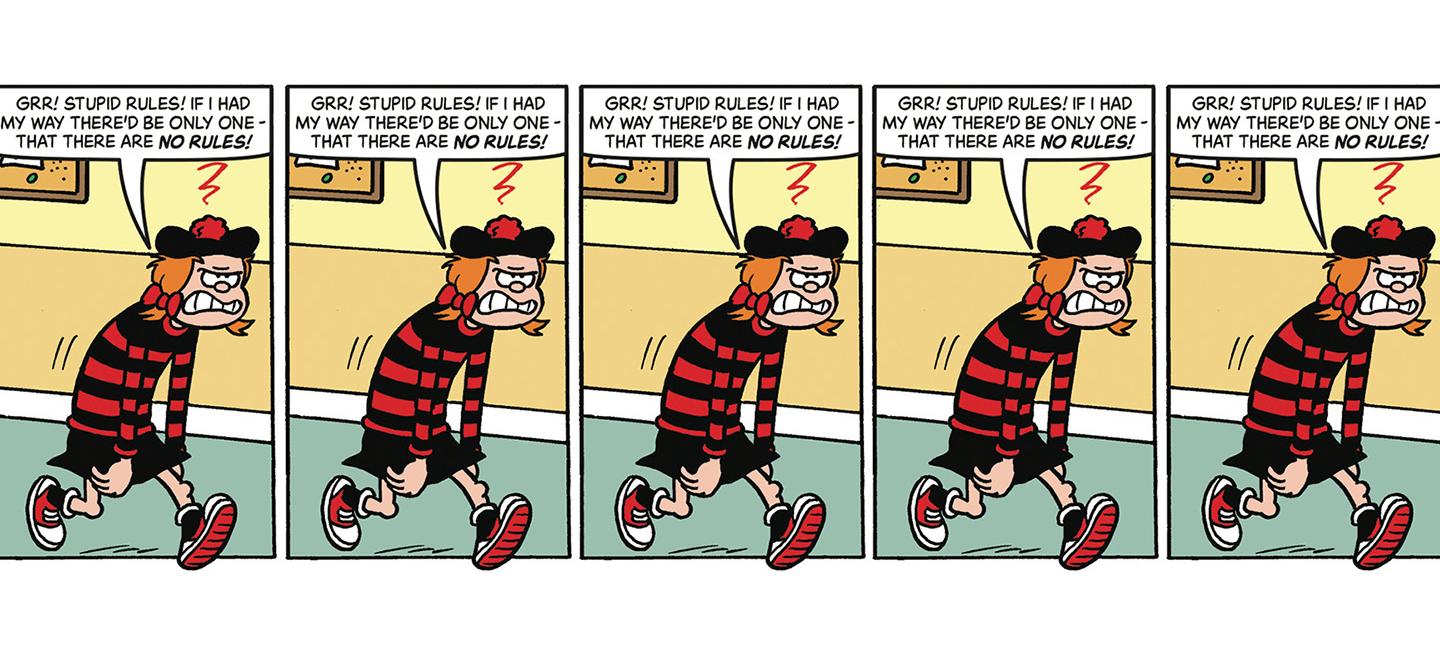 Do your mum and dad ever drag you round dusty old museums where everyone keeps saying "Don't touch anything!!"? Bleugh!
Well, say goodbye to rules, boredom and being told NOT to do stuff and prepare for your favourite Beano characters to shake things up as we celebrate the spirit of mayhem-making and rule-breaking… with our major new blam-tastic Beano exhibition this autumn!
Forget dusty displays and ghastly galleries – this is one trip to the museum you won't want to miss!You'll be able to take trip into actual Beanotown to find out how this brilliant and beloved British comic has fired up previous generations to break the rules for almost a century!You'll come face-to-face with the Beano gang – including Dennis, Minnie, Bananaman and the Bash Street Kids – through original comic artwork, amazing artefacts and interactive displays.And you'll also get the chance to smash stuff, make stuff, see stuff and create stuff – all while getting to know the Beano like never before.You'll also experience today's greatest creative rule-breakers, with contributors including Simeon Barclay, Holly Hendry, Sarah Lucas, Lindsey Mendick, Hardeep Pandhal, Fourth Plinth artist Heather Phillipson, editorial cartoonist Martin Rowson, Bedwyr Williams and many more great artists to be announced.So, if your experience of museums up to now has been a bit, well, meh… then prepare to have your mind blown by Beano!