Slime: Everything You Need to Know in 1 Min
Think you know slime? Watch this video to find out!
We're guessing you've already heard of slime by now… But did you know that it has actually been a thing for years. In fact, people used to be scared of slime!
But if you're made of sterner stuff, you should check out our super slimy video. You know you want you…
It started off in scary films like The Blob where slime was huge and evil! There was even a gross character called Slimer in Ghostbusters.
Then in the 90's slime had its own TV show called Slime Time Live where celebs and kids would get slimed on TV. LOL. This still happens on lots of shows. People just love it!
That's when slime became cool and funny. Everyone wanted to be slimed. But it was still really gross!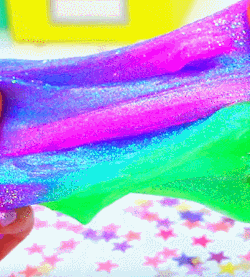 But now slime is really beautiful – it's not gross at all. We love it because it's so satisfying to watch and makes cool noises. The new slime trend started in 2016 when people started posting videos of how to make it.
It went viral because it comes in so many different colours shapes and sizes and everyone can make it at home.
The #Slime now appears in 8,138,640 instagram posts! Woah! The biggest slimer is Karina Garcia who has millions of plays on every video. She's known for making GIANT slimes or making it blindfolded!
Slime comes in all different types: There's fluffy ones, butter one, crunchy ones and some clear ones too!