Dennis and the Dinmakers
They're Beanotown's fastest and loudest garage rock band!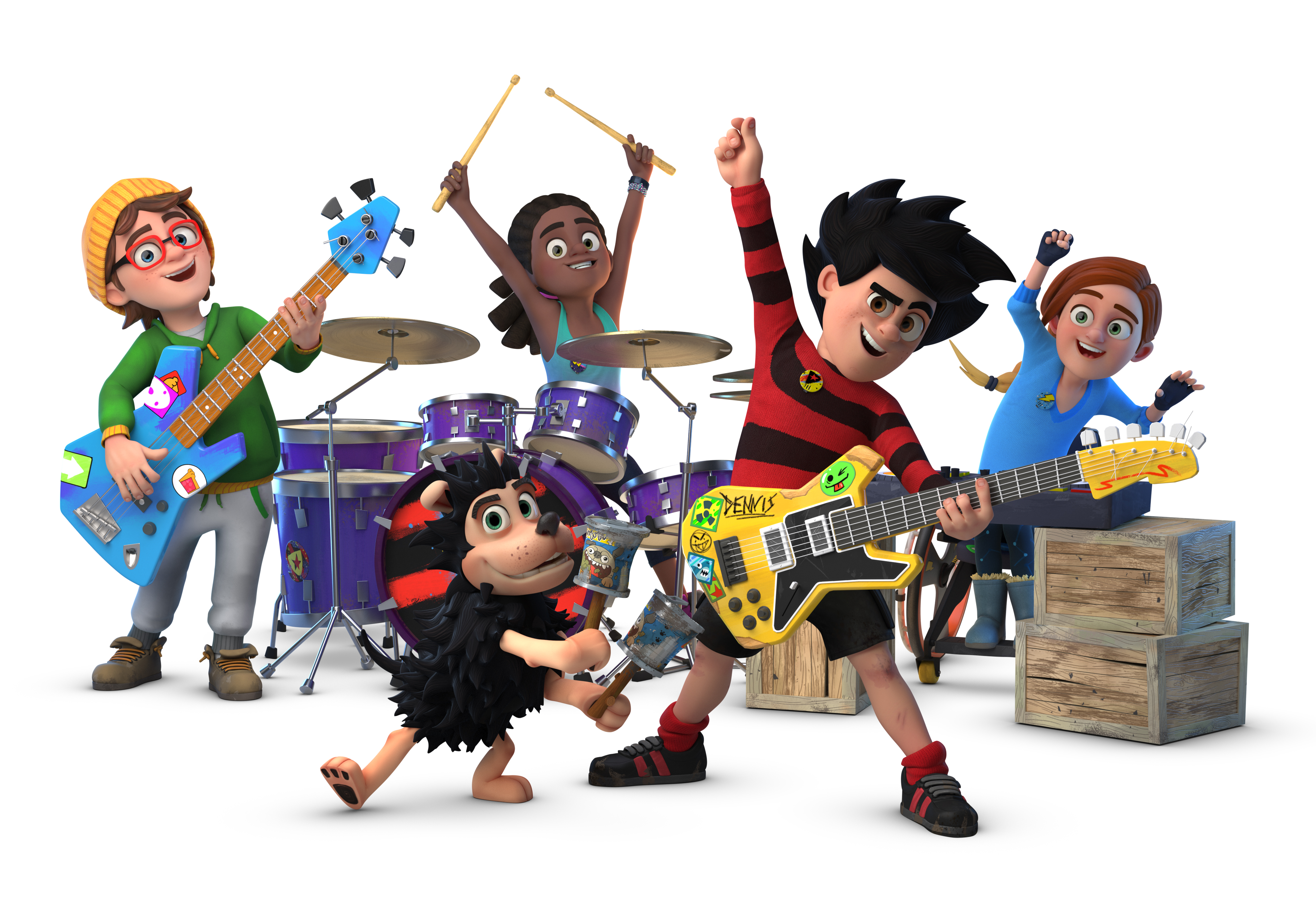 The Dinmakers are the fastest and loudest garage rock band in Beanotown. One day they'll rule the world using only the power of their music, but until then you'll find them hanging out at their top secret den in Beanotown Woods. That's where they write their songs, try out new publicity poses (Dennis!) and shake their maracas. Here's the Dinmakers line-up in full...
Dennis - lead guitar and vocals
Dennis is the rebel with the riffs, the front man with the funky moves and the singer with (nearly) all the notes. 
Rubi - synthesiser, sequencer and sampler
Rubi's the tech genius who builds all her own kit - she's the reason the Dinmakers sound completely unique!
JJ - drums
You want someone with a bit of power on the drum, and JJ can hit stuff harder than anyone else in the gang. She's loud, proud and never out-powered!
Pieface - bass guitar
Pieface says playing bass is like eating the perfect pie: deep, with just a hint of soggy bottom.
Gnasher - maracas, and hypnotic dancer
No Dinmakers show is complete without Gnasher's doggy dancing and maracas-rattling. 
Fastest AND loudest?
JJ says they should always make sure the Dinmakers are the fastest band in town. Dennis says no, they should be the loudest.Rubi says if they're the loudest band, then nobody will be able to hear any other bands anywayPieface loves harmony.Gnasher just wants to twist his melon, man.
Be sure to visit our exclusive Dennis & Gnasher: Unleashed! page every day for exclusive Dennis & Gnasher: Unleashed! games, videos, news, trailers, competitions and LOADS MORE but for now here's an exclusive look at the show… just for you!!!