Beano Superstars – Gran
Everything you need to know about Dennis's gran!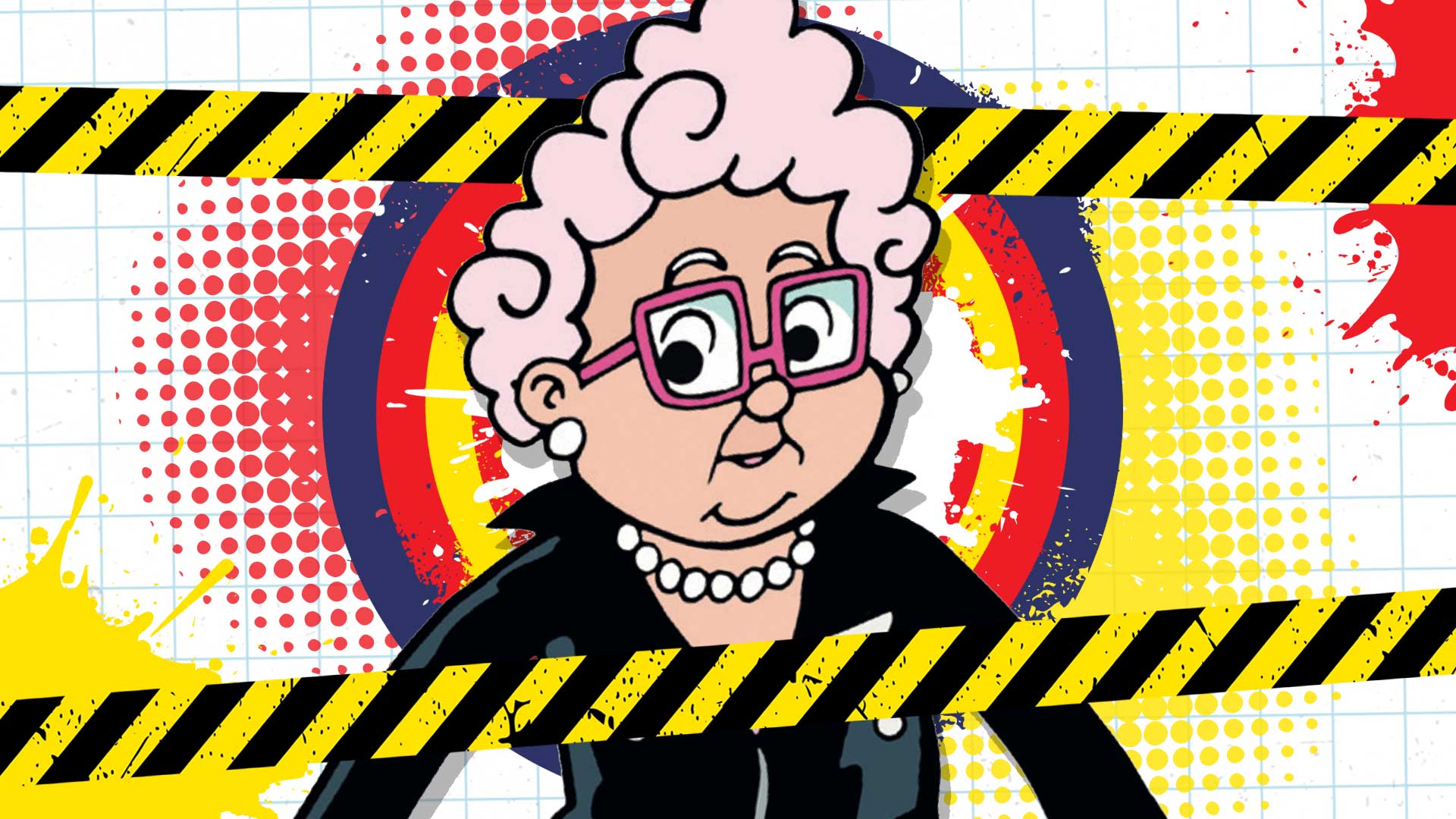 Hello, my name is Catherine Menace. Some people call me Candy because of my love of sweets and my bright hair colour!
You'll know me as Gran. I'm Dennis and Bea's grandmother, and big Dennis' mum. That makes three generations of Menace in one town! I'm always around for my family, and find myself offering them some advice, cups of tea and delicious, fancy biscuits.  
People say my grandson is a bundle of mischief – it tends to be the Brown family – and gets up to all sorts of mayhem, but that's what being a child is all about, isn't it? I'm one of the oldest people in Beanotown – although you might see me zooming around on my big Harley-Davidson motorbike – and have seen it all. Take it from me, Dennis is experiencing life and living it to the max! I wouldn't like to see him behaving like that sneaky Walter. 
If I hear my son Dennis complaining about little Dennis misbehaving, I'm quick to remind him that he was exactly like that when he was his age and have lots of stories which I love to tell. They're cut from the same cloth – which is made up of red and black stripes, of course. 
When I'm not making cups of tea, offering biscuits and dishing out some wisdom, I look after Dennis's pet pig, Rasher and help out my family whenever I can. I also like to watch Dennis rehearse with his band The Dinmakers – they rock!
That's enough from me. If you'd like to read more details about me and my family, look below. Would you like a cup of tea and a fancy biscuit? 
Gran Fact File
Name: Catherine Menace
Age: 70
Date of Birth: 23rd August
Best friends: My family
Education/employment: Retired
Phobias / Fears:  Gas bill - it makes her irrationally angry
Super skill: Being supportive, wise and surprising
Family: Dennis Sr, Sandra, Dennis Jr, Bea and Rasher
Goals and Motivations: She wants to watch her family grow up and thrive, and will do whatever she can to help. Loves to be involved. Always backs the underdog, who needs help more than anyone else.
Address: 67 Sutherland Crescent, Beanotown
Fact: She owns a Harley-Davidson motorbike!